Drawn in the beauty of solitude - a life inspired by Chinese poetry
By Wang Jian and Pema Yangtso | Xinhua | Updated: 2018-05-25 07:15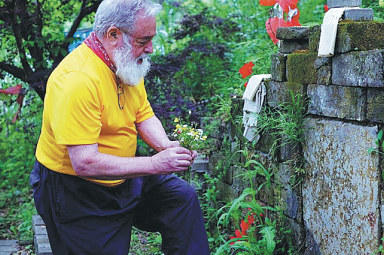 A 75-year-old American writer and a reclusive Chinese poet who lived 1,600 years ago have come together in an unlikely literary romance.
On a visit to China earlier this month, Bill Porter, a translator and writer who has dedicated his life to Chinese culture, introduced his new book, Paradise of the Mind, to his Chinese readers.
The book records a tour Porter made last year of eastern China, during which he traced the footsteps of his favorite ancient poet, Tao Yuanming, and his follower, poet Su Dongpo.
"I love him as a poet, but I like him more as a person," says Porter. Achieving the idyllic lifestyle advocated by Tao is the goal he has been pursuing his entire life.
Porter has translated over 1,600 Chinese poems and written a series of books about his pilgrimages to China over the past 30 years.
He is best-known in China for his signature work, The Road to Heaven, a book about the time he spent in the mountains of Northwest China searching for hermits. Since it was published in 2009, the Chinese version of the book has sold over 200,000 copies.
For his years of effort in translating Chinese poetry, he was awarded a prize for translation by the American Academy of Arts and Letters in February.
"Chinese culture is like a treasure chest, and I want to share with people the treasure I have discovered," he says.
In 1972, when he was a doctoral student, he ran into a Chinese monk in New York's Chinatown, and was introduced to meditation and Buddhist scriptures.
"I felt that was exactly the lifestyle I wanted to have. Be a Buddhist practitioner!" says Porter. So he quit school and moved to Taiwan, hiding in temples tucked away deep in the mountains. At first he was attracted solely to Buddhism, but he later found himself lost in the beauty of Chinese poetry and philosophy.
Porter's first encounter with Tao Yuanming was in 1975, when he found a collection of Tao's poems in a bookstore.
"I was attracted by the thread-bound book and its style of calligraphy," he says.
"But when I read it, I was mesmerized by the lines that carried such beauty, serenity and simplicity."
Porter ended his three years in the temples of Taiwan as a lay Buddhist when he met his wife, who was studying Chinese philosophy. His passion for China grew so strong that he decided that it was something worth a lifetime of devotion.
Under the pen name of Red Pine, he has published some translations of Buddhist scripts and Chinese poems in the United States.
Although appreciated by professional translators and critics, the works did not sell well. He took a series of part-time jobs, including a job as a guide taking tour groups to China.
"Translating is not a way to make a living, but a way to enjoy myself," he says. "When I translate poems, the world stops around me."
He says he prefers to live a frugal and simple life just like Tao Yuanming did, because "from simplicity, mindfulness arises".
Fascinated by the hermit lifestyle depicted by Tao, Porter decided to set off on a pilgrimage looking for real-life hermits.
In 1989, with a photographer friend from the US, Porter traveled to the Zhongnan Mountains in Northwest China's Shaanxi province, and wrote The Road to Heaven based on his interviews with the hermits in the mountains.
"The Chinese publisher sent me a big sum of money and I was a bit surprised by its popularity in China," he recalls.
That was when he started his three decades as a pilgrim, traveling around China retracing the footsteps of ancient poets, writers and philosophers.
During his most recent Tao Yuanming-inspired trip, he visited the grave of Tao in Jiangxi province. He poured three cups of liquor, proposing a toast to the poet.
"I was about to cry. It felt as if Tao was standing right in front of me, within easy reach," he says.
It was not the first time he made a toast to the ancient poets.
In 2012, he traveled along the Yangtze and the Yellow rivers, and visited the graves of 36 Chinese poets. Knowing many of them were drinkers, he brought with him two bottles of whiskey from the US, as he wanted to wake them up with foreign alcohol.
Considering his age, Porter has decided to settle down and stop his wanderings. Together with some friends, he is preparing to open a meditation center in Seattle.
"The best things in life are things that can make the world stop," he says. "I found it in Chinese culture, and I would like to share that."