Warriors waltz to another Finals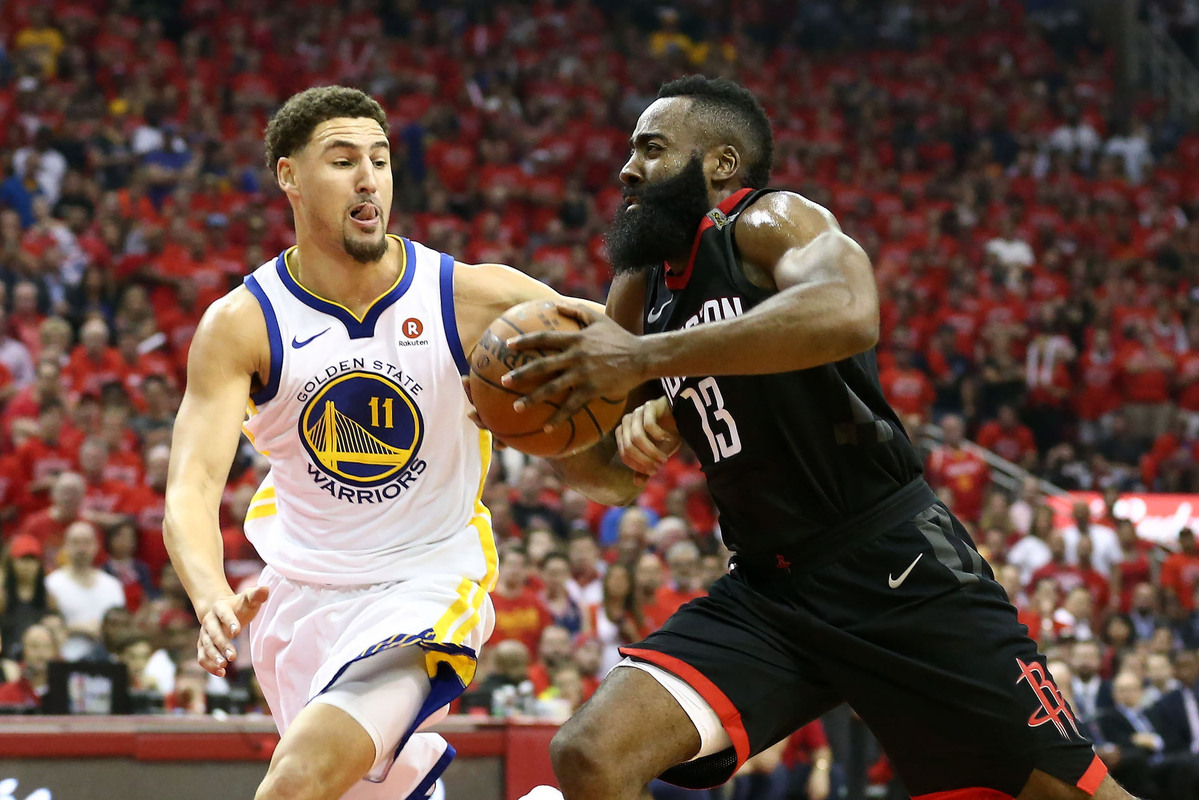 Golden State takes full advantage of Rockets' brutal failure to launch
HOUSTON - Stephen Curry and the Golden State Warriors turned all those Houston bricks into a road back to the NBA Finals on Monday night.
Needing not only all their firepower but also 27 straight misses by the Rockets during an epic cold streak from 3-point range, the Warriors rallied to keep alive their hopes for a repeat.
Kevin Durant scored 34 points while Curry sparked another third-quarter turnaround as the Warriors earned a fourth straight trip to the NBA Finals by beating the Rockets 101-92 in Game 7 of the Western Conference final.
The defending champions trailed by as many as 15 in the first half after falling behind by 17 in Game 6.
"We know we can make an 11-point lead evaporate with two minutes of good basketball," Klay Thompson said.
Curry, who finished with 27 points, scored 14 of Golden State's 33 points in the third quarter as Houston's shooting didn't just go cold, it froze.
The Rockets missed all 14 3-point attempts in that quarter as part of a 1-for-21 second half from long range.
The Warriors will host LeBron James and the Cleveland Cavaliers in Game 1 of the Finals on Thursday night in the fourth straight matchup between the teams.
James Harden had 32 points as the top-seeded Rockets' bid to return to the Finals for the first time since 1995 fell short without Chris Paul, who was nursing a nagging hamstring injury.
"We just didn't have that extra juice that we needed," Harden said.
For the second straight game, the Rockets fell apart in the second half. Golden State outscored Houston 122-63 in the second half of the final two games.
"It's amazing how long the NBA game is," Warriors coach Steve Kerr said.
"Forty-eight minutes, it lasts a long time and there are so many opportunities to get yourself going as a team. And with our team, there's just so much firepower, we're going to get going."
The Rockets finished 7 of 44 on 3-pointers, with Trevor Ariza missing all nine of his attempts, Eric Gordon going 2 for 12 and Harden making just 2 of 13.
Golden State led by seven entering the fourth and pushed the lead to 10 on a 3-pointer by Thompson with just over nine minutes left. Clint Capela made a hook shot for Houston, but Durant hit a long 3 seconds later to make it 86-75.
The Rockets were behind by 13 after a 3 by Curry and had missed 27 straight 3-pointers when PJ Tucker finally drained one from the corner to cut the lead to 89-79 midway through the quarter.
It was their first 3-pointer since one by Gordon with about six minutes left in the second quarter that put the Rockets up 42-28 during a woeful Warriors start.
"We were lucky to escape out of here," Kerr said.
Tucker's 3 was the first of seven straight points for Houston, which cut the lead to 89-83.
Durant scored six points in a 9-2 spurt that left the Warriors up 97-85 with about three minutes to go.
The Rockets finally found a little offense after that, using a 7-2 run to cut it to 99-92, but their rally came up short.
Thompson added 19 for Golden State after scoring 35 in the Game 6 win and the Warriors got a fourth straight start from Kevon Looney with Andre Iguodala sitting out again with a bone bruise on his left leg.
Golden State opened the third quarter with a 10-4 run to cut the lead to 58-53 after a 3-pointer by Nick Young with about eight minutes left in the quarter.
Tucker made one of two free throws and the teams exchanged layups before Golden State scored nine straight points, with two 3s from Curry, to take a 64-61 lead.
Harden made two free throws before Curry scored eight points in a row, highlighted by a 3-pointer which bounced high off the rim before falling back in, to make it 72-63 with just over two minutes left in the quarter.
Golden State scored 33 points in the third quarter for the second straight game while Houston managed just 15.
Tip-ins
Warriors: Curry went to the locker room with trainers between the first and second quarters, but returned to the bench with about 10 minutes remaining in the second quarter and soon returned to the game ... Thompson picked up his third foul with about 8 1/2 minutes left in the first quarter and sat out most of the period ... Draymond Green had 10 points, 13 rebounds and five assists.
Rockets: Houston fell to 6-5 all-time in Game 7s and 4-2 at home ... Capela finished with 20 points and 12 rebounds. ... Tucker had 14 points and 12 rebounds.
Associated Press