Nanny loses appeal in arson case
By Ma Zhenhuan in Hangzhou | China Daily | Updated: 2018-06-05 09:36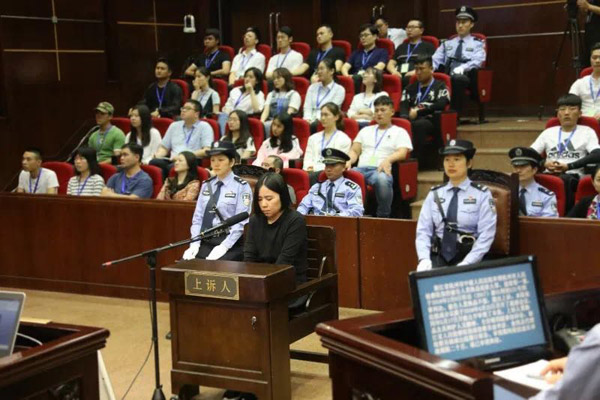 Supreme People's Court to carry out final review of death sentence
A nanny in Hangzhou who set a fire that killed a mother and three children has lost an appeal against her death sentence.
The death sentence will be sent to the Supreme People's Court for final review.
Mo Huanjing's appeal was rejected by the Zhejiang High People's Court on Monday following a hearing on May 17.
She was sentenced to death in February after being convicted of starting a fire in a Hangzhou apartment that killed Zhu Xiaozhen and her three children on June 22.
"Mo's criminal intent to commit arson is clear," the court said in its verdict.
Lin Shengbin, who lost his wife and three children in the arson, said on Sina Weibo that "she deserves it".
Lin has also sued nine companies and institutes, asking for civil compensation of 130 million yuan ($20.2 million).
"We support today's verdict," said Lin Jie, a lawyer from Beijing-based DeHeng Law Offices, who is Lin's agent.
He said they will soon request the Hangzhou Intermediate People's Court to investigate and collect evidence concerning the lawsuit.
The nine defendants include Greentown Service Group Co, the property services provider for Lin's apartment; the fire brigade of the Hangzhou municipal public security bureau; and an agency in Shanghai that recommended Mo Huanjing, the nanny, to work in Lin's home.
The property management company's poor maintenance of the firefighting equipment was related to a delay in extinguishing the blaze, according to a court verdict in February.
Mo, 35, was burdened with heavy gambling debts and sought nanny positions in 2015 to pay her debtors. In September 2016, she obtained a live-in nanny job at Lin's home in Hangzhou.
She stole gold jewelry and watches from the family and then pawned them for over 180,000 yuan between March and June last year.
On June 22, after losing 60,000 yuan from bad bets, she decided to win Zhu's gratitude and get more money by lighting a fire and then putting it out. But the fire spread quickly and she escaped from the home. Zhu and her three children died of carbon monoxide poisoning.