Odds on saving Iran deal don't look good
China Daily | Updated: 2018-06-06 07:12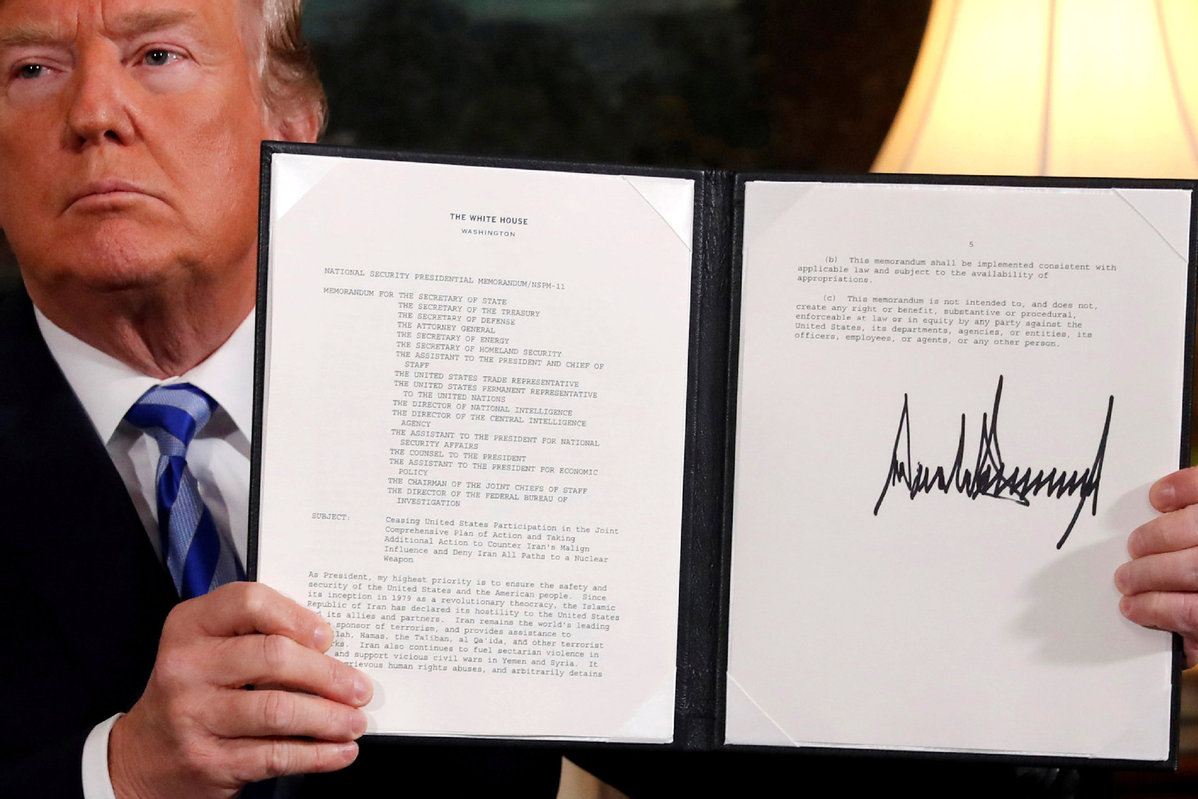 The impact of the United States' unilateral exit from the landmark Iran nuclear accord is sinking in, with Iran's Atomic Energy Organization spokesman Behrouz Kamalvandi saying on Tuesday that Iran is to inform the International Atomic Energy Agency that it will start the process to increase the country's uranium enrichment capacity.
Iran's supreme leader Ayatollah Ali Khamenei said on Monday that he had ordered the Atomic Energy Organization of Iran to prepare to begin to increase uranium enrichment, although it is to remain within the framework of the Joint Comprehensive Plan of Action for the time being.
Yet despite the efforts by the major European Union countries and other parties to keep a grip on the multilateral deal with Iran, it is apparently not within their control.
With an increasing number of European enterprises withdrawing from Iran, its economy that had just started to revive, will probably suffer a sharp dive.
Of course, there is no reason for Iran to suffer economic sanctions when it has abided by the nuclear restrictions it agreed to under the deal, as evidenced by the inspections of the UN nuclear watchdog.
Yukiya Amano, director-general of the International Atomic Energy Agency, said on Monday that Iran had continued to comply with the nuclear deal even after the US withdrawal.
That also explains why the other parties involved in the deal are trying to save the deal even after the US pulled out.
However, if Iran restarts its process to increase its uranium enrichment capacity and even advance such efforts in the direction of developing nuclear weapons, which will very likely hasten the US' imposition of secondary sanctions and possibly further action, all the multilateral efforts that have been made in the past many years for reconciliation between the West and Iran will come to naught.
The US' unilateral withdrawal from this multilateral deal has not only deeply dented its own credibility, it has set a very bad precedent in international relations and made the situation in the Middle East even more complicated and potentially more volatile.
It seems that no one can tell how much room is left for the other parties involved in the deal to try in their attempts to save it. Neither can anyone tell how much the US will gain from its move.
The US seems unable to relax, passing the time in a state of fear commensurate with the harm it does to others. It should learn to forgo its hasty actions, as it would stop causing so much trouble.