A killer success
By Wang Kaihao | China Daily | Updated: 2018-06-07 07:47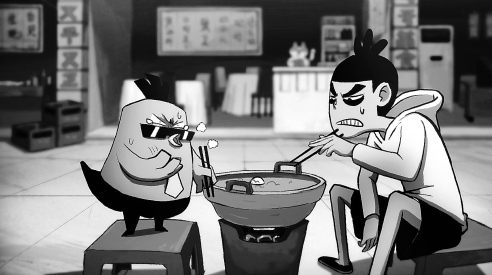 Homegrown Chinese animation, Killer Seven, has enjoyed overnight critical success and its producers hope it's the start of an industry boom. Wang Kaihao reports.
In the past, Chinese animation films have rarely won rave reviews.
So, it was a shock to see a homegrown series nominated for an award at the prestigious Annecy International Animated Film Festival in France recently.
However, for Killer Seven, a 15-episode animated series which was piloted on April 25 through online streaming media platforms like Youku and Bilibili, it's very much a reality.
It has achieved an impressive 8.8 points out of 10 on film and TV review site, Douban, and is the only Chinese animation to be shortlisted at the French festival where no Chinese production has ever won before.
Among the previous winners in the TV film category are British productions Peppa Pig in 2005 and Shaun the Sheep in 2007.
The winners will be announced on June 16, the final day of this year's festival.
In the offices of Aha Entertainment, a studio hidden among the hustle and bustle of Beijing's Sanlitun area, its producer Zou Shasha, 34, better known in the industry through her English name Aiken, is the force behind this remarkable tale.
"We do have the chance to win, right?" says Zou.