Narrowing the urban-rural education gap
By Stephen Cheung Yan-leung | China Daily | Updated: 2018-06-08 07:51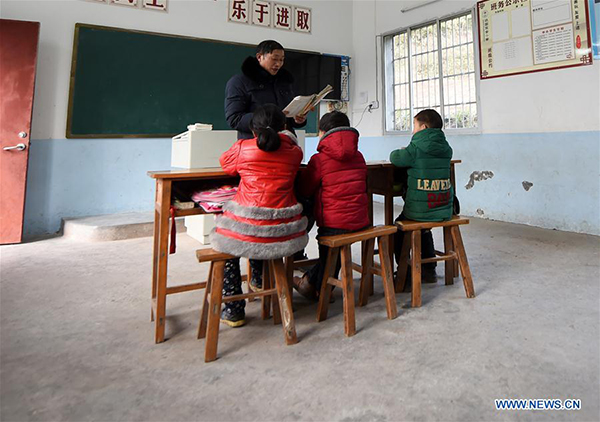 The Chinese government has been increasing the funding for the education sector and taken several other measures to improve the quality of education, especially in rural areas. These efforts are paying off. But there still remains a huge gap between the quality of education in rural and urban areas, especially in terms of teacher shortages in the mountainous, inaccessible and remote areas, with over 60 percent of the schools at quite a distance from many a student's village.
And despite the continuous efforts of the central and provincial governments to attract new blood through various initiatives, recruiting and retaining teachers in rural areas remains a big challenge. One reason for this could be the poor working and living conditions the teachers have to endure.
About 9.75 million students are sitting the national college entrance examination on Thursday and Friday, and most of them know education can transform lives and holds the key to our future. And teachers matter.
Therefore, I am pondering the idea of setting up a tripartite platform, which would bring together the government, business enterprises and fresh graduates to help address the urban-rural disparity in education. To make this idea work, policy support from the central government is key.
This could be translated into a policy framework that encourages and facilitates business enterprises to deploy their young employees, especially fresh graduates recruited through management trainee programs, to reach out to the students in rural and remote areas. Which in turn would give the participating enterprises an opportunity to engage their employees in an important corporate social responsibility initiative and enhance the capacity building of their young employees, who could become corporate leaders one day. Such experiential exposure would be particularly beneficial to our "Generation Me" youngsters, who have grown up in a relatively affluent environment.
The platform would offer university graduates majoring in different disciplines each year an eye-opening experience in serving underprivileged students across the country. As management trainees of large corporations, they would be the cream of the crop, with good educational attainment, and multilingual competency and exposure. So they would have a lot to offer rural students, particularly in terms of intellectual enrichment, language acquisition and social interaction.
Much like a gap year, but more rewarding, this would allow the fresh graduates to establish bonds with the beneficiaries through teaching and other voluntary services. The purpose of this about yearlong learning process would not be just to make the volunteers feel good. They must also be committed to living and learning with the rural children, to inspire them and be inspired. This interactive process would help develop positive characteristics, such as empathy, altruism and benevolence. As an incentive, a fast promotion track could be offered to those who are willing to participate in rural teaching programs despite the hardships and challenges, where appropriate.
The tripartite platform is not meant to be a panacea. Nor is it a brand new concept per se, as it has been put into practice in other parts of the world. Yet it can be seen as part of the solution to narrowing the rural-urban education gap.
With good execution and broad participation, I believe this would be a gigantic project to help address one of our country's entrenched problems. In the long term, however, we have to make better use of technology, widely promoting e-learning to ensure the provision of education for all, regardless of location.
The author is president and chair professor of Public Policy at The Education University of Hong Kong. He is also a member of the National Committee of the Chinese People's Political Consultative Conference.