China sweeps two more golds at FINA Diving World Cup 2018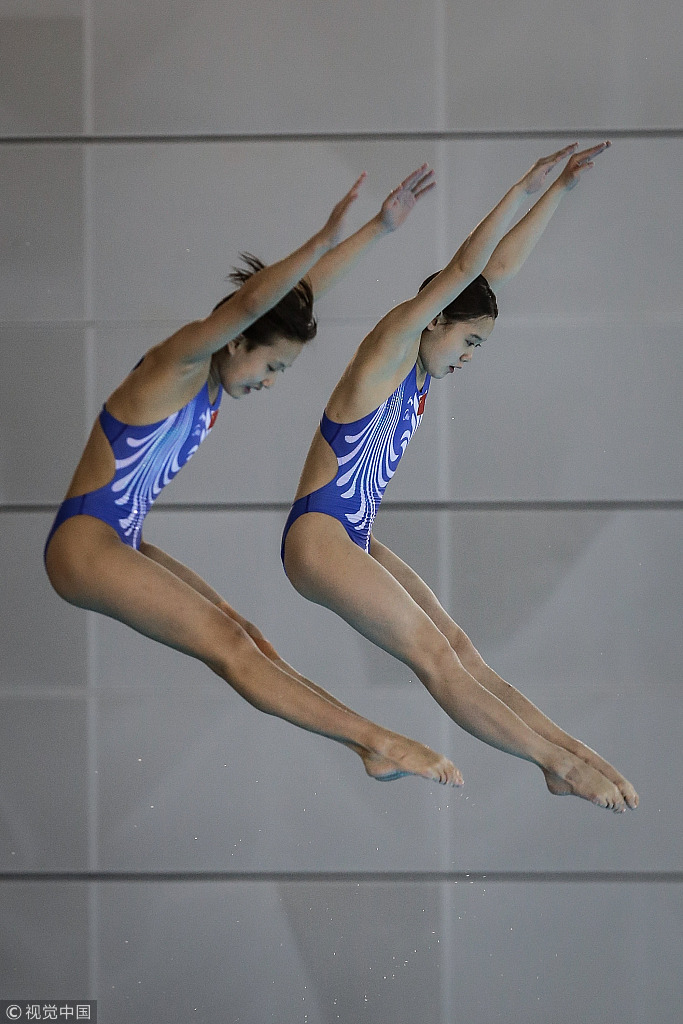 WUHAN -- Home team of China added two more golds to its pocket at the FINA Diving World Cup 2018 here in Wuhan on Thursday, as Zhang Jiaqi and Zhang Minjie won the women's 10m platform title and Xie Siyi topped out in the men's 3m springboard final.
Zhang Jiaqi and Zhang Minjie, both 14 years old, collected 366.12 points from their five dives to beat the second-placed Kim Mi Hwa and Kim Kwang Hui of Democratic People's Republic of Korea by 37.14 in the women's 10m platform.
"I was satisfied with our performance today. I got a fever one week ago and had a rest for six days," Zhang Minjie said, "Considering that, the result was good for us."
It was Zhang Jiaqi's second gold in Wuhan, after her triumph in a singles event on Wednesday.
"Winning two golds in my first World Cup makes me very happy. But it was just a start for me, I am young and still have to work hard," Zhang Jiaqi said.
Meaghan Benfeito and Caeli McKay of Canada finished with 324.42 to rank third.
Earlier in the afternoon, 2017 World Championships winner Xie Siyi led from the first dive to wrap up the gold in men's 3m springboard with a total score of 557.60 points. Another home diver, Cao Yuan took the silver with 544.60.