Presidents cheer on hockey players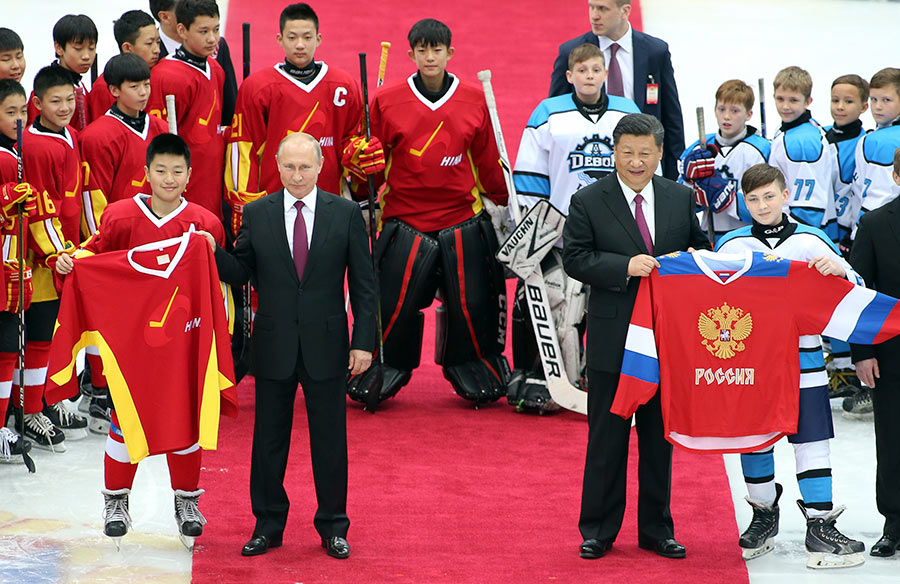 Xi, Putin boost cooperation in winter sports
The presence of China's and Russia's top leaders at a friendly youth ice hockey game on Friday reinforced bilateral cooperation in winter sports development leading up to the Beijing 2022 Winter Olympics.
President Xi Jinping and his Russian counterpart Vladimir Putin, both avid sports fans, found common ground as they watched the game between the two countries' junior teams at the Tianjin Gymnasium on Friday as part of exchange activities during Putin's state visit to China.
Cheered on by 7,000 spectators, Xi and Putin dropped the puck for the game after exchanging team uniforms and posing for photos with the players. They watched the full first period of the game before leaving for a welcoming banquet. The game was tied 4-4.
China will continue to expand sports exchanges with Russia, especially in ice hockey, to strengthen bilateral ties, Xi said, adding that the youth friendship between the two countries was inspiring.
The performance of China's young players has shown the country's tremendous potential in the sport, Putin said.
It was the second time that the two presidents have attended an ice hockey event together since June 2015, when they witnessed the signing of an agreement to offer Beijing Kunlun Red Star an expansion entry in Russia's professional Kontinental Hockey League, starting from the 2016-17 season.
Although China's ice hockey team automatically qualified for the 2022 Winter Olympics as the host nation's team, it remains far behind the world elite level, so a helping hand from defending men's champion Russia in talent development, coaching exchanges and referee training came just in time, said Hu Jiang, coach of the Chinese junior team.
Hu Jiahao, captain of the Chinese youth team, said playing in front of the presidents was a lifetime honor that will inspire him to develop his professional career in the future.
"My dream is to compete at the Olympics in 2022 if possible," said the 13-year-old from Qiqihar, Heilongjiang province. "Very few of us have had the chance to play while being watched by the presidents, and I will use today to motivate myself to realize my dream."
Galliamov Timur, team leader of the Russian side, from Ufa, capital of Russia's Bashkortostan Republic, said his players were surprised by the Chinese crowd's enthusiasm for winter sports.
"Coming from a traditional winter sports country, we feel the passion here for hockey is as alive as back home. We would be more than happy to come back again for future exhibition games," he said.
Inspired by Xi, China unveiled a national plan to involve 300 million people in winter sports by 2022. Xi visited China's winter sports national teams multiple times to encourage the athletes.