Top DJs fuse styles at New York's Governors Ball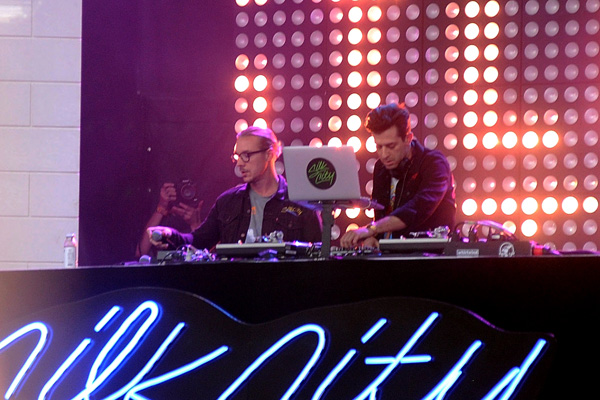 NEW YORK-Two of the most sought-after producers in pop music, Mark Ronson and Diplo, have walked different paths, with Ronson reviving retro funk and Diplo reaching eagerly across the globe.
The two have fused their brands of dance music to create a new duo, Silk City, which made its debut last Saturday to the sweaty masses at New York's Governors Ball.
In its eighth year, Governors Ball-which brings some 150,000 people over three days to tiny Randall's Island, where the New York boroughs of Manhattan, Queens and the Bronx come together-remains the longest-running of a proliferating number of summer music festivals in the metropolis.
This year's festival took on daily themes, with the event on June 1 rekindling the flame of early 2000s indie rock. Meanwhile, there was a heavy emphasis on hip-hop on June 2 that drew a significantly younger crowd.
Silk City-so named after a Philadelphia diner where a young Diplo built his name as a DJ-kicked off a set with a distinct feel of Ronson as funk-infused beats merged with snippets of soul.
Diplo and Ronson-who produced for the late Amy Winehouse and collaborated with Bruno Mars on blockbuster hit Uptown Funk-in the course of an hour incorporated decades worth of samples from artists ranging from disco-era titan Van McCoy to young rap heroine Cardi B.
While bringing in some of the soaring sheets of electronica and pumping drums now associated with Diplo, Silk City shied away from the stage theatrics of Diplo's Major Lazer project with the two veterans spinning like classic DJs.
Diplo, who has explored the Jamaican and Brazilian dance scenes and more recently crafted a fresh sound for Justin Bieber, described Silk City on Instagram as "an homage to some of the greatest dance music cities in the world ... Chicago, London, Detroit, Paris".
Silk City ahead of the show released a first single, Only Can Get Better, a track of old-school, danceclub house with vocals by Australian R&B singer Daniel Merriweather.
Return of 2000s rock
Coachella in California, the biggest-name US festival, made waves this year by not booking any rock acts as headliners for the first time. Not so for Governors Ball, whose main stage on June 1 was led by the Yeah Yeah Yeahs followed by Jack White.
Music nerds quickly noted a historical parallel. The Yeah Yeah Yeahs, one of several indie bands who revitalized the New York music scene at the turn of the century, played their first show in 2000 as the opening act to White's duo The White Stripes in the city's cozy Mercury Lounge.
In one of their first shows in New York in recent years, the Yeah Yeah Yeahs tore through its back catalog led by the stage-dominating presence of frontwoman Karen O, her voice searing through the festival grounds before switching gears for the intensity of Maps, the breakup roller-coaster that has become the band's most identifiable song.
White, again proving the monstrous volume possibilities on a sole guitar, played from his proudly weird new album "Boarding House Reach" but closed with White Stripes anthems-with the festival setup meaning he could not enforce his recent diktat that concert-goers surrender their phones to focus on his music.
Hopeful message from Halsey
Halsey found some of the most enthusiastic crowds of the festival on June 2 as she showed off graceful dance moves and her new flowing blonde hair in a set that featured a stripped-down piano take of dance hit Closer and saluted the gay rights movement on the start of pride month.
Urging the young generation to stay hopeful, the 23-year-old told the crowd that she had signed a record deal exactly four years ago-and then had attended Governors Ball, broke and anonymous.
The lineup was heavy on hip-hop with Travis Scott headlining before a massive audience on Saturday, opening with his soon-to-be-released track Stargazing, and Eminem closing on June 3. Other rappers at the festival included 2 Chainz, Post Malone, Lil Uzi Vert and Pusha T, who performed in the midst of his ever-escalating, social media-dominating feud with Drake.
The crowd obliged him by shouting obscenities directed at Drake, one of the top-grossing stars in recent years. Pusha T passed up on the opening to insult Drake other than to perform Infrared, in which he accuses Drake of not writing his own music.
AFP