Spanish embassy retains soccer championship title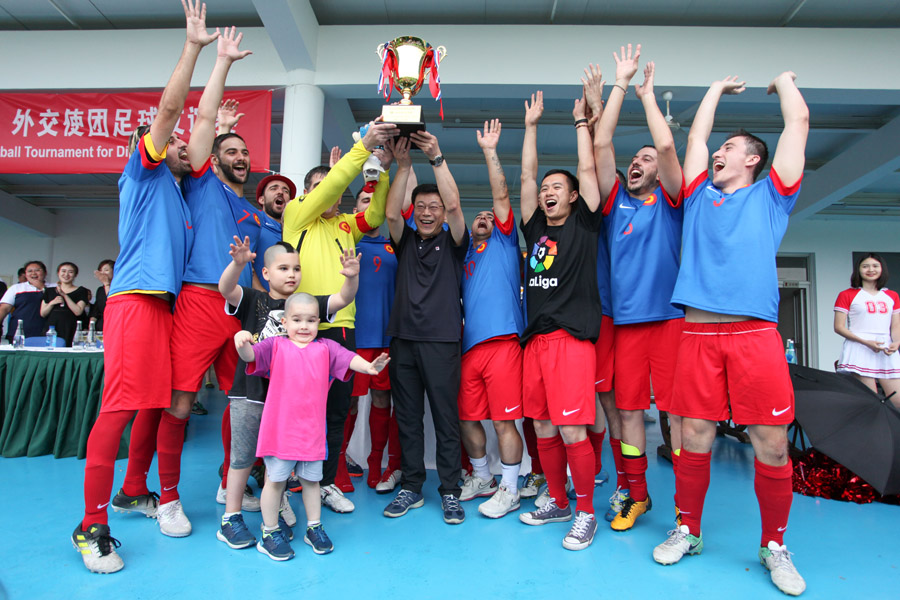 Defeating the UK in the final, the Spanish embassy defended its title successfully in the one-day diplomatic friendly soccer tournament in Beijing on Saturday, which aims to strengthen communication and promote friendship among embassies in China.
The Chinese Ministry of Foreign Affairs team won the third place after defeating other teams represented by joint US and Canada team, France, Venezuela, Italy, and Republic of Korea.
"Ahead of the Russian World Cup, the diplomatic friendly soccer championship meant more," said Yuan Weimin, director of the Beijing Diplomatic Service Bureau for Diplomatic Missions. Yuan hoped diplomats from different countries can learn soccer skills, while enhancing mutual understanding among each other.
"It gives us the chance to meet and interact in a much more relaxed context, away from the standard and often too rigid diplomatic fora," said Joaquin de Aristegui, consul general of Spain in Beijing. "Let me take this opportunity to encourage the organizers to keep this event alive in the coming years," he said.
This is the second year that the Beijing International Club Cup Friendly Football Championship, organized by Beijing Diplomatic Service Bureau, which provides wide range of services to foreign embassies, representative offices of international organizations and foreign news agencies in Beijing, was held.