A purple passion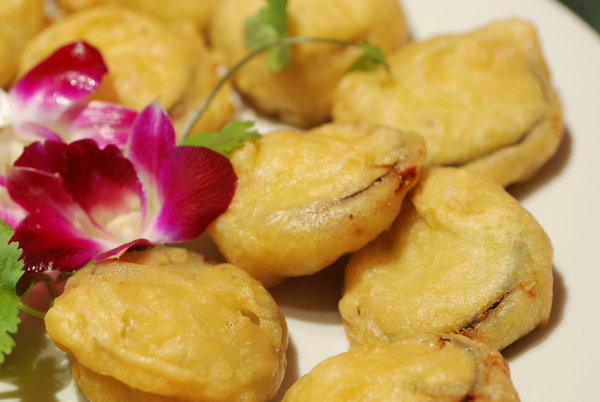 Mix together pork mince, diced ham and water chestnuts. Add the egg and cornstarch, salt and pepper. Stir vigorously in one direction until the meat mixture turns starchy.
Prepare the eggplants by slicing each diagonally into 2-cm-thick pieces. Make a slit in each slice to create a pocket without cutting right through.
Dust each eggplant pocket with some cornstarch and fill with a spoonful of meat mixture. Squeeze the sides together slightly to lock and distribute the mixture.
Make the batter. Beat up the egg yolk and add the plain flour and cornstarch, mixing it well. Add a lit-tle water if necessary to get a batter with a smooth dropping consistency. Add salt and pepper.
Prepare two cups of oil in a frying pan, and heat until the surface shimmers.
Dip each eggplant sandwich in the batter and slide it in the hot oil. Fry until golden brown, then drain well on kitchen paper.
Serve with a sweet vinegar and garlic dip. Mince a clove of garlic and add to a bowl of black vinegar sweetened to taste with honey.
Eggplant, Sichuan-style
This is yuxiangqiezi, a very popular spicy eggplant dish using lots of the bean paste chili sauce doubanjiang.
3-4 eggplants, about 400 g
250 g minced pork
1 tablespoon minced ginger
1 tablespoon minced white of leeks
1 tablespoon minced garlic
2-3 red chili peppers, diced
Coriander for garnish
1 teaspoon sweet bean paste, tianmianjiang
1 heaping tablespoon hot bean paste, doubanjiang
1 teaspoon sugar
Cut the eggplants into 2-cm chunks. Deep-fry them in very hot oil until they just change color. Drain immediately and reserve.
Pour away most of the oil, leaving about a tablespoon in the pan, and fry the minced ginger, leek and garlic. Add the chili. When the mixture is fragrant, add the minced pork and the sweet and hot bean pastes.
Finally, add the eggplants and toss to coat with the spicy mix. Cover the pan and cook for five minutes. Remove the pan cover and add a splash of water and the sugar.
Adjust the seasoning after tasting, then toss for a minute more and plate.
Beijing pickled eggplant
6-8 tender short fat eggplants
Salt
Garlic (about a whole bulb)
Steam the eggplants over high heat until they are soft. Cool completely.
Peel as much garlic as you want and mince it with a teaspoon of salt.
Tear the cooled eggplant into quarters and sprinkle some salt over the insides. Smear with a thick layer of minced garlic.
Pack everything into an airtight container, such as Tupperware with a lid, and set aside at room temperature for a day. Open the lid the next day and you should smell a slightly sour aroma.
Keep the pickled eggplants in the fridge, and enjoy them as a summer side dish.
Contact the writer at paulined@chinadaily.com.cn