'HK independence' kingpin gets 6 years for Mong Kok riot
By Kathy Zhang | China Daily | Updated: 2018-06-12 07:55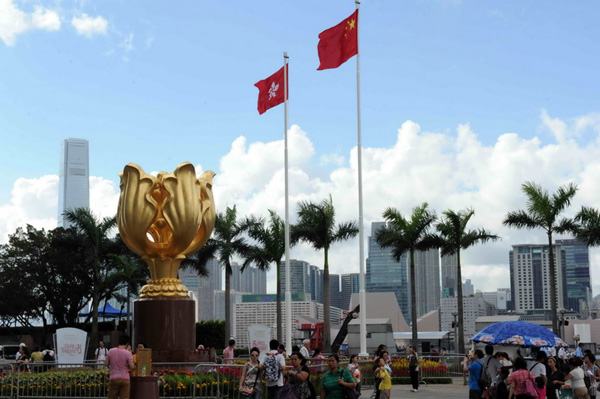 Local "independence" activist leader Edward Leung Tinkei, 27, was sentenced to six years in prison by Hong Kong's High Court on Monday for rioting and assaulting police during the Mong Kok riot in 2016.

Leung's co-defendant Lo Kin-man, 31, received seven years for rioting. Lo's sentence is the harshest handed down yet in connection with the violence that erupted on Feb 8 and 9, 2016.

It is also the stiffest sentence for rioting in the city's history.

Wong Ka-kui, 27, who pleaded guilty at the start of the trial to one count of rioting, was sentenced to three and a half years in prison.

During the sentencing, Judge Anthea Pang Po-kam said the riot that broke out on two of Hong Kong's busy streets-Argyle Street and Portland Street in Mong Kok-was an "organized crime" as it was carried out by a group of over 200 people, most of whom were masked and carrying weapons.

Describing the incident as "large scale and extremely serious", Pang said the sentences were given based on the violence the defendants committed and the severe effect their acts had on society.

The court would never allow people to resort to illegal means to pursue their political causes, nor would the political causes become reasons to mitigate violent acts, she stressed.

Pang said Leung remained in the area the night of February 8, 2016, even though the police repeatedly warned the crowd to leave. He then took part in a violent standoff on Argyle Street.

About 200 rioters confronted fewer than 20 unarmed police officers.

About 130 people, mostly police, were injured as the masked protesters threw bricks and set trash cans on fire from late on Feb 8 to the early hours of Feb 9.

Tse Tsz-kwan, spokesman for the Hong Kong police, said the sentence indicates the severity of the case, adding that all of the prosecutions were based on evidence.

Tse said that the police would keep following up on the riot case and decisively enforce the law to stop any illegal activities.

So far, 91 people have been arrested in connection with the Mong Kok riot, and 28 of them have been convicted.

Starry Lee Wai-king, a local lawmaker and chairwoman of the city's largest political party-the Democratic Alliance for the Betterment and Progress of Hong Kong-said that "the harsh sentence is expectable" since some rioters willfully violated the social order through violent actions.

She urged young people not to let themselves be easily incited.

After the jury was unable to reach a verdict on rioting charges against Lee Nok-man and Lam Ngo-hin, two other defendants, as well as a rioting charge against Leung in connection with the Mong Kok violence on Portland Street, prosecutors at the High Court have confirmed a retrial. A pretrial review is scheduled for July 13.