Official approval buoys Dongguan firms
By Qiu Quanlin in Dongguan, Guangdong | China Daily | Updated: 2018-06-13 09:46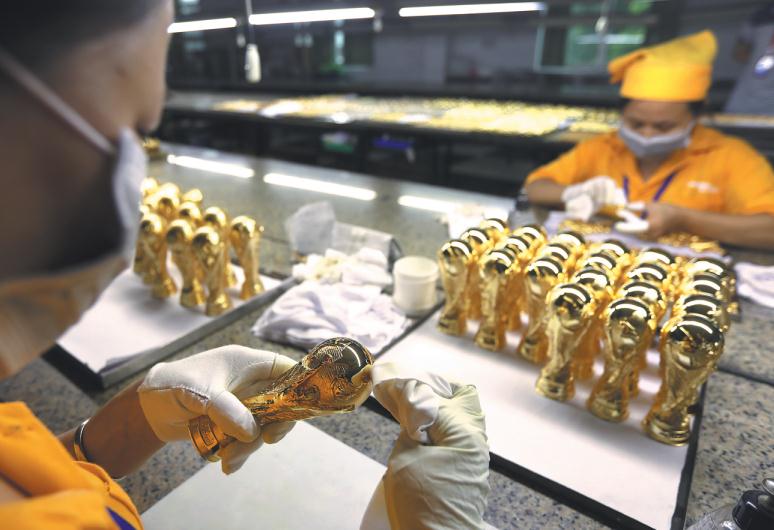 Manufacturing replicas of the World Cup trophy and other related products has helped upgrade the business of Wagon International Co, a company based in Wanjiang town in Dongguan, Guangdong province, a traditional manufacturing hub in the Pearl River Delta region.
The company has been an authorized manufacturer of related products for the world's largest and most prestigious soccer event three times.
"It has also helped greatly boost the presence of Dongguan-made products in the world," said Jian Kaiping, a senior sales manager of Wag-on International.
From a small trading company to a manufacturer authorized by FIFA to produce replicas of the World Cup trophy and other related products including badges, key rings, lighters and mobile phone shells, Wagon International's business has spread to more than 100 countries and regions.
"The authorized business has not only helped boost sales, but also upgrade technologies, designs and brands," Jian said.
For the 2010 South Africa World Cup, Wagon International's products could only be sold in China and South Africa. Four years later, it was authorized to sell its products in 21 countries and regions.
"All products are made using automatic production. We have already upgraded the manufacturing lines to increase production efficiency," Jian said.
FIFA has strict regulations for the design and production of World Cup products, according to Jian. "We had to upgrade our design and increase innovative technologies to meet FIFA's requirements," Jian said.
For example, Zabivaka, the mascot of the 2018 FIFA World Cup in Russia, was incorporated into the replica of the trophy for the first time.
According to Jian, the company's sales of World Cup-related products will reach 200 million yuan ($31.2 million) this year, accounting for about 10 percent of the company's sales.
"It might seem odd to associate China with the World Cup, given that the country only qualified once 16 years ago. But China-made products will be widely available during the important event," Jian said.
In Dongguan, a growing number of companies have been involved in making products for the event. Dongguan Shuoke Plastics and Hardware Co, for example, was authorized to produce the official ball, Telstar, under the Adidas brand.
"We have built the world's first automatic production line in the soccer ball manufacturing industry," said Wang Chong, a senior operations director of Dongguan Shuoke.
The company, located in Chashan township in Dongguan, started to integrate its business and focus on manufacturing soccer balls in 2014. Its products have been exported to Europe, the United States and the Middle East.
Additionally, Chinese mobile phone maker Vivo Mobile Communication Co, headquartered in Dongguan, has become an official sponsor of the 2018 World Cup.
"We will sell our products in Taiwan, Singapore and Russia in the near future," said Xu Yanchun, corporate public relations director of Vivo.
Its association with the world's largest soccer event will help diversify Vivo's sales in the overseas market and boost its brand presence globally, Xu said.