A milestone in peninsula peace process
China Daily | Updated: 2018-06-14 06:52
More talks will facilitate denuclearization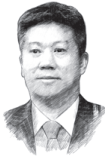 The results of the US-DPRK summit were better than expected. The joint statement has raised the prospects for peace on the peninsula.
The improvement in US-DPRK relations and Washington's security guarantee met Pyongyang's demand. And the DPRK agreed to complete denuclearization, meeting the US' principal demand. The US-DPRK agreement will ease the tensions on the peninsula and promote development in Northeast Asia.
Trump even invited Kim to visit the US when they signed the joint statement, and at his news conference, he said more talks would be held between the US and the DPRK. Trump and Kim, in fact, expect bilateral communication to continue. And if they continue talking, more detailed agreements, permanent peace, and complete denuclearization of the peninsula will be gradually achieved.
The US-DPRK summit is a good beginning for the peace process, and if the two countries hold more fruitful talks, more countries will join the peace process because the Korean Peninsula issue is not only complicated but also of great concern to many other countries. Ultimately, a multilateral mechanism and joint efforts of all parties concerned will be needed to establish permanent peace in the region.
And China, which has always advocated peaceful resolution to the peninsula issue, will support the US and the DPRK to build mutual trust, reach more consensuses and make substantial progress in denuclearization and the peace process. As Foreign Minister Wang Yi said, China will continue to play a constructive role in bringing peace to the peninsula.