DPRK's strategy for survival...or globalization?
By Laurence Brahm | chinadaily.com.cn | Updated: 2018-06-14 08:51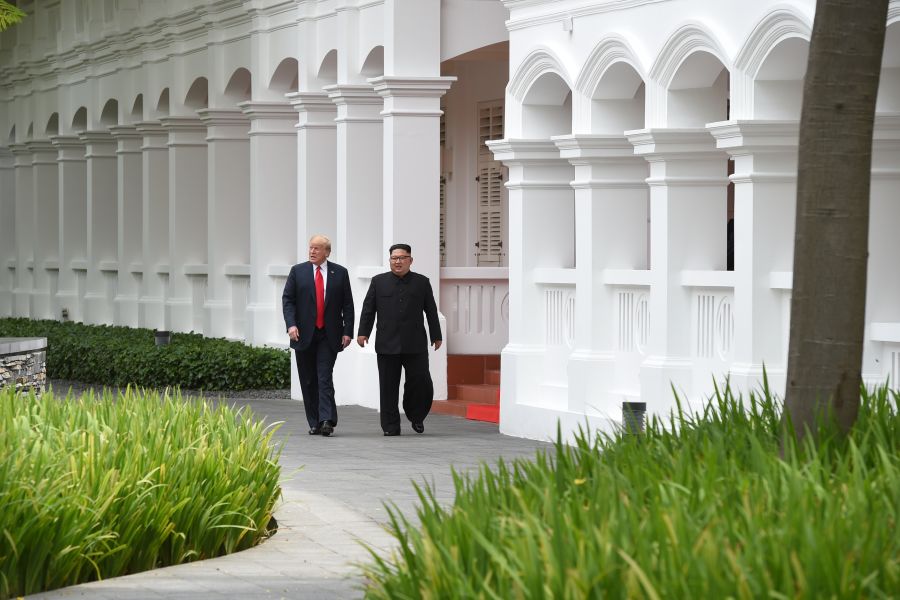 The morning after, and everyone is still awakening as if in a dream. The June 12, 2018 historic summit between US President Donald Trump and DPRK Chairman Kim Jong-un, has finally happened after months of drama and fear of nuclear war. Now in an instant and with a handshake, the DPRK once a pariah hermit state is coming out from the cold and taking its seat at the table among the community of nations. It seems surreal.
Analysts across the media have been repeating much the same skepticism. Will the DPRK really de-nuclearize? Will the USA have the assurances it needs to lift the sanctions? Moreover, at what price, and how much aid will America need to provide the DPRK for this impoverished nation to get on its feet? The development specialists are already calculating the cost. Surprisingly the answer might be 'nothing,' because foreign investments may just pour into the DPRK.
A low cost work force of approximately 25 million straddled between the rising labor costs of China's northeast provinces and South Korea. The DPRK has relied on resource extraction and export for its income source. Most of its population are agricultural based and subsistence. Infrastructure investments toward manufacturing could allow outsourcing from both China and South Korea. DPRK could become an industrial export engine. All that is needed is investment. From China and South Korea, plenty will come.
As Special Economic Advisor to the DPRK, Rudi Sirr believes that the challenge will not be in luring foreign investment. "There will be lots from both China and South Korea alone. The concern is how to assure quality investments that are focused on those industries that need to grow without creating either unnecessary debt or inflation," Sirr observes. The establishment of special economic zones and priority areas for investment and trade will be a necessary next step for the DPRK.
The DPRK leadership is not worried about whether or not they will lure investment, but concerned that the investments will come in in an irrational way and create distortions for the economy that will be difficult to manage. The DPRK leadership's intention is to create a systematic and controlled means of opening the economy gradually, adopting economic reform sequencing in much the same way China did.
Rudi Sirr observed, "North Korea has learned to live by their own means for so long that they have a controlled management system. While this is frequently seen by outside observers as a disadvantage, it may actually prove a benefit as they sequence the opening of their economy and its transition from planning to market in a rational way. If they lift the breaks too quickly they may have to face the cost of inflation, unnecessarily redundant investments and external debt all of which can be destabilizing for the country socially economically and politically."
China's Belt and Road Initiative can offer practical solutions for the DPRK's hard underdevelopment. Following the "China solution," the first priority for the DPRK should be to get the infrastructure in place for rail and road systems as critical linkages to begin moving goods and resources. The second key priority is to open up the port system to these rail and road linkages.
The strategic link in this chain is Rajin Port because it is located only 150 kilometers from the intersecting borders of China Russia and the DPRK. It is the most northern most free ice port and therefore of high strategic value to both Russia and Mongolia. Russia is a founding member of the Shanghai Cooperation Organization, and Mongolia is an observer whose membership is imminent. The SCO is emerging as the policy coordinating body for the BRI.
Currently there are three piers in Rajin. The Russians have leased one with intention to develop it for the purpose of transshipment of Russian coal from Sibera to Puson's steel mills. This initiative halted because current UN sanctions restrict any vessel docking in a DPRK port from transshipping to another state. So Rajin recently just fell into disuse. If there were no UN sanctions, Mongolia would have eyed the other port.
While an existing rail links the city of Hasan in Sibera to Rajin, the DPRK has a more ambitious vision to extend this rail link all the way to South Korea thereby opening up an entire coastal network of ports between North and South Korea.
As wild as it may sound, the DPRK envisions that through Rajin, and the overland rail network extending across Siberia, with a BRI upgrade, South Korean would find a land bridge to Europe through Rajin. In short, the DPRK wants to become part of the greater new Silk Road. Well, in ancient times, it was. Ambitions do not end there however. Imagine this land bridge through the DPRK serving to link Japan's own investments in Central Asia and Europe.
So the issue is not how much aid the international community will give to the DPRK. Investors and pundits alike are asking a different question. When will Washington really lift the sanctions? In short, everyone in East Asia has an economic interest in seeing sanctions lifted against the DPRK so they can get on and do business. "Collectively this affects 600 million people in the region and economic development offers the opportunity for hope. Economic development, if managed properly, will solve a lot of the DPRK's problems," noted Sirr. As the media buzz from the Trump-Kim summit settles, the real question is will Washington offer a clear and reasonable blueprint to lift sanctions? This is what the investment bankers are waiting for, as it will change everything.
Laurence Brahm is Founding Director of Himalayan Consensus and a Senior International Fellow at the Center for China and Globalization.