Liu trades trash talk with UFC star Silva
If the actual punches match the ferocity of the verbal bombs being thrown, Chinese MMA fans are in for an explosive treat when Liu Wenbo faces Antonio Silva in a heavyweight showdown at Beijing's National Olympic Stadium on Aug 11.
Liu, one of China's finest mixed martial arts (MMA) fighters, and Silva, a Brazilian star from the Ultimate Fighting Championship (UFC), hit peak trash talk during a media conference in Beijing on Tuesday ahead of the Rebel Fighting Championship (RFC) card.
"I know he is a fighter in UFC, but he is a loser there. The past wins don't mean anything when he comes to China to fight," said Liu.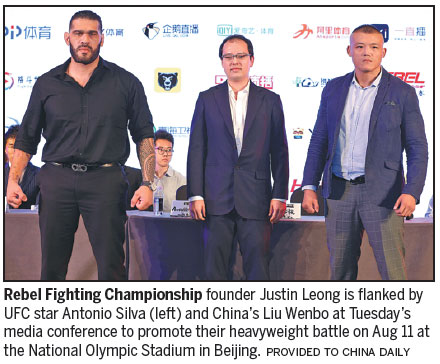 "He has no chance to win here. I know his wife is pregnant and I'm sure he doesn't dare to tell his child about his experience in China after this fight."
Silva, nicknamed Bigfoot, responded: "I will not show any mercy. I will break his head."
Liu won his first Rebel title with a first-round technical knockout against American Rich "The Cannon" Shannon last September.
However, Silva boasts a good record against UFC opposition in the cage and is considered one of the best heavyweights on the MMA circuit.
Since 2015, Rebel FC has hosted several successful shows in Singapore, where it has its headquarters, and has now expanded into China, taking MMA back to its birthplace.
"The spirit of Chinese kung fu - never say die - perfectly matches the MMA character," said Justin Leong, founder and CEO of Rebel FC.
"Beijing is the capital of China and boasts a great history as the center for heroes from home and abroad.
"Without strength and courage, you have no chance to fight for a name here. That's why we bring the best fighters to Beijing.
"By bringing the biggest fights to China, Rebel provides a platform for Chinese MMA fighters to shine on the global MMA stage by pitting them against the best international fighters."
Considering the MMA's industry-leading promoter, UFC, operates nearly exclusively in the United States and was sold for $4 billion in 2016, the market potential for the sport in China is enormous.
According to a Forbes magazine report published in April, MMA has 260 million fans worldwide. The sport has attracted huge broadcast and pay-per-view audiences as well as big-name sponsors such as Reebok, Harley Davidson, Monster Energy, Everlast and EA Sports.
August's Beijing showcase - entitled "Rebel FC 9: Battle for the Kingdom", will feature China's finest - Liu, Wang Sai, Ning Guangyou and Wang Yayong - against seasoned international fighters such as UFC veterans Silva and Japan's Takeya Mizugaki (Asia's top-ranked UFC bantamweight), Brazil's Rebel FC welterweight champion Adriano 'The Rock' Balby and Japan's Rebel FC bantamweight champion Shuhei Sakano.
"Rebel wants to give fans the best MMA fighters and the best events in China," said Leong. "MMA has a huge market here and through Rebel, more people in China will know and love the sport."
chenxiangfeng@chinadaily.com.cn