State Grid ready to diversify operations overseas
By Zheng Xin | China Daily | Updated: 2018-06-19 14:38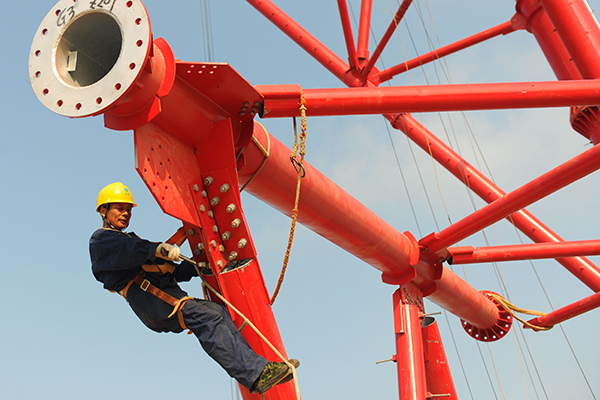 Beijing-based State Grid Corp of China is keeping an eye on the markets in Central and Eastern Europe, with a view to transferring existing assets as well as investment opportunities in new energy in the region.
"State Grid, which runs the majority of the nation's electricity distribution networks, has no investment in the region so far, but will keep a watchful eye on the markets in Central and Eastern Europe," said Wang Yimin, assistant general manager of State Grid.
"The company vows to speed up the building of a smart grid - to advance development of energy production and consumption with international peers for a better future," he said.
According to international market analysis company Research and Markets, the smart grid market in Central and Eastern Europe represents $28.6 billion of investment over the next 10 years.
Power infrastructure in many parts of Central and Eastern Europe is outdated and not compatible with a fully integrated European power market. The electricity market in the region presents opportunities to invest in smart grid infrastructure in the process of upgrading their grids, the analysis company said.
Many countries in the region will deploy other advanced smart grid infrastructure such as distribution automation, home area networks, distribution of renewable sources of generation, and electric vehicle charging infrastructure, it said.
According to Joseph Jacobelli, a senior analyst of Asian utilities at Bloomberg, as the world's largest renewable energy market, China is at the forefront of renewable energy, while State Grid's strong balance sheets will drive it to diversify its operations overseas.
With the government supporting overseas expansion, many Chinese electricity firms are motivated to acquire power asset overseas, he said.
"State Grid, with its extensive experience in grid infrastructure and integrating renewable energy into power systems, is dedicated to the interconnection of world power infrastructure to realize efficient, clean and sustainable development of global energy," Wang said.
According to the China Electric Power Planning & Engineering Institute, the separation of generation from transmission in most countries in Central and Eastern Europe has been basically completed. Deregulation of power generation, distribution and sales is also being promoted, which is similar to the institutional reform of the electricity sector in China.
State Grid, with total assets of 3.8 trillion yuan ($589 billion) and electricity sales reaching 3.9 trillion kilowatt-hours annually, has invested some 150 billion yuan in the past eight years to boost the development of smart grid technologies, including ultra-high-voltage electricity transmission, new energy technology, key technologies of the ffl500kV flexible DC valve and DC circuit breakers.
It has also been investing in the research and development of intelligent substations, intelligent power distribution, smart power utilization and electric vehicle network platforms.
The company has invested $19.5 billion in markets outside the Chinese mainland so far, including the acquisition of a 25 percent stake in Portugal's national power grid Redes Energeticas Nacionais, a 35 percent stake in Italian energy grid unit Cassa Depositi e Prestiti Reti, as well as the purchase of a 24 percent stake in Greece's power grid operator, ADMIE, owned by the Public Power Corp, which owns, runs and maintains the power transmission network across Greece.