Brexit can bring China-UK closer together
By Cecily Liu | chinadaily.com.cn | Updated: 2018-06-20 01:48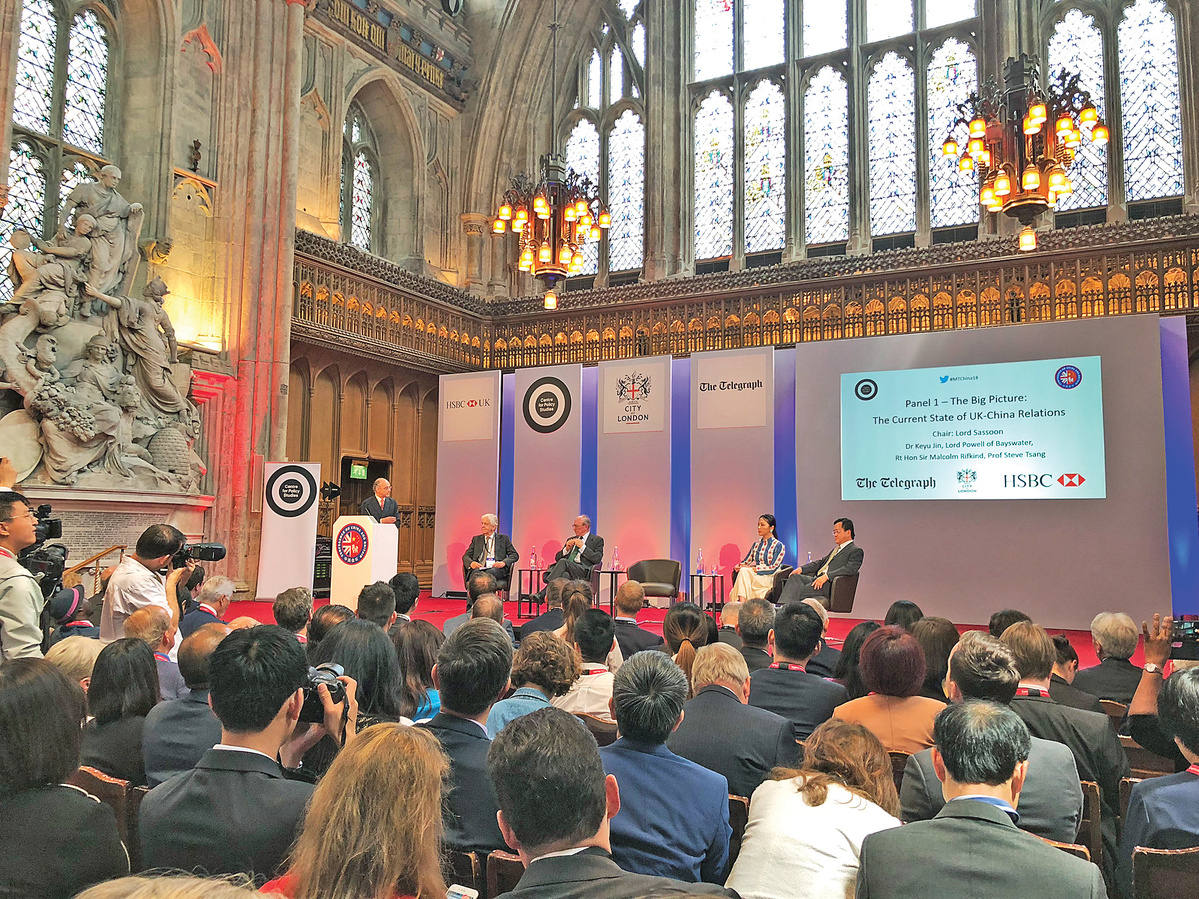 Time for new and historic opportunities, conference is told
Britain should strengthen its links with China as it prepares to leave the European Union, and leverage on new opportunities emerging from China's continued reform and opening-up, leading industry insiders and government representatives told a conference in London on Tuesday.
Speaking at the 2018 Margaret Thatcher Conference on China and Britain, hosted by London-based think tank the Centre for Policy Studies, minister and deputy head of mission of the Chinese Embassy in the UK Zhu Qin said in particular, mutually beneficial partnerships can be achieved in China's domestic market and along the Belt and Road countries.
"Our two countries (should) seize the opportunities and deepen mutually beneficial collaboration and shift the China-UK "golden era" into a higher gear," he said.
"China has entered a new era in building socialism with Chinese characteristics, and the UK is building a 'global Britain'. This is a time of new and historic opportunities," said Zhu.
The prestigious London conference attracted several hundred government and business representatives.
Thatcher, who was British Prime Minister between 1979-90, is well remembered for her free-market policies. In China, she is also remembered for her discussions with Deng Xiaoping over Hong Kong's return to China in 1997, a process which left a distinctive mark on China-UK relations and which is regarded to this day as an example of peaceful negotiation.
Over the years, China-UK business ties have accelerated, especially after the two countries' leaders announced the start of the China-UK golden era of relations in October 2015, during Chinese President Xi Jinping's UK state visit to meet then Prime Minister David Cameron.
In 2017, China's non-financial direct investment in the UK totaled $1.53 billion, while by the end of that year, cumulative non-financial direct investment from China in the UK was $19.14 billion.
Meanwhile, analysts at the conference pointed out that tremendous trade and investment opportunities have yet to be realized, especially in relation to China's effort to further open up its domestic market, supported by new measures announced by Xi at the Boao Forum for Asia in April this year.
This year marks the 40th anniversary of China's reform and opening up policies, which started under the leadership of Deng in 1978, and essentially transformed China from a planned to a market economy, accelerating the country's economic growth.
Zhu urged the two countries to strengthen collaboration within the context of the bigger strategic goal of building a community with a shared future for mankind, because both countries bear significant responsibilities for global development in an increasingly connected world.
He added that while cultural difference between the two countries are unavoidable, the two sides should show wisdom in addressing their differences and respect each other's perspectives.
Steven Tsang, director of the China Institute at London's School of Oriental and African Studies, added that he feels "reciprocity" should be a defining characteristics of China-UK collaboration going forward.
Whereas in the past Britain has always tried to help China, he said, Britain today must recognize that China is now a peer and should be treated as an equal partner.
The conference was held just a few days before the two-year anniversary of the 2016 referendum which began the still-ongoing process of Britain leaving the European Union, known as Brexit.
Mark Tucker, group chairman of HSBC Holdings, said Brexit has made China a more important trade and investment partner for the UK. He added the two countries have significant potential to strengthen relations in infrastructure, environmental protection, and bilateral trade and investment.