Xie rockets into record book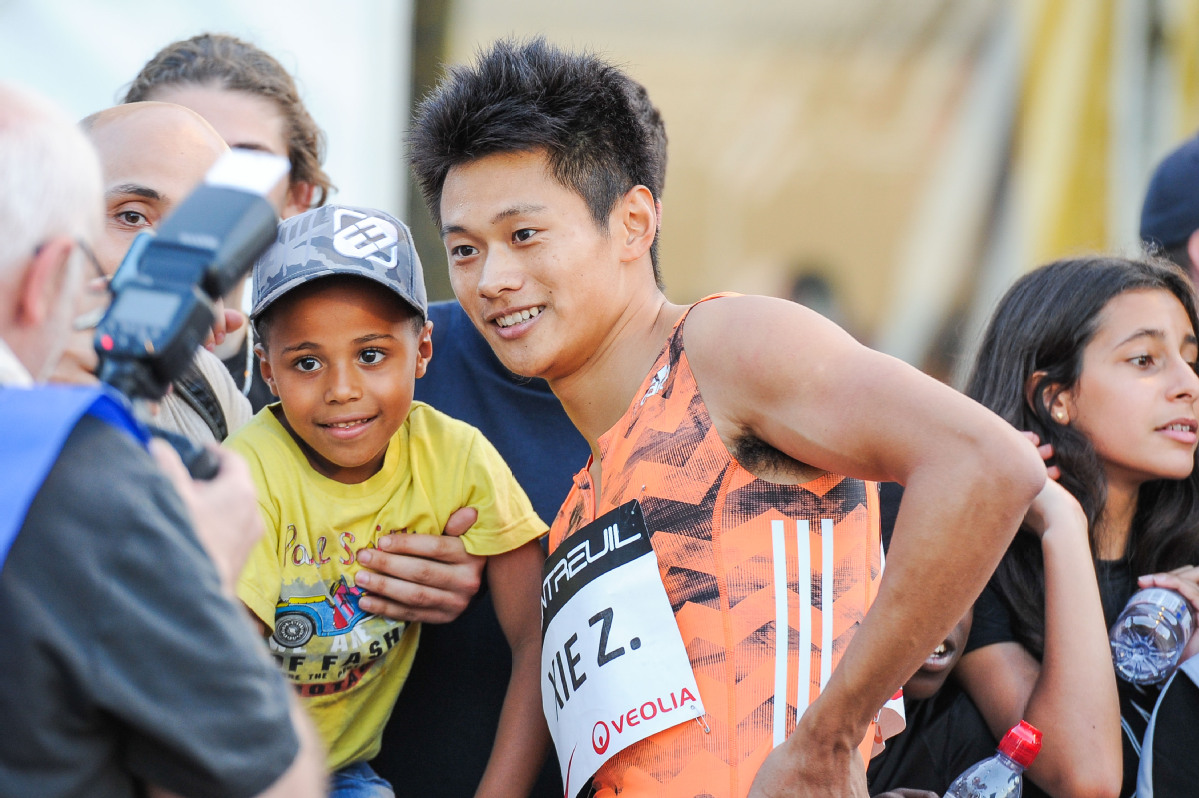 Chinese sprinter becomes just the third Asian to break 10-second barrier over 100m at French meet
Chinese sprinter Xie Zhenye is man of his word.
After promising to become the third Asian to run the 100 meters in under 10 seconds, he blazed to victory in 9.97 at the Meeting de Montreuil in France on Tuesday.
The 24-year-old Xie, the 200m gold medalist at the 2010 Youth Olympics, outraced Akani Simbine of South Africa to notch his landmark victory with a 0.9m/s tailwind.
Simbine finished second in 10.04, followed by Brazil's Paul Camilo De Oliveira of Brazil in 10.10.
Xie's previous career best was achieved last year at the Chinese National Games when he clocked a winning time of 10.04.
En route to becoming the second Chinese to dip under the 10-second barrier, Xie also beat the national record of 9.99, set by Su Bingtian at the 2015 World Athletics Championships in Beijing.
"It's also a surprise for myself," Xie said on Weibo after his historic triumph.
"I want to thank all my friends and people who support me for their kind blessings. I will try my best to fight and bring back more surprises."
Xie's time shaved .07 sec off his personal best while breaking the national record of 9.99 by 0.02 sec.
Xie also set the 200m national record with a time of 20.16 last month in Japan.
"I just want to run a little faster every year and keep improving my performance," he said earlier this year.
"My achievements so far prove that I'm going in the right direction."
Spearheaded by Xie and 28-year-old Su, Chinese sprinters have had a superb year.
Su got a wind-assisted 9.90 at the third stop of the IAAF Diamond League last month in Eugene, Oregon, and also claimed the overall 60m title on the IAAF World Indoor Tour and took silver at the Shanghai Diamond League, the second stop on the IAAF's prestigious global circuit.
"What Xie and Su have achieved proves that Asian athletes are as competitive as African athletes," said Xu Xiangjun, a professor at Capital University of Physical Education and Sports who specializes in sprint and hurdles.
"The stereotype of Asian athletes is that they are not competitive in athletics has been proven wrong over and over again.
"The first man that broke that stereotype, retired hurdler Liu Xiang, was an Olympic gold medalist and world champion, and now we have a new generation of talent to continue his legacy and give us hope."
From Xu's perspective, China's future success on the track depends on talented athletes getting more international experience.
"We still have many things to learn from traditional sprint powerhouses like the United States, including the more scientific training methods," said Xu.
"Also, it's very important for Chinese athletes to compete in international events to gain more experience.
"The General Administration of Sport of China has been doing a lot to nurture the next generation of sprint and hurdle talent, based on the two major principles of sending our athletes overseas and bringing back advanced competition experience."
In Asia, Japan remains China's main challenger for sprint superiority. Last year, 22-year-old Yoshihide Kiryu became the second Asian to eclipse 10 seconds in the 100 when he clocked 9.98 in Fukui, bettering Su's 9.99 from 2015.
The Asian record of 9.91 is owned by Nigeria-born Qatari Femi Ogunode, while Jamaican Usain Bolt's world record stands at 9.58.
"I told my wife last year I might call it quits this season, but I found I still have dreams to achieve. Now I tell myself to keep training and, hopefully, I can compete again at the 2020 Olympics in Tokyo," Su said earlier this year.
From a professional perspective, the question of who will ultimately emerge as China's most dominant sprinter is an intriguing one.
"It's still too early to say Xie has the absolute advantage over Su because the career of a sprinter is pretty long and Su still has his momentum," said Xu.
"However, it's a very good sign to see a young talent like Xie putting pressure on Su, which shows that we have a very bright future."
Xie Zhenye
Born: August 17, 1993(age 24)
Height: 5-foot-10 (1.78m)
Weight: 130 lb (59 kg)
Birthplace: Shaoxing, Zhejiang province
Events: 60m, 100m, 200m sprint
* Personal bests:
60m: 6.52 sec (2018)
100m: 9.97 sec (2018)
* National records:
100m: 9.97 sec (2018)
200m: 20.16 sec (2018)
* Sub-10-sec 100m records:
April 2017: 9.91, +4.1 m/s, Pure Athletics Spring Invitational at the NTC 2017, Clermont, Florida, USA
July 2017: 9.93, +4.4 m/s, Iowa Meet, Madrid, Iowa, USA
June 2018: 9.97, +0.9 m/s, Meeting de Montreuil 2018, Montreuil, France
Su Bingtian
Born: 29 August 1989(age 28)
Height: 5-foot-8 (1.72m)
Weight: 154 lb (70 kg)
Birthplace: Zhongshan, Guangdong province
Events: 60m, 100m, 200m sprint
* Personal bests:
60m: 6.42 sec (2018) Asian record
100m: 9.99 sec (2015), 9.90 sec (2018) + 2.4 m/s
200m: 21.23 sec (2008)
* Sub-10-sec 100m records:
May 2015: 9.99, +1.5 m/s, IAAF Diamond League/Prefontaine Classic, Oregon, USA
Aug 2015: 9.99, − 0.4 m/s, IAAF World Athletics Championships, Beijing
April 2017: 9.98, +4.1 m/s, Pure Athletics Spring Invitational at the NTC 2017, Clermont, Florida, USA
May 2017: 9.92, +2.4 m/s, IAAF Diamond League/Prefontaine Classic 2017, Eugene, Oregon, USA
May 2018: 9.90, +2.4 m/s, IAAF Diamond League/Prefontaine Classic 2018, Eugene, Oregon, USA