China's heavenly Zhangjiajie a magnet for Vietnamese tourists
By Tao Jun and Bui Long Xinhua | China Daily | Updated: 2018-06-25 10:00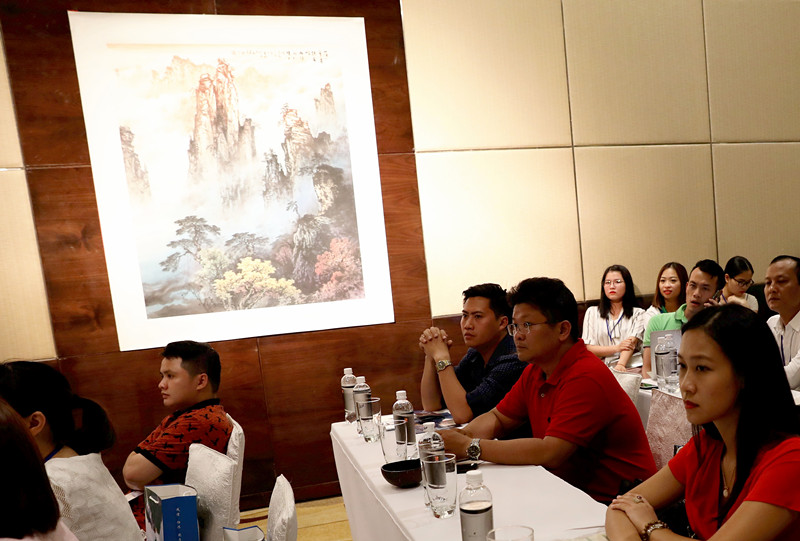 Zhangjiajie, a picturesque city in central China, is regarded by many foreign tourists as paradise on Earth, while an increasing number of Vietnamese travel agencies and airlines view it as a money magnet.
"Zhangjiajie looks like an Elysium on Earth, with its bewitching scenery. It lures numerous foreign visitors, including Vietnamese," Nguyen Duc Tam, vice-president of VietJet, Vietnam's first budget airline, said on Wednesday in Hanoi.
He was speaking at a ceremony in Zhangjiajie, Hunan province, to promote tourism between the Chinese city and Vietnam in general and Hanoi in particular.
Seeing the great potential of Zhangjiajie's tourism sector, VietJet - which has launched 30 regular air routes between Vietnam and China since 2014 - has recently begun direct flights between several major cities, including Hanoi, Da Nang and Nha Trang in Vietnam and cities in Hunan such as Zhangjiajie and Changsha, he said.
"We are preparing to launch a direct route between Ho Chi Minh City and Zhangjiajie with a frequency of two flights a week to help Vietnamese people discover the Chinese city - and the other way around," he said, adding that his carrier will increase the number of routes to China to 38 by the end of this year.
Besides Vietnamese airlines, travel agencies have seen blossoming business opportunities in Zhangjiajie, both in terms of natural landscapes and cultural beauty.
"There is nothing for visitors to complain about in Zhangjiajie. Its unique beauty is breathtaking," Hua Ke Van, manager of Hanoi-based Luxury Tour Co, said on Wednesday. "Earlier this month, I organized a tour to Zhangjiajie for all our company's employees. Later this year, we will start offering tours to Zhangjiajie for Vietnamese tourists."
According to Van, growing numbers of Vietnamese visitors, especially younger people, are opting for Chinese destinations such as Zhangjiajie and Fenghuang Gucheng (Phoenix ancient town) in Hunan, to admire their magnificent mountains, waterfalls and canyons, and experience their ethnic minority cultures and sports such as downhill cycling, jumpsuit flying and bungee jumping, all at reasonable cost.
"Our customers will be able to choose tours to Zhangjiajie by bus, train or air," he said. "In the near future, high-speed trains will become operational, linking southern China's Guangxi Zhuang autonomous region with Hunan."
Many other Vietnamese travel agencies have similar plans to further tap into the tourism potential of Zhangjiajie.
"Now, we sometimes use a whole charter flight to transport customers to Zhangjiajie. When more direct air routes between Vietnam and China are opened, and more expressways and high-speed rail routes are launched and connected, I daresay that many more Vietnamese people will flock to Zhangjiajie," Nguyen Thuy Linh, a sales executive at A Nam International Travel Service Co in Hanoi, said on Wednesday.
Customers of Linh's company, both the elderly and the young, visit Zhangjiajie either in summer to enjoy its pure air and evergreen trees, or in winter to experience snow in the wild, she said, adding that among the places of interest in the Chinese city, Wulingyuan - which is part of the Wuling Mountain range - impresses her most.
"When watching the Hollywood blockbuster Avatar, I knew that the mountains in the movie were inspired by the real ones in Zhangjiajie, and I wanted to see such a fairyland with my own eyes. Now my dream has come true," Linh said.
Wulingyuan, a UNESCO World Heritage site, houses more than 3,000 quartzite sandstone pillars and peaks, many over 200 meters in height, along countless ravines, rivers and waterfalls. It also has 40 caves and two natural bridges.
Above Wulingyuan is a transparent glass bridge that spans the canyon between two mountain cliffs in Zhangjiajie National Forest Park. When it opened in 2016 - at 430 meters long, 6 meters wide and 260 meters above the ground - it was the longest and tallest glass bridge in the world.
"Vietnam doesn't have glass bridges yet, so when I walked on the one at Zhangjiajie for the first time, it felt like I was walking on the moon," said Nguyen Quynh Trang, a student in Hanoi. "In the Zhangjiajie paradise, we can experience both vivid natural and man-made beauty. I will take my parents to Zhangjiajie this summer."
Liu Shaojian, vice-secretary of the municipal Party committee of Zhangjiajie, said: "In the first five months of this year, more than 20,000 Vietnamese people visited the city, doubling the figure from the same period last year and starting a rapid, strong growth trend."
Zhangjiajie holds many world-class attractions, including passenger cable cars, sightseeing elevators and winding roads, he said, adding that its thriving tourism is making a valuable contribution to friendship and cooperation between China and Vietnam.
Related Stories