US must recover checks and balances of its political system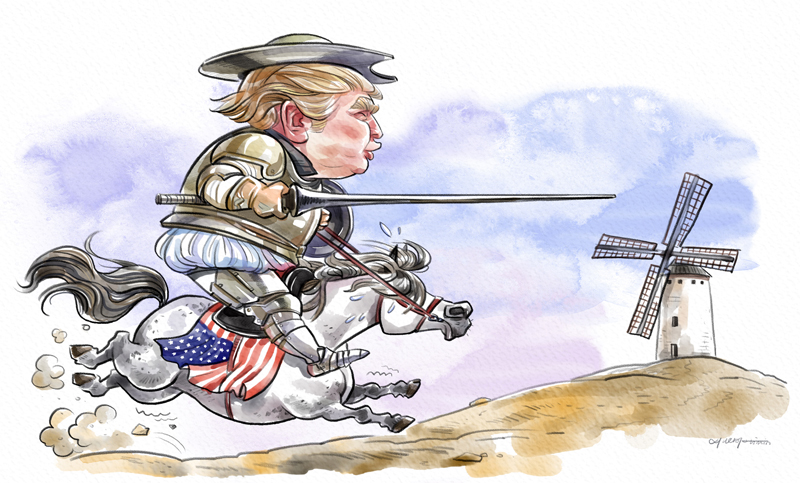 Americans are proud of their system of checks and balances established by their founding fathers. But as their President Donald Trump wages a trade war against the entire world, many feel that that system is broken.
The Trump administration fired the first shots in what could evolve into a full-fledged trade war in the past months by imposing punitive tariffs on washing machines and solar panels in the name to safeguard domestic industries, and then new steel and aluminum tariffs for alleged "national security". Both moves triggered retaliation from US trade partners and their complaints at the WTO.
Trump seems poised now to dramatically escalate the trade disputes with additional tariffs on $34 billion Chinese goods on Friday.
Trump and his trade hawks hope that China and other US trade partners will blink first because of the escalation given the US economic might and its oversized clout in the global economic and financial system.
To their surprise, China and most US trade partners have demonstrated that they won't be blackmailed.
Most US lawmakers, the business community, farmers, ranchers and consumers oppose Trump's tariffs because those tariffs will hurt US consumers and businesses as well as those of other economies.
In Senate hearings about two months ago, I heard Pat Roberts, a Republican senator from Kansas, talking emotionally about how he was surrounded by 100 farmers and their kids voicing their deep concern about foreign retaliation against US farm products that will endanger their livelihoods.
More than 100 House Republicans implored Trump in March not to go ahead with the steel and aluminum tariffs, imposed under the US Trade Expansion Act of 1962.
Senator Jeff Flake, a Republican from Arizona, introduced a bill in March to nullify Trump's steel and aluminum tariffs. "Congress cannot be complicit as the administration courts economic disaster," he said in a statement.
Unfortunately, Flake failed to get enough attention when many believe Trump's tariff threat was a mere negotiating tactic and when the midterm election means that Republicans and Democrats are unlikely to come together.
Trump's rationale for the tariff war is that US trade partners are to blame for US trade deficit, and US trade deficit means the US is a loser and has been taken advantage of by its trade partners, all of which are refuted by economists.
Article I, Section 8 of the US Constitution gives Congress the power to set tariffs on imports and to regulate commerce with foreign nations.
But in a series of trade acts, Congress has delegated most of the power to the president. The 1934 Reciprocal Trade Agreement Act gave the president growing authority to negotiate trade deals and the US Trade Act of 1974 gave the president trade promotion authority to facilitate negotiations.
With these acts, the US president can unleash a trade war that disrupts global supply chains and threatens global recession, without any checks and balances from US lawmakers, or the American people. And many US lawmakers now regret that Congress gave the president so much power on trade.
In waging such a disruptive trade war, Trump is not making America great again, but rather making the US the most despised and disruptive actor in the global system. It is the rest of the world, rather than the US, that has the moral high ground in upholding the multilateral global trading system that the US and its allies established after the end of World War II.
The US Congress and American people must regain the power to stop Trump's trade war.
Most Viewed in 24 Hours
China Views