Kenya urged to grow through partnership
By Lucie Morangi | China Daily | Updated: 2018-07-07 00:58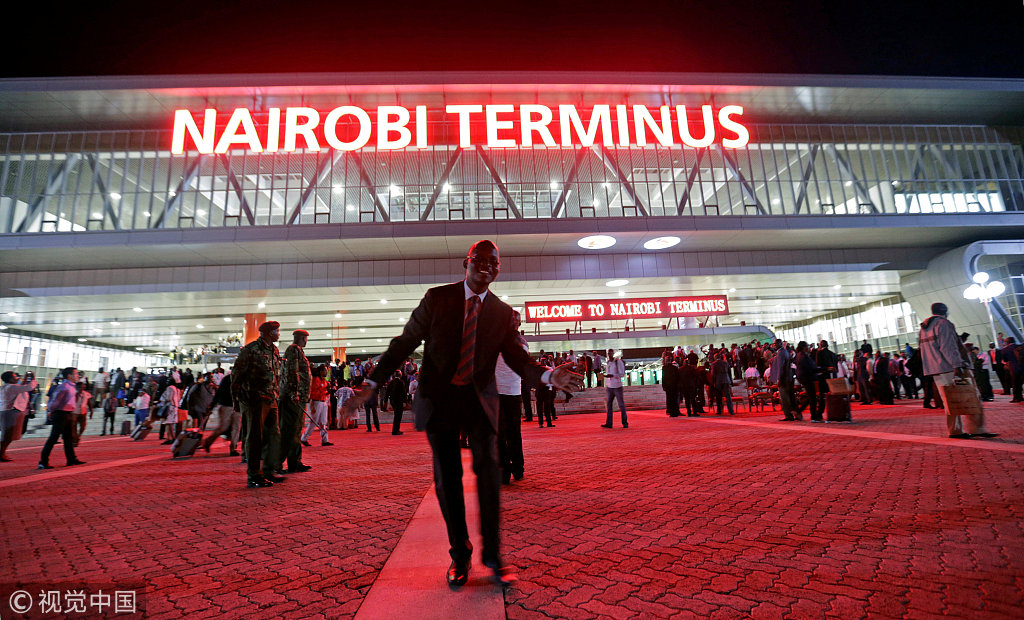 Experts say strategies needed that are similar to the ones that led to China's meteoric rise
The Chinese business community is eager to invest in Kenya and expand its manufacturing base in line with the Kenyan government's ambitions, says Guo Ce, the economic and commercial counselor of the Chinese embassy in Nairobi.
Under Kenya's "Big Four" development agenda, a set of priorities spearheaded by President Uhuru Kenyatta, the East African country wants to scale up the share of its manufacturing sector from 5 percent to 15 percent of GDP and generate 1.3 million jobs targeting youths.
Guo says this would address the growing trade deficit. "Trade is really not sustainable, and that is why we want to increase our investments here. We want to grow together," says Guo, adding that the issue is being discussed by the two countries.
According to Robert Kagiri, a strategy and policy consultant and adjunct lecturer at the Institute of Diplomacy and International Studies at the University of Nairobi, Kenya should pursue strategies similar to those that resulted in China's meteoric economic rise. Among these are creating a conducive investment environment through incentives and building infrastructure.
"The move will push up foreign direct investments that will be accompanied by technology transfer. The success was huge, since it not only built China as the world's factory, but removed more than(700) million people out of poverty," says Kagiri.
He says the African Continental Free Trade Area will give impetus to Chinese investors to set up in the region and take advantage of the low wages as well as trade agreements with developed economies such as the African Growth and Opportunity Act signed with the US.
"The African Continental Free Trade Area also offers immense opportunities to Chinese manufactures producing locally. It will give them a leg up as the continent shapes up to strengthen intra-African trade," says Kagiri.
Anzetse Were, a development economist, says joint partnerships with Chinese manufacturers will build the country's technical and technological capacity. However, Kenya needs to make deliberate plans in building ecosystems that encourages manufacturing, Were says.
"We also need to undertake a comprehensive cost-benefit analysis and understand the needs of the Chinese market, then invest in these value chains to improve our products and access the Asian market," she says.
Were adds that China offers a perfect case study that Kenya and the continent at large can learn from. In addition, China's willingness to bring down trade barriers to its market should nudge Africa to develop value chains that can create linkages with Chinese manufacturers, she says.
Dylan Yu, the managing director of Yocean Group Ltd, says African governments need to build demand for locally manufactured goods. "Policies and regulations to boost local demand will support the industry. Businesses are marketoriented, and this is important."
He says it took time for his locally assembled transformers to penetrate the market in competition with foreign imports. The first three years saw his business, established in 2014, unable to break even, despite bidding for contracts with government-owned power utility companies.
In addition, strengthening of value and supply chains would encourage foreign investment, says Yu. "Local companies are yet to invest in these business chains. As a company, we are trying to create awareness on how small and medium-sized enterprises can be our suppliers and build a chain that can be cost and time effective. I am a firm believer that if you want to go fast, walk alone, but if you want to go further, you have to walk with others."
The African Continental Free Trade Area will further open the consumer market, and Chinese businesses operating in Africa are strategically positioned to be among the first beneficiaries due to their technological and skill capacity, says Yu. However, he adds, African governments need to make deliberate efforts to facilitate intra-Africa trade.
lucymorangi@chinadaily.com.cn