'Beautiful Rwanda, Beautiful China' photo exhibition in Kigali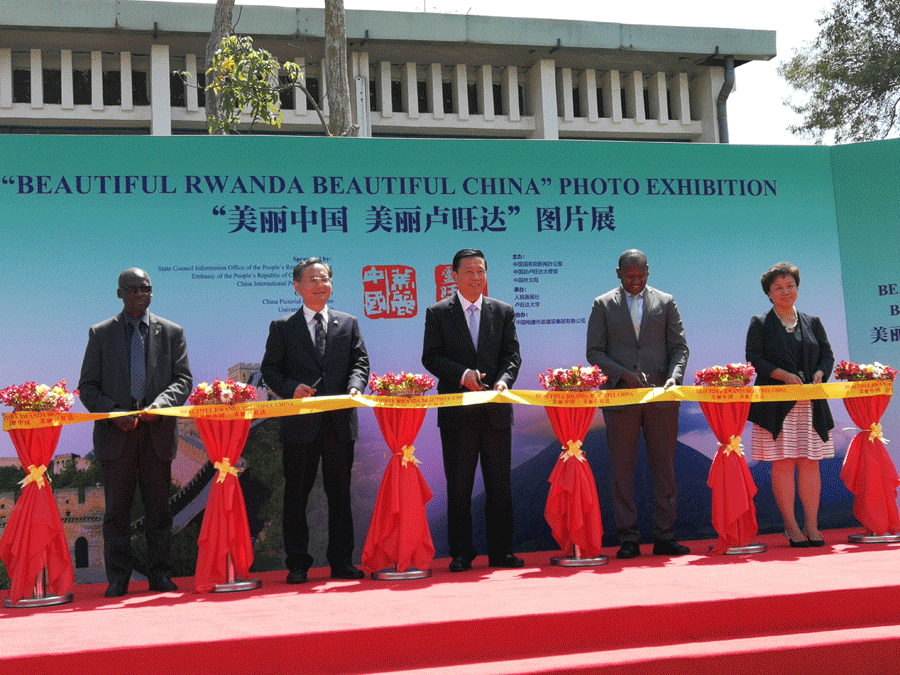 The opening ceremony of the Beautiful Rwanda, Beautiful China photo exhibition was held at the University of Rwanda in Kigali, capital of Rwanda, on the morning of July 6. The event was jointly sponsored by the State Council Information Office of China, the Chinese Embassy in Rwanda and China International Publishing Group (CIPG), and co-organized by China Pictorial Publications, the University of Rwanda and STECOL Corporation.
The exhibition displayed over 80 images of picturesque landscapes and cultural customs of the two countries as well as fruitful achievements of the China-Rwanda friendship and China-Africa cooperation.
In his address at the opening ceremony, Guo Weimin, vice-minister of the State Council Information Office of China, said that since the two countries established diplomatic ties, based on mutual understanding and sincere cooperation, China and Rwanda have increasingly strengthened political trust, economic cooperation and cultural exchanges.
He pointed out that although Rwanda and China are far from each other, Rwanda has traditionally been friendly to China. Since the establishment of diplomatic ties 47 years ago, the two countries have been committed to sincerity, friendliness, treating each other as equals and respecting each other's choice of development paths. Both countries understand and accommodate each other's core interests and major concerns, and bilateral relations have enjoyed steady development.
"We gather here for the Beautiful Rwanda, Beautiful China photo exhibition," Guo said. "It is hoped that this photo exhibition will help audiences from both countries to experience the beauty of Rwanda and China as well as their long history, review the traditional friendship between the two countries, and look ahead into new chapters of bilateral cooperation."
John Ntigengwa, permanent secretary of the Ministry of Sports and Culture of the Republic of Rwanda, said, "This photo exhibition comes at a time when our bilateral ties are getting stronger, especially in sharing our cultural friendship. A word of appreciation goes to the organizers of this photo exhibition Beautiful Rwanda, Beautiful China, through which I believe visitors will come to see and enjoy some of the similarities of our two nations. It is my hope that everyone will very much enjoy this exhibition and experience the beauty of Rwanda and the beauty of China."
Chinese ambassador to Rwanda Rao Hongwei said that China-Rwanda cooperation and development are facing unprecedented historic opportunities. The China-proposed Belt and Road Initiative is injecting vitality into the connectivity and coordinated development of African countries. The initiative has won enthusiastic acclaim from Rwandans from all walks of life.
China and Rwanda are eternal friends that share happiness and sadness. China supports the Rwandan people in actively exploring a development path fit for the country's national conditions. China is excited to work together with Rwanda to build a community with a shared future for humanity featuring mutual respect and win-win cooperation. The Beautiful Rwanda, Beautiful China photo exhibition is just one vivid example of the China-Rwanda friendship.
"In recent years, increasing numbers of Chinese and Rwandan youngsters have visited each other's countries. More and more Rwandan students have chosen to study in China," said Rao. "Meanwhile, institutions like the Confucius Institutes are introducing traditional Chinese culture and art to Rwandan people."
"The relationship between the two countries relies on people," said Chen Shi, deputy editor-in-chief of China International Publishing Group, "We should strengthen people-to-people connectivity and allow people from the two countries to know each other better through innovative means. With the efforts of the foundation affiliated with the China International Publishing Group, we are able to bring these photos to Rwanda."