Chinese volunteers lend a helping hand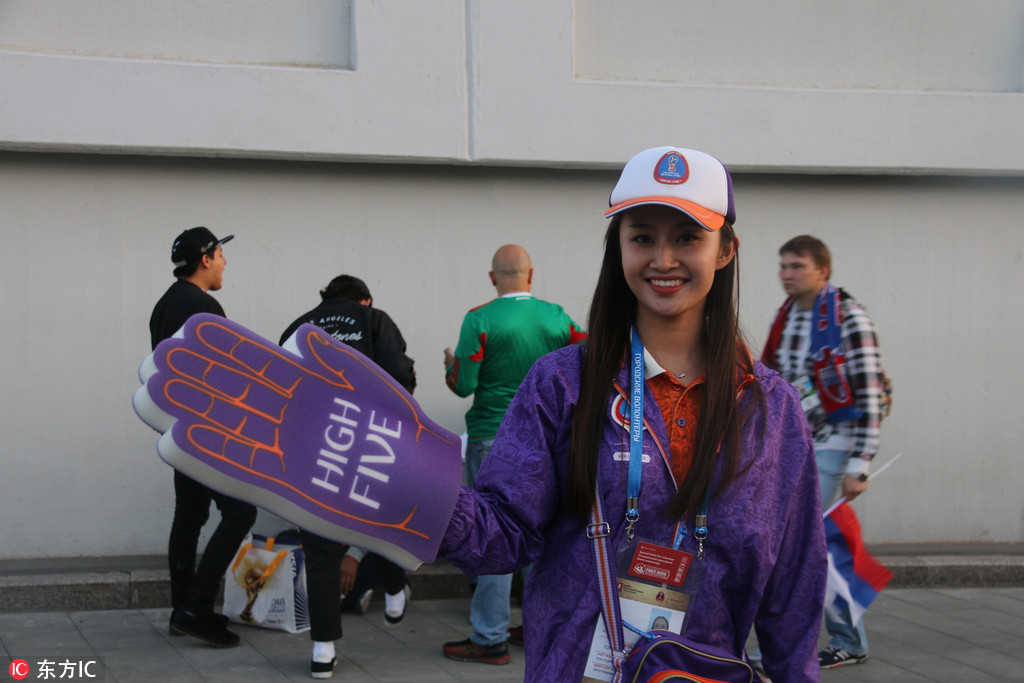 With Chinese brands ubiquitous at the World Cup, a number of volunteers are also doing the country proud at soccer's showpiece.
Wang Hui, 24, is a "veteran" volunteer of the 2014 tournament in Brazil, and is the only helper from the Chinese mainland stationed in the city of Nizhny Novgorod.
Having backpacked through 40 different countries, Wang is now enjoying the chance to help out in Russia, both as a soccer fan and as a tourist.
"The greatest feeling that the World Cup has given me is that no matter your age, your career or where you come from, soccer is a common language. This is a good opportunity to communicate with people from all over the world," said Wang, who fell in love with soccer in 2002 and later became a fan of Inter Milan, which in turn led her to apply to a university in Italy.
She had hoped to cheer on Italy in Russia, but the Azzurri's failure to qualify saw her switch allegiance to Croatia, as its star player, Luka Modric, is a favorite of hers.
Just like Wang, 27-year-old Yu Xinjun also caught the soccer bug in 2002, as it was the first and only time that China qualified for the World Cup.
"I have followed every World Cup since then, and after that I started to read sports newspapers and support soccer stars," Yu told Xinhua.
A graduate of journalism at Moscow State University, Yu is assigned to Fan Fest at Sparrow Hills in Moscow.
"As a World Cup volunteer, you meet a large number of fans every day. Their enthusiasm infects the entire city of Moscow," he said.
The proliferation of Chinese brands at the World Cup is a source of pride for Yu.
"When I entered the fan venue, I could see a Chinese-made TV screen and Chinese brands appearing on the huge screen. I feel proud that Chinese brands are being represented here."
As for China's fortunes on the pitch, Yu is keeping an optimistic outlook.
"The national team is like a seed deeply rooted in our hearts. I hope one day this seed will break ground and become a towering tree," he said.
A total of 17,040 World Cup volunteers-93 percent of whom are from Russia-were selected from a record 176,870 applicants, according to FIFA.