New Brexit crisis gives May a manic Monday
By Jonathan Powell in London | China Daily UK | Updated: 2018-07-10 18:34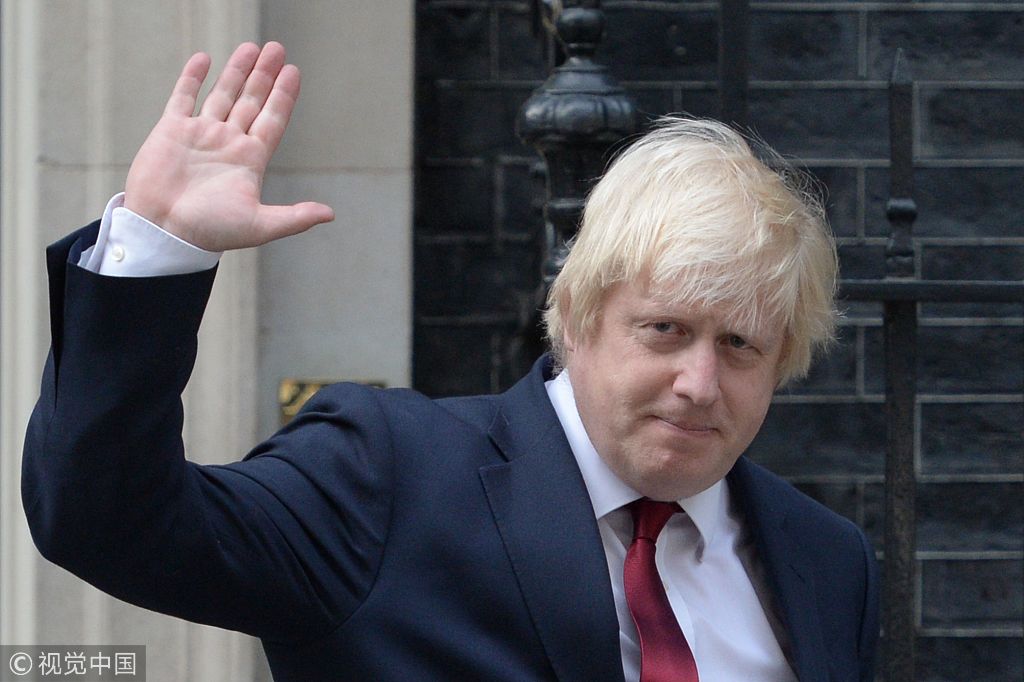 UK's Brexit chief quits, then foreign minister, triggering leadership worries
Boris Johnson's resignation as Britain's foreign secretary, the third high-ranking government official in 24 hours to walk out over Theresa May's soft Brexit plan, triggered talk of a no confidence vote against the prime minister as early as Monday evening.
Johnson's resignation follows those of the Brexit minister and negotiator David Davis and his deputy at the Department for Exiting the EU, Steve Baker, who left on Sunday.
Johnson's departure on Monday magnified the sense of crisis around May, and increases the chance that she could face a vote of no confidence.
The prime minister was due to address her backbench MPs in Westminster on Monday evening, in an atmosphere that was approaching feverish. If 48 MPs were to write letters of no confidence, May would face a vote of no confidence.
Many of the prime minister's supporters believe she would win such a contest, but if she lost, May would face a leadership challenge, with Johnson among the potential candidates.
David Davis — the minister leading Britain's EU withdrawal negotiations — resigned as Brexit secretary, saying it looked "less and less likely" the Conservative Party would deliver its promises on the Brexit result and its commitment to leave the customs union and single market.
Davis quit late on Sunday night, saying May had "given away too much too easily".
"The general direction of policy will leave us in at best a weak negotiating position, and possibly an inescapable one," Davis wrote in his resignation letter.
It comes as May contends with a backlash against the new soft Brexit plans for Britain's future relationship with the European Union.
Pro-Brexit Tories are angry about the plan, with speculation it could end up in a leadership challenge.
On Monday morning, Dominic Raab was appointed the new Brexit secretary by May, and will now take over day-to-day negotiations with the EU's Michel Barnier.
Raab was a prominent Vote Leave campaigner during the 2016 referendum and, until Monday, was the minister for housing. The 44-year-old was a lawyer before becoming an MP in 2010.
Davis' deputy at the Brexit department, Steve Baker, also resigned, saying he quit because he thinks May's Brexit plan will not give Parliament enough freedom to reject EU laws.
Davis's departure casts doubt on to how secure the government's Brexit strategy is. Diplomats are awaiting the full-version of the plan, in a Brexit white paper expected on Thursday.
May last week sought to bring her Brexiteer ministers on side, brokering an agreement in cabinet at the end of their day-long meeting at Chequers on Friday.
Downing Street included Raab among a list of names of ministers who they said might replace anyone who chose to resign. The briefing was intended to tell cabinet Brexiters that they were expendable, and could be easily replaced.
Raab played a leading role in the Vote Leave campaign, but he is generally seen as one of the more pragmatic and cerebral Brexiters, and not a hardline ideologue.
Number 10 has repeatedly ruled out extending the Brexit transition. But in Brussels it is widely assumed that the transition will have to be extended.