Smoking in home raises risk to pregnancy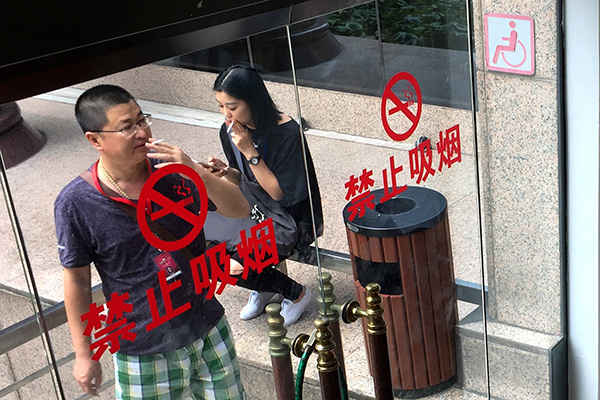 Pregnant women whose partners smoke at home are 17 percent more likely to miscarry than women with nonsmoking partners, highlighting the need for tougher tobacco control in families, a Chinese study found.
The study used free prepregnancy checks to gather information on 5.77 million nonsmoking rural Chinese women aged 20-49 and their partners, 29 percent of whom were smokers. Data was gathered from 2010 to 2016.
While the overall rate of spontaneous miscarriage was about 2.5 percent, the rate rose by 0.42 percentage points for those with smoking partners and fell by 0.12 percentage points among nonsmokers.
Within families the miscarriage rate dropped if the prospective father quit smoking before conception or during early pregnancy, while it didn't for those who continued the habit.
The study was led by researchers from the Research Institute of the National Health Commission and published on the website of the Journal of Epidemiology and Community Health in June.
"From our observations and communication with would-be parents, we found that males, who are often reluctant to quit smoking, express stronger desire to cut down on tobacco use for the sake of their children," said Yang Ying, who was involved in the study as an associate research fellow at the institute.
Yang added that pregnant women are equally or more vulnerable to harmful chemicals produced by their smoking partner on a daily basis, compared with exposure to smoke in public places.
"The research is meant to persuade males that both in public areas and homes, they had better quit smoking for the sake of their family's health," Yang said.
Yang also noted that the study was limited by a lack of measurements on the actual levels of toxins produced from smoking that affect pregnant women.
Despite that limitation, the study was appreciated by Yang Jie, deputy head of the tobacco control office of the Chinese Center for Disease Control and Prevention.
"The result is sufficient to demonstrate that paternal smoking is linked to miscarriage risk, assuming the data are reliable," Yang said.
Yang believed that the study can play a role in facilitating policymaking related to tobacco control in China.
"China has been promoting tobacco control in public areas for a long time. A national ban with legal force has been considered, but not launched," Yang said. "Research like this can serve as evidence for policymakers and convince the public of the necessity to strive for an environment free of smoke fumes."
China has been wrestling with a blanket ban on smoking indoors. By the end of 2016, only 18 cities had adopted local regulations requiring smoke-free indoor environments. Those regulations cover only about one-tenth of China's population.
Wang Xiaoyu contributed to this story.