Baek biting at Saxon's heels in tour tussle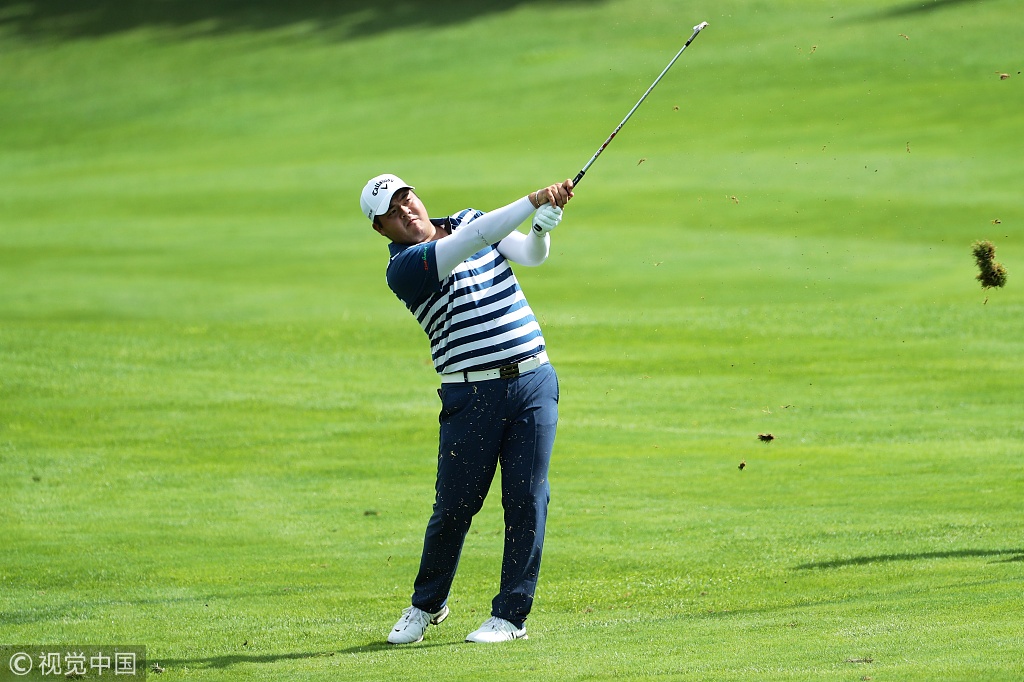 YANTAI, Shandong province-South Korea's Todd Baek is hoping a strong performance at this week's Yantai Championship will boost his quest for a top-five finish on this year's PGA Tour Series-China order of merit and a return to the Web.com Tour.
He's also gunning for a fighting chance to catch runaway leader Charlie Saxon.
Baek, 26, finished fifth in the order of merit standings in the Tour's 2014 debut season and went on to play two full years on the Web.com Tour in 2015 and 2016, the year Saxon finished second in his first season in China to earn a place on last year's "path to the PGA Tour".
Baek sits third with 367,650 yuan ($55,000) from six events, due in large part to his victory in May's Haikou Championship. Hewill play his first two rounds at Yantai Nanshan Mashanzhai Golf Club with Chinese amateur "Carl" Yuan Yechun and American Joseph Gunerman, who tied for second at last month's Kunming Championship.
Saxon already has 758,335 yuan ($113,000) following two wins and a runner-up finish, so Baek needs more than one victory to catch the American as the Tour enters a three-week stretch of tournaments.
"Charlie has been playing unbelievable this year with two wins and a second place on this Tour. However, we still have seven more events after this week, so I think I still have a chance," said Baek.
"He has been playing awesome, which is great to see, but we'll see how it goes," he added, noting the Tour's general standard of play has risen drastically in recent years.
"This year there are definitely better players than in 2014, so everyone has a chance to win. Then it just takes a couple of good weeks out here to move up the order of merit."
Born in South Korea, raised in New Zealand and now based in the US, Baek arrived in Yantai well rested and is happy to be back in Shandong province, where he won the Chateau Junding Penglai Open in 2014, a victory that proved crucial in qualifying for the Web.com Tour.
"I took three weeks off in Korea. I didn't go all the way back home to San Diego, just had some time off and caught up on some rest. It was nice to go back. I practiced, not as much as I would have liked, but it was good," said Baek, who has taken a liking to the Ian Woosnam-designed course in Yantai.
"I feel pretty confident. I like the way the course sets up. You have to drive it well out here. You don't have to hit it far, but you have to keep it in play. Fundamental stuff. The greens are rolling good, so I think it should be a good week for me."
American Jeffrey Kang, who speaks fluent Korean and is good friends with Baek, is fourth on the order of merit despite recently failing to match the form shown when he won the season-opening Chengdu Championship by five shots.
After finishing outside the top 35 in his previous two tour events, Kang spent the past few weeks working on his game and is optimistic he'll soon be back in contention.
"I feel pretty good. I've been working on my putting a lot. I just haven't been as sharp the last couple of events, so hopefully that changes," said Kang, who turned 27 last month.
"That's the goal. I just want to make some more putts and I should be back on track. I feel pretty good."
The PGA Tour established the PGA Tour Series-China in 2014 as its third international developmental tour.