Serena Williams nears 8th Wimbledon title, 24th Slam overall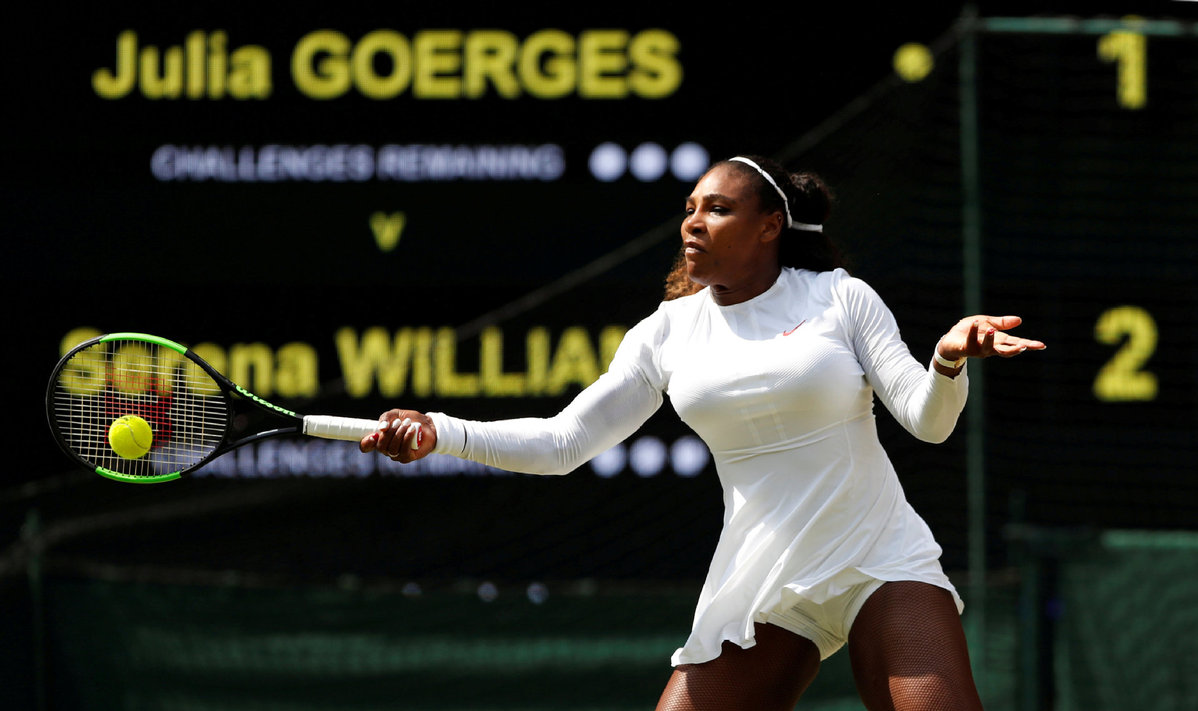 LONDON - Yes, this will be Serena Williams' 10th Wimbledon final. Yes, it's her 30th title match at any major. And, well, sure, she's widely regarded as not just the best of her era, but any era.
Let others shrug at this latest accomplishment, as if all it signified were merely another chance at another in a long line of trophies. Williams is not shy about saying she, for one, is impressed by this. Rightly so. For it was only about 10 months ago she was having a baby and then dealing with a serious health scare that followed.
Even after all of that, even after more than a year away from the game, even in only the fourth tournament of her comeback, Williams showed she's still capable of dominance. Especially at the All England Club, where a relatively routine 6-2, 6-4 victory over 13th-seeded Julia Goerges of Germany on Thursday put Williams one win away from an eighth championship.
She's also closing in on her 24th Grand Slam title, which would equal Margaret Court's all-time record.
"A lot of people were saying, 'Oh, she should be in the final,'" the 36-year-old Williams said. "For me it's such a pleasure and a joy because, you know, less than a year ago, I was going through so much stuff."
After hitting five aces with a serve that reached 119 mph, delivering 16 winners to only seven unforced errors, and covering the court so well with speed and effort, Williams will face another German, 11th-seeded Angelique Kerber, on Saturday.
"Whatever happens, honestly," Williams said, "it's an incredible effort from me."The left-handed Kerber, a former No 1 and two-time major champion, beat 12th-seeded Jelena Ostapenko 6-3, 6-3 earlier Thursday.
"Seeing her back, it's great," said Kerber, who has lost six of eight previous matches against Williams. "I know that she is always pushing you to the limits."Kerber let 2017 French Open champion Ostapenko determine the outcome of nearly every point. By the end, Ostapenko had far more winners, 30-10, and far more unforced errors, 36-7.
Williams vs. Kerber will be a rematch of the 2016 final. Williams won that for a second consecutive Wimbledon title, then sat out the grass-court tournament last year while pregnant, part of a 16-month gap between majors.
After giving birth to daughter Olympia last September, Williams was treated for blood clots.
"I lost count after, like, four surgeries," said Williams, who has been wearing compression leggings this fortnight as a precaution.
Her first Grand Slam tournament back was the French Open, where she won three matches before withdrawing last month because of an injured chest muscle.