Belt and Road will help shape healthier world
By Tedros Adhanom Ghebreyesus | China Daily | Updated: 2018-07-17 07:06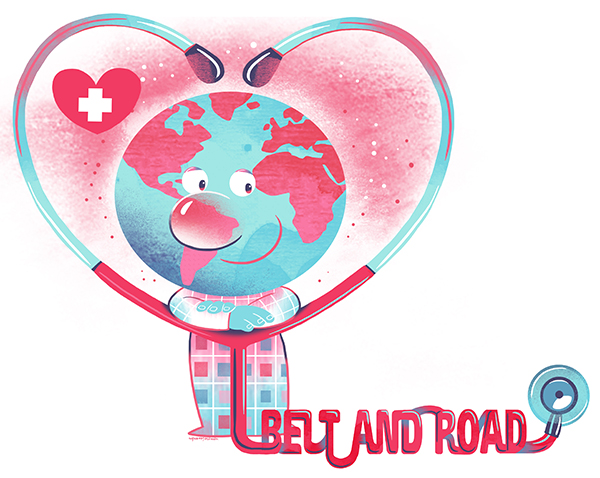 As I travel this week to meet China's State leaders in Beijing, I'll fly over a number of countries where China is dramatically changing economic landscapes. With its Belt and Road Initiative, China is promoting global economic integration by building infrastructure and broadening trade with countries such as Kazakhstan, Russia and about five dozen other countries on multiple continents.
Pakistan, for example, is gaining new railways, power plants and highways courtesy of $60 billion of Chinese funding and infrastructure expertise. But the partnership also extends to health. Last year, China and Pakistan launched a new emergency medical center in the southern port city of Gwadar, aiming to expand healthcare to those in need.
China's aim in Pakistan is to improve health conditions in an area where access to healthcare and basic sanitation are needed to prevent future disease outbreaks. The World Health Organization commits millions of dollars to projects in Pakistan each year, focusing on the expansion of polio vaccines and responding to outbreaks of diseases such as dengue and hepatitis. Yet, as China recognizes, there is more to be done.
WHO commends China's efforts to integrate health into its economic partnerships. Already a key contributor to and partner of WHO, China has the practical expertise and economic influence not only to vastly reshape healthcare in Pakistan, but also billions of lives in Belt and Road countries and beyond. With its experience of providing community-led healthcare and creating access to clean water and sanitation for its more than 1.3 billion citizens, China has the know-how and power to strengthen healthcare systems that support human resources and economic development.
My journey to China aims to embed that know-how in the thriving partnership between China and WHO, enabling us to work together to promote health. China's previous contributions to WHO have provided much-needed medical aid for Syria, and healthcare, clean water and sanitation in Yemen, where conflict has led to one of the world's largest cholera outbreaks.
WHO's primary mission is to help all countries provide safe, effective and quality healthcare services to their citizens, particularly the poorest and most vulnerable. In addressing the unfinished business of tuberculosis and hepatitis, and advancing reforms to improve the quality and reach of primary care services, China is tending to that mission within its own borders. As General Secretary Xi Jinping said at the 19th National Congress of the Communist Party of China last year, leaders are confronting the challenge "between unbalanced and inadequate development and the people's ever-growing needs for a better life". China is moving toward a sustainable economic model that not only focuses on growth but also the quality of life for all its people.
Since taking office as director-general of WHO a year ago, I have emphasized two key priorities. The first is universal health insurance coverage, so that all people receive the healthcare services they need, when and where they need them, without facing financial hardship. The second is preventing, detecting and responding rapidly to health emergencies.
In fact, these two priorities are two sides of the same coin: the foundation of universal health insurance coverage is a strong healthcare system, which is also the best defense against outbreaks and other health emergencies.
China's own healthcare reforms, which have expanded health insurance to more than 95 percent of its huge population, serve as a model for universal health insurance coverage, a bulwark against health emergencies, and a reminder that transformations can be far-reaching.
Health investments were a key feature of China's development story. Now, as China pursues the Belt and Road Initiative, it has the potential to alter the course of development for over 60 countries that will soon have paved roads and state-of-the-art transportation systems.
In the coming years, WHO will continue to work with China to realize Healthy China 2030, and to promote health, keep the world safe and serve the vulnerable around the world. WHO and China can work closely to ensure that development projects include public toilets, medical centers and sewage facilities, as well as new roads and train stations.
Together, we can ensure that, on the path to economic development and globalization, health is a platform for growth and trade, not an afterthought. There is unlimited potential, and a window of opportunity for WHO and China to advance a new phase of strategic partnership on global health.
The author is WHO director-general.