CPEC and Pakistan's 2018 general election
By Zamir Ahmed Awan | chinadaily.com.cn | Updated: 2018-07-18 10:36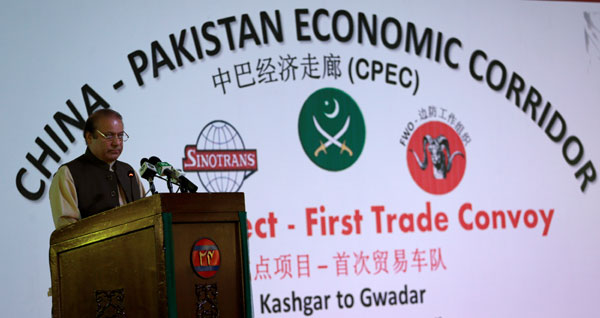 The 2018 Pakistani general elections are to be held July 25. There are 272 seats in the National Assembly of Pakistan and 557 seats for all the provinces of Pakistan. As per the constitution of Pakistan, the tenure of a government is set for five years and after the completion of tenure, the people of Pakistan elect a new government based on voting by the general public. All Pakistani nationals aged 18 and above can freely cast their vote to any candidate of their own choice without any pressure or prejudice. However, the journey of democracy in Pakistan was a quite bumpy one with many problems.
The country has imposed martial law four times in its history, with military governments ruling during almost half the time since Pakistan's independence in 1947. The first martial law was imposed in 1958-69 by Field Marshal Ayub Khan, the second in 1969-71 by General Yahya Khan, the third in 1977-1988 by General Zia, and the fourth in 1999 by General Musharraf, who ruled Pakistan till 2008.
The upcoming elections will be the fourth consecutive election within the last 16 years. Elections are a means to improvement as the voters reject all poor performers who do not meet their expectations. Today the voter is well-educated and much more aware of his voting power. The voters are evaluating the performance of all those candidates who were a part of previous governments and, based on their performance, asking them questions about what they have done for education, healthcare, jobs, the economy and welfare. If they are not satisfied, they may not vote for the candidate. Some candidates are facing embarrassing situations while on their campaign.
Based on various surveys and public opinion, this election will comprise a new trend, one very different from traditional family or party politics. Voters may not elect those in the government who could not deliver satisfactory results. It is expected that many new faces will appear and old faces may not be re-elected.
Recently questions are arising about the postelection situation for the China-Pakistan Economic Corridor. Will the next government have the same priority toward CPEC? CPEC is a strategic decision for Pakistan. The 220 million people of Pakistan support CPEC and Pakistan's institutions, especially the Pakistan Army, are its guarantor. The projects under CPEC are an international obligation and Pakistan has a track record of fulfilling its obligations. We have amassed immense debts but have not defaulted on any one of them, which shows Pakistan's adherence to its obligations. Moreover, CPEC is a mutually agreed-upon framework and beneficial for both China as well as Pakistan, a perfect example of a win-win situation. Projects covered under CPEC are vital for Pakistan and will boost Pakistan's economy, job market and security. There exists complete consensus among all political parties, big or small, that CPEC should be supported in principle. The people of Pakistan are already enjoying the fruits of CPEC in the form of an increased electricity supply. The pre-CPEC shortage of electricity had hit the nation very hard and made industries less competitive in the business world. Improved infrastructure has eased travel and communication for the people of Pakistan, while pre-CPEC infrastructure was rather outdated and old, especially the colonial-era railway system which was laid by the British. A new job market has opened up for Pakistani youth, new businesses have been created, and unlimited avenues of opportunities are available for further exploration.
Above all, Pakistan-China relations are so strong that changes of government have never impacted the two "Iron Brothers" in the past. In spite of the fact that various governments have led the two countries in the last six decades, the change of leadership has never affected Pakistan-China relations and the friendship has only grown stronger. Generally speaking, there are feelings of love, mutual trust and respect between both sides in all segments of society. Our relationship is an all-weather and all-dimensional one, where we are partners and above all "friends forever".
Whoever wins the upcoming elections will build even stronger relations with China. Traditionally, after taking the oath, Pakistan's elected leaders always visit China at their earliest possible convenience. Based on our past experience, we may predict that the future of CPEC is very bright and there will only be positive change. The elections and the new government will make CPEC more effective and more beneficial for both countries. Pakistan greatly needs for CPEC to take off economically. The people of Pakistan stand behind CPEC and the Pakistan Armed Forces are a guarantor of CPEC. Our Chinese friends may trust the legal and judicial system of Pakistan and we may rest assure that their investment in Pakistan is safe, with a very bright future.
The author is a Sinologist (ex-diplomat), Nonresident Fellow of CCG (Center for China and Globalization), National University of Sciences and Technology (NUST), Islamabad, Pakistan.