Robot drinks stir man vs machine debate
Innovative Shanghai bistro poses questions on future of food and beverage sector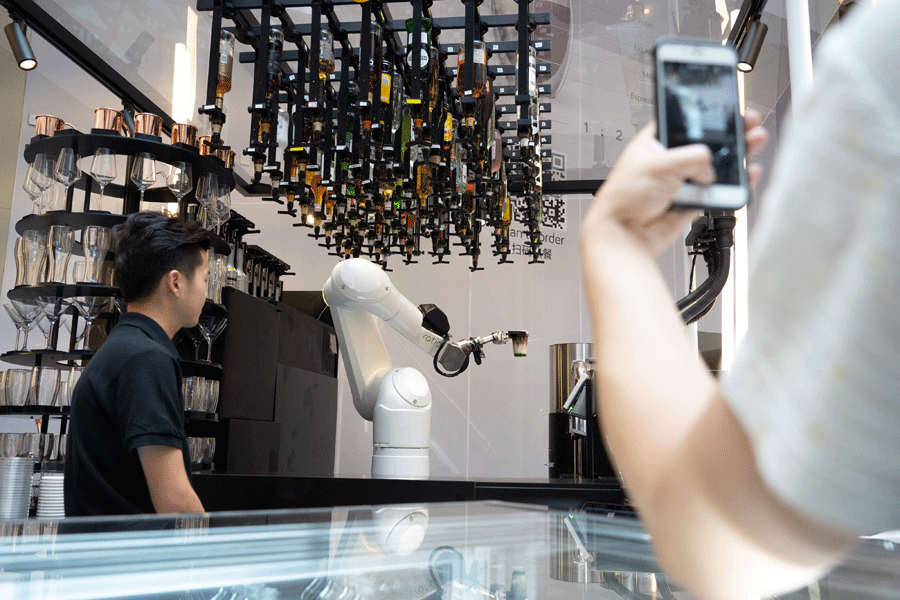 Located in the basement of the K11 Art Mall in downtown Shanghai is Ratio, a new pop-up store that operates as a cafe by day and cocktail bar by night.
Automation is the name of the game here. For instance, customers gain access to a digital menu after scanning QR codes found on the tables. Apart from a comprehensive selection of drinks, they can also customize their orders.
A regular latte at Ratio costs 28 yuan ($4.20). Those who prefer a stronger cup of coffee can opt for a double or triple shot for just 1 yuan more-it is a practice that most coffee shops in Shanghai do not adopt.
"We see ourselves as the 'Tesla of Retail'-five-star service at three-star prices," Gavin Pathross, the founder of Ratio, said in a reference to the multinational automaker in the United States.
In terms of cocktails, customers can also choose how many shots of alcohol they want in their drinks and the specific combination of liquors. The starting price for a customized cocktail is about 60 yuan, cheaper than that for similar drinks at high-end bars in the city.