Ronaldo sees China's potential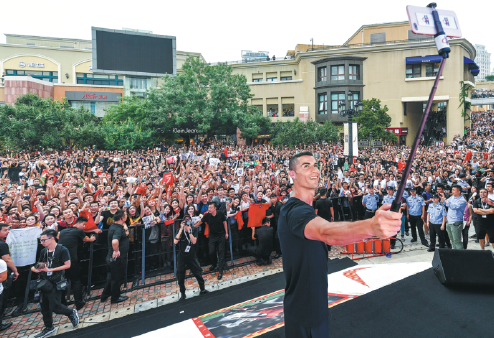 Portuguese icon says kids are key to realizing national sporting dream
Global soccer megastar Cristiano Ronaldo expects China will one day produce a better player than himself.
"Give opportunities to the children because they are the future," Ronaldo said when asked what he thought of the nation's soccer dream ahead of taking part in a scrimmage at Beijing's Haidian Minzu Primary School last Thursday.
"Open the doors for the kids, give them good facilities and good pitches in schools and everywhere. I hope one day to see a Chinese player like me or even better than me. It's not going to be easy, but it's possible."
Ronaldo's interaction with students during his two-day visit to the capital underlined his commitment to help raise soccer's profile among Chinese youth.
Born to an impoverished family on the Portuguese island of Madeira, Ronaldo defied long odds to reach the pinnacle of his sport - and the five-time Ballon d'Or winner never hesitates when it comes to helping facilitate the dreams of children coming from tough upbringings.
The Portuguese icon made the effort count in Hekou Primary School in northwestern China's Gansu province, where dozens of poor students formerly played with shabby soccer balls on a rough pitch hewn from the mountainous terrain.
With 2.9 million yuan (about $428,000) raised by auctioning 49 pairs of his signature soccer boots, Ronaldo helped transform the school's old playground into a sparkling new all-weather pitch covered with an eco-friendly artificial surface.
The fundraising was part of the charitable Active School initiative from Ronaldo's sponsor, Nike, which has brought him to China during the offseason two years in a row.
Although China has failed to qualify for the World Cup four consecutive times over the past 15 years, the nation is ambitiously rolling out a school soccer promotion plan aimed at introducing specialized physical education curriculums to 50,000 primary and secondary schools by 2025.
The lack of infrastructure and training expertise in some of the nation's remote areas poses some challenges, but such high-profile support from arguably the world's best player is strong enough to fight the odds.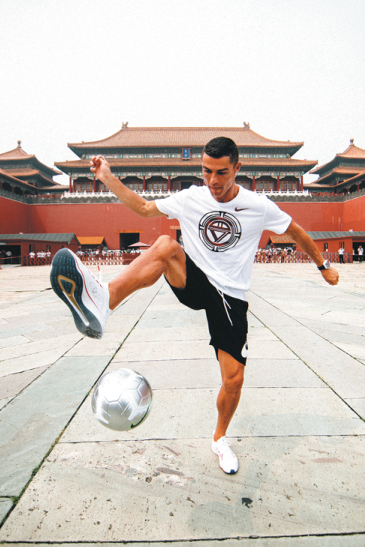 Lyu Shaowu, a physical education teacher at Hekou Primary School, said meeting Ronaldo in the flesh was "a dream come true" and an inspiration to keep working at changing the lives of underprivileged kids through the power of sport.
"I feel like all the hard work teaching sports with poor facilities has paid off," said Lyu. "Although not seeing him play in person, our students are extremely happy to now have such a great facility, which they never dreamed of."
Boasting the star power of Ronaldo, homegrown Grand Slam tennis champ Li Na and Olympic gold medalist hurdler Liu Xiang, the Active Schools program is part of Nike's long-term partnership with the Chinese Ministry of Education to encourage more than two million children to embrace sports as an educational tool by providing facilities, tailor-made PE curricula and training for teachers.
At a Sunday ceremony at the National Aquatics Center in Beijing, 100 outstanding PE teachers across China were honored at the Active Schools Innovation Awards and received certificates from Li and Liu.
Hot on the heels of his world-shocking transfer from La Liga giant Real Madrid to Serie A side Juventus, Ronaldo's presence in Beijing was the icing on the cake.
From the airport to a downtown shopping mall and all points in between, he was cheered by fans from every corner of the country. In addition to signing jerseys and snapping selfies with the adoring crowds, Ronaldo showcased his ball skills during a visit to the Forbidden City.
"You should love what you do. I always love playing football and I love to make people happy," said the 33-year-old, who won four UEFA Champions League titles with Real Madrid and one with Manchester United.
"They want to see nice things and I want to make that happen."