Woman rescued after floating in sea for 30 hours
chinadaily.com.cn | Updated: 2018-07-30 20:35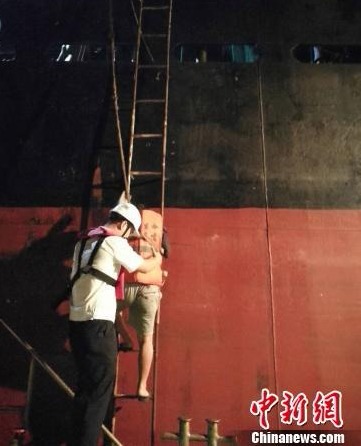 A 25-year-old woman was rescued near the sea of Huizhou, Guangdong province, on July 25 after floating in the sea with bubble balls for nearly 30 hours.
Wang Fengguan, a shipman from freighter "Xin Tian No.7", was patrolling on the deck when he spotted a white floating object in the sea about 10 meters from the hull and heard a faint cry for help.
Under the command of the captain, surnamed Feng, 13 crew members immediately launched a rescue operation.
Nearly 20 minutes later, the woman, surnamed Chen, was successfully rescued.
Chen, from Jieyang of Guangdong, said she was participating in a water sport called ocean drifting at 5 pm on July 24 in Xunliao Bay of Huidong when she got into trouble.
She said she had been floating in the sea for nearly 30 hours, drifting more than 10 km.
Captain Feng contacted the local marine authority, which sent a patrol boat to pick up Chen two hours after she was saved.
At 1 am on July 26, maritime law enforcement officers handed her over to the border police station in Xiayong, Huizhou Daya Bay area. After contacting Chen's family, her sister and brother-in-law arrived overnight to take her home.
Yang Zekun contributed to this story.
Related Stories