Honey peaches giving Jiangsu farmers a sweet taste of success
Xinhua | Updated: 2018-08-10 10:20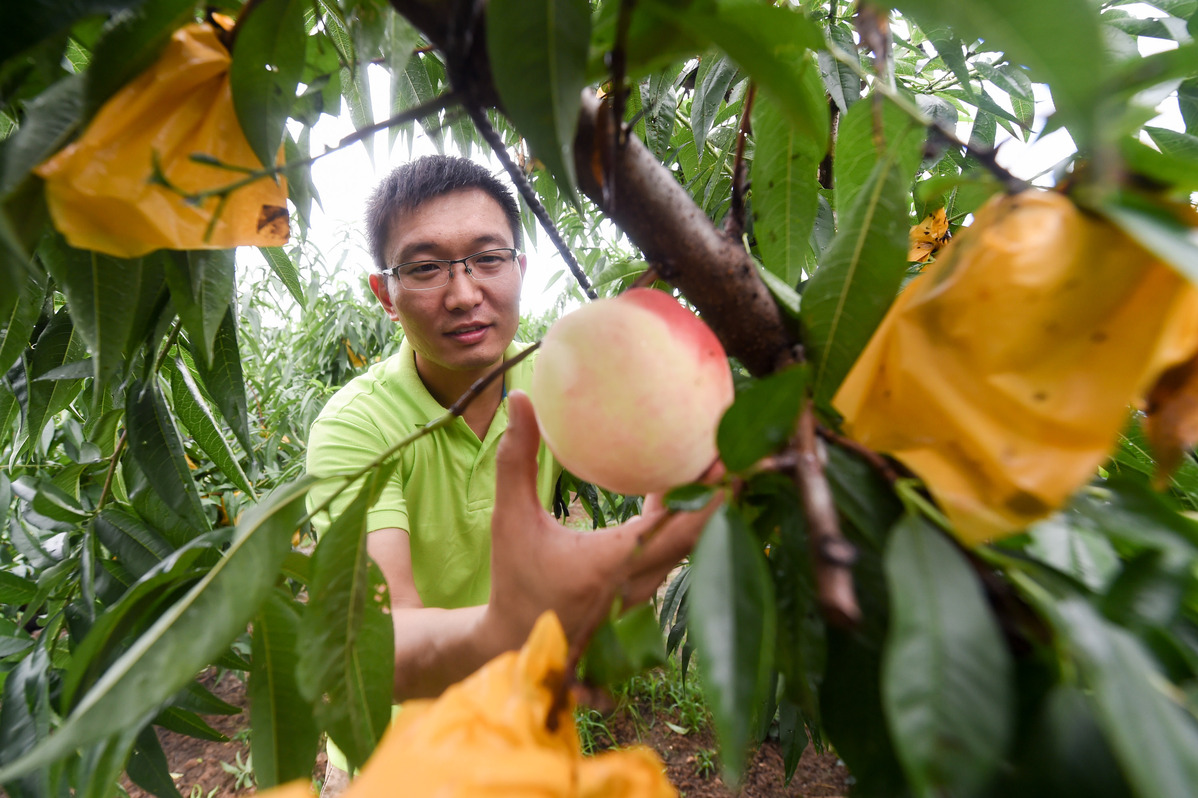 NANJING - For almost four decades, Yu Huanqin, a peach farmer in Yangshan township in East China's Jiangsu province, has kept records of peach prices in every harvest season.
Yu, 63, has seen peach prices surge from a few cents per kilogram in the late 1980s to more than 50 yuan ($7.40) per kg today.
After the harvest, she plans to embark on her annual trip around China. "I have visited almost all the famous tourist spots in China, with the money earned from my peach business," she said.
Yu was a television antenna saleswoman before she returned home in 1984 to plant peaches in her family's orchard. The decision was made as Yangshan switched its focus from grain to peach cultivation after China's economic reform 40 years ago.
Yu's business took off quickly and has seen steady growth over the decades. "I made less than 5,000 yuan in 2000, but last year I earned over 100,000 yuan," she said.
Yu's success is indicative of Yangshan's booming peach industry.
Yangshan has about 2,133 hectares of peach trees, yielding 50,000 metric tons of peaches per year, worth more than 500 million yuan. The town is known across China for its remarkably sweet and succulent honey peaches, dubbed "the best peach on Earth" by The Wall Street Journal in 2009.
Like Yu, Luo Shengkang returned to Yangshan to join the peach boom, setting up a peach production cooperative in 2010 after graduating from a university in Nanjing, the provincial capital.
"Shanghai (about 165 kilometers away from Yangshan) has a big market," Luo said. "And I saw great potential in scale production of honey peaches in Yangshan."
In 2008, local authorities pledged to facilitate land transfer in Yangshan to promote large-scale peach production in the form of farmer cooperatives, family farms and joint partnerships. Yangshan currently has 200 peach production cooperatives and more than 30 family peach farms.
Luo's cooperative, Youyou Orchard Cooperative, has a peach farm that occupies about 6.7 hectares, with a revenue of nearly 5 million yuan last year.
The cooperative mainly sells peaches through e-commerce platforms such as Taobao and WeChat stores. The peaches are packed in fancy gift boxes, instead of being sold by the kilo or in baskets as they were in the past.
Farmers like Yu Huanqin are also selling their peaches online. Though Yu still retains the habit of keeping her accounts by hand, her daughter helps her with digital sales.
"When I was a kid, peach farmers in Yangshan carried their peaches to the pier, and the peaches were later shipped to nearby Suzhou and Shanghai. In the 1980s, I put peaches in baskets and carried them on my bicycle to sell," she said.
Now she only needs to wait at home for staff from courier companies to collect her peaches and transport them to customers across the country.
"It's like living in a dream," she said.