Artist conducts 'hot wave' performance art in Jilin
chinadaily.com.cn | Updated: 2018-08-20 11:41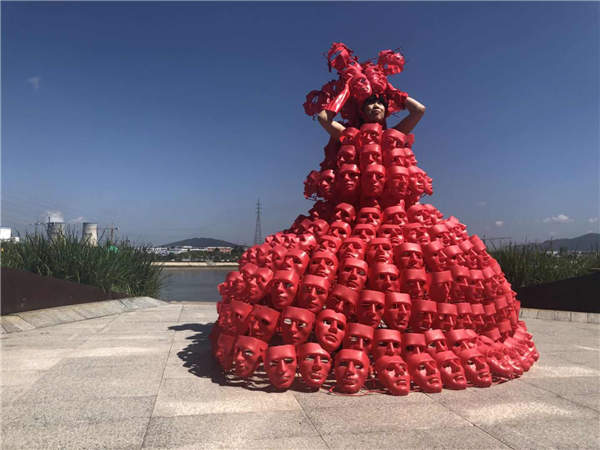 Chinese artist Kong Ning showcased her ecological performance art titled Hot Wave in Jilin city, Northeast China's Jilin province on Sunday to raise awareness of the global warming issue.
The Hot Wave art installation is composed of 300 red masks and red wires, which are hand-weaved and took a whole week to finish.
Kong Ning said the Hot Wave is a beast, comprised of countless empty souls full of desire. The red wires represent its muscles and bones, and the red masks represent unrestrained, lustful souls. The color red symbolizes scorching heat, and also shows the injured earth is bleeding. Humans' overconsumption of resources and polluting of the environment has indulged the beast's desire to wreak havoc.
As many countries and regions in the world have suffered from record-high temperatures this year, a "hot wave" has swept over the globe. The icebergs in the North Pole are melting, and the penguins in the South Pole are having difficulty surviving.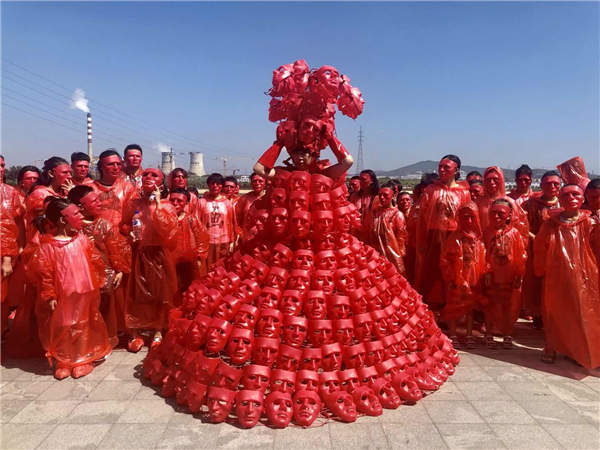 Through her art, Kong Ning hopes to arouse people's desire to protect the earth's ecological environment, save resources and take care of our only habitat — Earth.
200 local children passionate about environmental protection and art are also taking part in the Hot Wave performance art.
Kong launched her environment-themed art creations in 2000, and has since created 39 artworks with this theme, such as Marry to Blue Sky, Marry to Rainforest. She is also conducting a "Little Blue Man" global walking program themed after protecting the earth, and has left footprints in seven countries such as France, the UK and Monaco.