CZEC powers African cooperation
By Yuan Shenggao | China Daily | Updated: 2018-09-04 07:20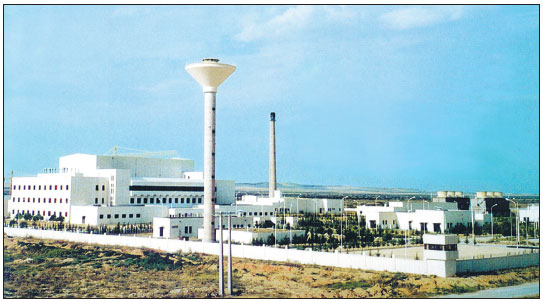 State-owned China Zhongyuan Engineering Corporation said it will deepen cooperation with African countries and help them solve bottleneck problems in their nuclear energy development.
As the overseas nuclear project platform of China National Nuclear Corporation, CZEC is the world's leading provider of integrated nuclear power engineering solutions and China's largest overseas nuclear engineering constructor.
"Under closer ties between China and Africa, CZEC will take the 2018 Beijing Summit of the Forum on China-Africa Cooperation as an opportunity, and dovetail the China-proposed Belt and Road Initiative with African development in nuclear energy, so as to draw a new blueprint for a better future for Africa," said Wang Ying, vice-president of CZEC.
In recent years, cooperation between China and Africa in nuclear energy has continuously increased and CNNC has vigorously promoted cooperation on the continent in a number of fields such as nuclear energy, uranium resources and nuclear technology applications.
So far, CNNC has worked with Ghana, Nigeria, Syria and Pakistan to build their research reactors in order to assist them to enhance their nuclear technology.
It has also reached nuclear energy cooperation agreements with many African countries, including Ghana, Algeria and South Africa.
In May, CNNC signed a memorandum of understanding on cooperation for the peaceful use of nuclear energy with the Ugandan Ministry of Energy and Mineral Development. The parties will prioritize cooperation in applying nuclear technology in medicine, agriculture and industry.
Also in May, CNNC signed a MOU with Nigeria's Atomic Energy Commission.
Simon Malam, chairman of Nigeria's Atomic Energy Commission, said that Nigeria wanted to work in deep cooperation with CNNC in nuclear power, the application of nuclear technology, and in human resource training, to promote the development of the West African nation's nuclear industry.
In the 1980s, the CZEC nuclear platform undertook the project of building the Birine Nuclear Research Center in Algeria. The company completed the project two months ahead of schedule, establishing the first milestone in the export of China's civil nuclear technology.
The project was hailed as a model of South-South Cooperation by the International Atomic Energy Agency and has brought tangible benefits to the African people.
T he Birine Nuclear Research Center project undertaken by CZEC, and its subsequent upgrading projects, have created a model for Sino-African nuclear energy cooperation. It has played an important and exemplary role in making more African countries develop nuclear energy, the company said.
Under the Belt and Road Initiative, more opportunities in the development of nuclear energy are expected to come to Africa.
Africa is an important area for the development of energy projects under the Belt and Road Initiative, CNNC said in a statement which detailed the great importance of cooperation with Africa in nuclear energy.
Over the years, CNNC has spread its footprint to all corners of Africa, with cooperation covering uranium resources, nuclear technology applications, human resources and nuclear power plants.
In North Africa, nuclear cooperation started in Algeria and has extended to Egypt, Tunisia and Morocco.
In Central and West Africa, a nuclear power project in Ghana is progressing well, and nuclear cooperation with Nigeria has expanded to all fields from a micro-reactor project. A uranium mine project with Niger has become another landmark project of Sino-African cooperation.
In East Africa, cooperation with Sudan, Uganda and Tanzania is all in full swing. In southern Africa, the nuclear fuel cycle project in South Africa, uranium projects in Zimbabwe and Namibia, and the application of nuclear technology in Zambia have yielded fruitful results.
"With more and more African countries turning their attention to nuclear energy, CZEC, through its professional team and rich engineering experience, is confident of helping more African countries benefit from China's advanced nuclear technology in the near future," Wang Ying said.