Initiatives highlighted to bolster continent
By WANG QINGYUN/ZOU SHUO | Updated: 2018-09-05 07:46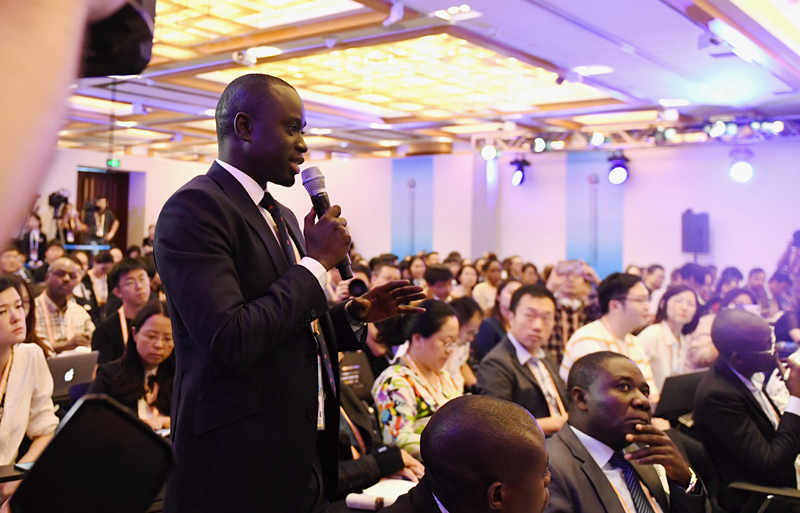 The ideas and eight major initiatives President Xi Jinping put forward in his keynote speech at the opening ceremony of the 2018 Beijing Summit of the Forum on China-Africa Cooperation are a clear demonstration of win-win cooperation on equal footing, analysts said.
In Monday's speech, Xi said that China follows a "five-no" approach to ties with Africa, including no interference in African countries' following development paths that fit their national conditions and no attachment of political strings to assistance.
Li Wentao, an African studies researcher at the China Institutes of Contemporary International Relations, said the "five-no" approach shows China's friendliness in developing ties with other countries. Such an approach is a powerful rebuke to accusations that China is imposing its development pattern on others or practicing neocolonialism in Africa.
Xi also announced a raft of renewed measures-eight major initiatives-to elevate China-Africa cooperation in areas including industrial promotion, infrastructure connectivity, trade facilitation and green development.
Yang Guang, a researcher in economic development and energy security at the Chinese Academy of Social Sciences, said the eight initiatives meet the desire of African countries to join the Belt and Road Initiative by including "general proposals" such as unimpeded trade and the interconnectivity of infrastructure.
Equally important is that they also target other imperatives for Africa, such as green development, capacity building and healthcare, he added.
The eight initiatives will not only support Africa in speeding up its industrialization, attracting investment and lowering its unemployment rate, but also facilitate Chinese companies' exploration of markets abroad, Yang said.
Li said the initiatives show that China has detailed plans to cooperate with Africa that assist the continent's development. As an example, he cited the decision to have a China-Africa economic and trade expo in China, which he said will help boost Africa's exports to the country.
For many Chinese companies, Beijing's encouragement of more investment in Africa and the special funds to be set up will boost their confidence and help more of them to better operate businesses on the continent, Li added.
Xu Jinghu, special representative of the Chinese government for African affairs, said the eight initiatives are highlights of the practical cooperation between China and Africa and are a follow-up to the 10 cooperation plans China announced at the FOCAC Johannesburg Summit in 2015.
For example, China's support for Africa as it seeks to achieve general food security by 2030-which is listed in the initiatives-is a down-to-earth step that will benefit not only Africa but the human family as a whole, Xu said.
Also, measures in the initiatives include providing education and vocational training to young people in Africa to boost their employment opportunities, she said.
"The future of China-Africa friendship and cooperation lies in the youth," she said. "And we hope it will be passed on and elevated further in the future."