Showcase of Chinese lacquer works on show at galerie dumonteil
By Zhang Kun | China Daily | Updated: 2018-09-08 01:23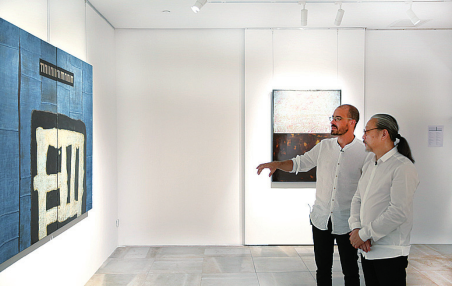 An ongoing exhibition of works by two contemporary artists at the Galerie Dumonteil in Shanghai features the 7,000-year-old craft of Chinese lacquer.
Showcasing 22 works by Shanghai-based artist Weng Jijun and French artist Vincent Cazeneuve (Wensen Qi), the Enduring Practices of Lacquer exhibition will take place at building 105 on 199 Hengshan Road till Oct 10.
The exhibition was made possible by Zheng Yuxin, the Asian manager of Galerie Dumonteil who brought the two artists together after realizing that their works embodied a respect and profound understanding of the heritage of lacquer.
Unlike some contemporary artists who merely use lacquer as a medium, both Weng and Cazeneuve insist on continuing the tradition of lacquer art, said Zheng, who is the curator of the exhibition.
"They have committed themselves to bringing new possibilities to lacquer painting through their years of insightful research and persistent practices," he added.
Archaeological discoveries suggest that the use of lacquerware in China started as early as in the Neolithic age 7,500 years ago, according to Weng, who has been working with lacquer since the 1980s and is currently a professor of lacquer painting at the Shanghai Art and Design Academy.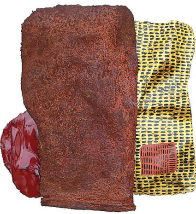 "Lacquer is made from the sap of the Chinese lacquer tree, a plant native to China and the Indian subcontinent. The material is not toxic-it just causes an allergic reaction in most people," added Weng, who himself bears scars resulting from contact with the material.
People initially used lacquer as a glue to repair and protect the surface of objects. Screens decorated with lacquer only began to appear in the Han Dynasty (206 BC-AD 220) before becoming commonplace later.
As a contemporary Chinese artist, Weng chose lacquer as his medium of expression, mastering sophisticated lacquer-making techniques such as bodiless lacquer and panel mounting. Standing in front of one of his paintings, Weng explained how he had applied lacquer dozens of times on a piece, polished part of the surface and adding gold or silver foil to some cracks.
"This is my understanding of the Chinese mountain and river art," he said. "My working process is most primitive, but I have to express myself as a contemporary artist. I believe that is more important to the inheritance of cultural heritage than just copying ancient techniques."
For the 41-year-old French artist, his passion for the craft of lacquer was so great that he changed his last name to Qi, the Chinese word for lacquer.
After graduating from Ecole des Metiers d'Art in Revel, Cazeneuve opened a studio specializing in the restoration of vintage furniture. He later became interested in the craft after working with some Western and Asian lacquerwares. He arrived in China in 2008, first living and studying in Chengdu of Sichuan province, before settling down in Chongqing in 2009.
Cazeneuve initially apprenticed with master craftsmen. As he hardly spoke a word of Mandarin, he communicated with his instructors using hand gestures. Despite the difficulties faced, his passion for the craft grew and he eventually mastered a wide variety of techniques.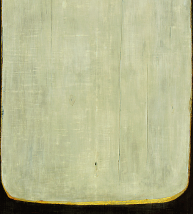 "The more I learned, the deeper my research went, the wider my repertoire became. It is a process that never ends," he said.
One of his early works is situated near the entrance of the exhibition hall. The work is a four-panel lacquer screen, an iconic piece of furniture bearing ancient Chinese design and an abstract image.
Another notable artwork by him is a painting made on a used rice bag. Cazeneuve fixed the shape of the bag with lacquer, preserving all traces of previous use.
He then meticulously polished the surface and gave it a golden finish to achieve a seemingly simple painting that keeps people glued to it for a long time.