Talking the talk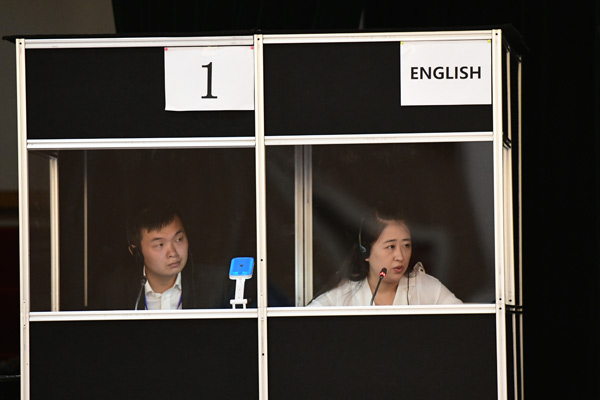 A contest for foreign language majors offers future interpretation professionals the chance to respond to real-world situations, Zhou Wenting reports.
Students majoring in foreign languages at 22 Chinese universities gathered in Shanghai for the Friendly Contest for Multilingual Simultaneous Interpretation on Sept 4, in a bid to prepare future translation professionals with real-life situations and experiences.
During the contest, which was hosted by the Shanghai International Studies University and the first of its kind to be held in the country, English majors interpreted the dialogue from a real-time English video into Chinese, while their schoolmates majoring in the Japanese, Korean, and Arabic interpreted the Chinese into their specialist languages.
Since many of the current high-level international conferences rely on the real-time interpretation in multiple languages, the contest offered young interpreters the chance to respond to real-world situations, said Li Zhengren, executive director of the expert committee of the Yangtze River Delta Forum of Educating Languages Professionals for International Organizations, which the contest was a part of.
"Just as we hope to cultivate more talent for international organizations and to respond to the demands of the country's Belt and Road Initiative, it will never be enough just for us to focus on the English language, despite its relative importance," said Li, who is also the former chief of the Interpretation Service at the United Nations Office in Geneva.
Contestant Li Ran, a senior student from the Arabic language department of the Guangdong University of Foreign Studies in Guangzhou, Guangdong province, said that the department was established in 2007 and around 20 students are enrolled each year.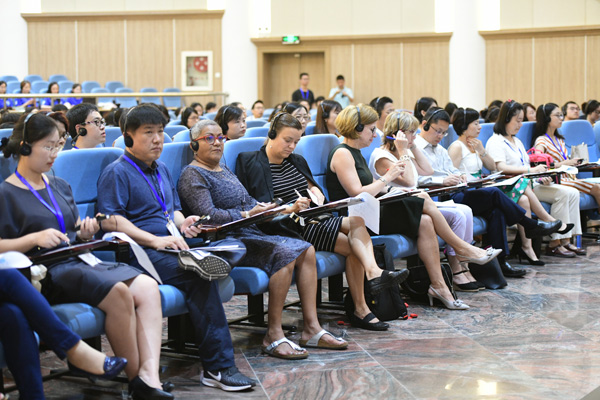 "Our university has been making efforts to recruit excellent teachers every year and we feel the school's ambition to build up its foreign language department is getting stronger," said Li, one of the 104 contestants.
Gao Li, another contestant and a graduate student from the Arabic-English-Chinese Interpretation Department of SISU, said the department was initiated three years ago.
"Some of my classmates are from Arabic countries and we believe this course will greatly contribute to further bilateral exchanges under the Belt and Road Initiative," she said.
Wang Xinying, a contestant from the Graduate Institute of Interpretation and Translation at SISU, said it was crucial for interpreters to study the background of the subject under discussion in order to fully understand what the speaker wants to express from his or her own perspective.
"What interpreters do is absolutely much more than just word-by-word translation. Rather, the viewpoint, tone and emotion of the speaker also need to be conveyed and the identity of the speaker and who the audience are must be taken into consideration," said Wang, who along with her classmate Zhong Hao won first prize in the contest. They are both majoring in English conference interpretation.
This is also the advantage interpreters have over translating devices that rely on artificial intelligence technology, said Zhong.
"For example, it's hardly possible for these devices to find whether the speaker is hinting at something sarcastic," she said.
Li also said that there is no need to worry about the threat from machine translators.
"What artificial intelligence can do is tackle the repetitive, technical and boring stuff. However, it always depends on human intelligence when it comes to politically sensitive matters and those carrying deep emotions," Li said.
"I believe an outperforming interpreter can help two speakers of different languages become friends, which can be hardly achieved through an intermediary in the form of a machine," he said.
Another reason to stay away from the fear brought by AI translators is that the overall demand for translation has surged in recent decades, Li said.
"Forty years ago, only 200 professional interpreters were needed in China, mainly to handle government document. But today interpreters for multiple languages are needed in a variety of industries," he said.
Foreign judges at the contest said they were impressed by how seriously the participants took the contest and their high standards of professionalism.
"I don't understand Chinese so I cannot give opinions about the accuracy of what they are doing. So I focused on mostly the professionalism of how they sound. It determines how interpreters make listeners feel that what they are telling is trustworthy and reliable," said Alison Graves, head of Multilingualism and External Relations at the European Parliament.
Graves said the best advice she could give to the students was to work hard through constant practice and never stop learning.
"This is an incredibly demanding job so they really need to put in the work to ensure that they are fully up-to-date with everything that is going on," she said.
Contact the writer at zhouwenting@chinadaily.com.cn