Belt, Road Initiative ushers in future growth for China, world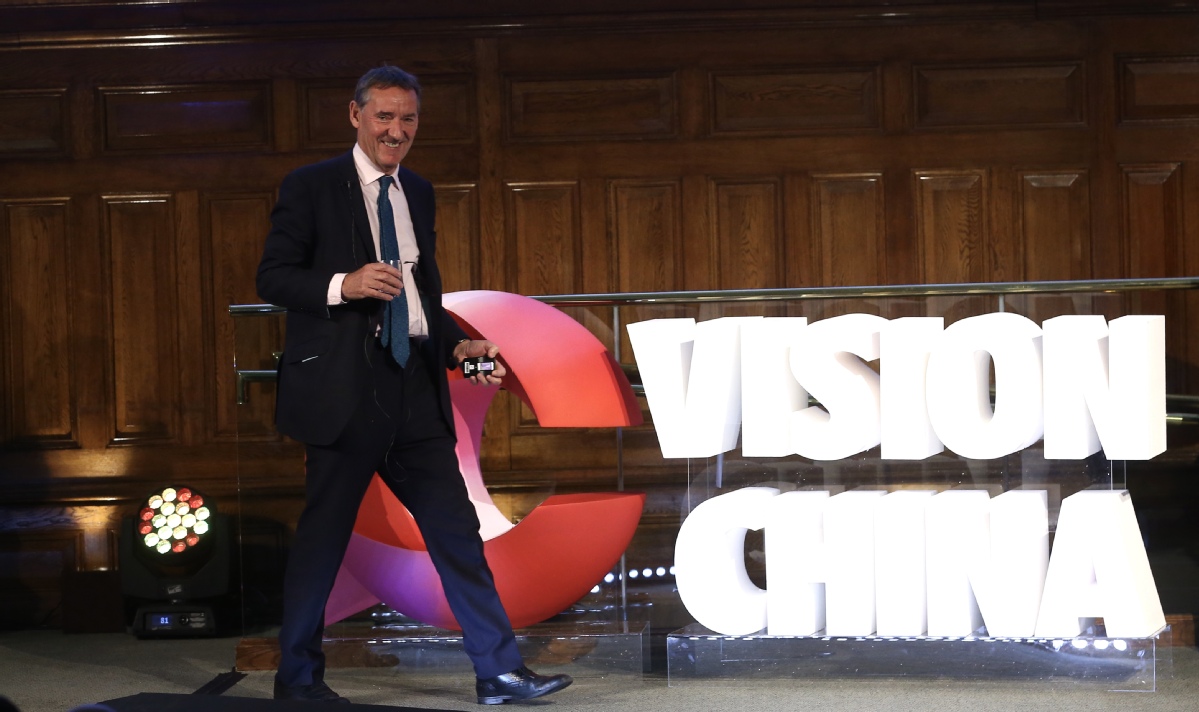 A world-renowned economist from the United Kingdom said he expects the Belt and Road Initiative, proposed by President Xi Jinping, will play an increasingly important role in global trade, which has been buffeted by growing protectionism and unilateralism.
"The BRI is possibly the most important thing for the future of world trade," said Jim O'Neill, who had coined the acronym BRIC (now BRICS) for the group of emerging economies.
O'Neill, former British commercial secretary to the Treasury, listed the BRI as one of the priorities for China in coming years for the country's new round of reform and opening-up. O'Neill spoke on Thursday in London at the fifth edition of Vision China, an event with the theme "40 Years On — China and the World", hosted by China Daily.
O'Neill has urged China to encourage more countries to "guide" the initiative, which is in the same vein as the Chinese government's statements advocating "joint efforts" from various global players to enrich the colossal connectivity project.
To continue its success, O'Neill said, China needs to continue to increase the share of consumption in its economic output, control pollution and protect the environment, open its financial sector wider and become bolder in reforming the household registration — hukou — system.
Liu Xiaoming, Chinese ambassador to the United Kingdom, called the BRI one of the "three big opportunities" China will bring to the world as a result of its firm commitment to the new round of reform and opening-up.
In September and October of 2013, when Xi made overseas visits in Asia, he proposed the BRI as a way to boost connectivity among countries.
Liu added that China will continuously drive global growth and expand market scale.
More reform and opening-up packages are expected to be announced this year when China celebrates the 40th anniversary of reform and opening-up.
Other speakers at the event included Fu Xiaolan, professor of technology and international development, and founder of the Technology and Management Centre for Development at Oxford University; Nikhil Rathi, chief executive of the London Stock Exchange Plc; and Martin Jacques, author of the international best-seller When China Rules the World.
The guests shared their thoughts and observations on the achievements of China's reform and opening-up during the past 40 years.
The event drew about 200 guests, including Neil Davison, former advocate general for Scotland, representatives of British government departments, the media, think tanks, international organizations and transnational corporations as well as businesspeople and Chinese embassy officials.
Followers of China Daily's social media platforms worldwide also were able to participate in brainstorming elements of the discussion.
Speaking at the London event, China Daily Publisher and Editor-in-Chief Zhou Shuchun said President Xi has stated that China will remain committed to advancing reform in all respects, and the Chinese people will see the reform through.
"We are honored to have with us five heavyweight guests ... to offer their thoughts on where China and the world are heading," Zhou said.
"We are convinced that further efforts by China to reform and open-up, in its continued 'second revolution', will not only usher in a new era of development for the country, but also bring peace, progress and prosperity to the world," he said.
Fu said innovation will be the most important driver of how China changes in the future. It will drive the transformation of the Chinese development model, enhance the quality of growth, and also help other countries upgrade through knowledge transfers and the spillover effects of trade and foreign direct investment.
"As the US retreats from its post-globalization leadership role, China has to come forward, be it willing or not willing, ready or not fully ready," she said. "Stronger innovation capacity will make China more capable and more confident to play a more important role."
Rathi said China is a vast and significantly increasing market, adding that innovative financing tools could help facilitate implementation of the BRI.
"Green finance is not just a commercial opportunity, it is an existential issue — you only need to look at the statistics around the impact on health, from pollution and ... climate change, and China has chosen to play a leadership role on this agenda," Rathi said.
Rathi said the world is seeing progress through the internationalization of the renminbi. "Just in the last six weeks we have had 14 RMB bonds on our market in London from all over the world," Rathi said. "It is not just Chinese institutions that are coming, it's Australian, Canadian and European — a range of institutions using the currency as an asset class of its own."
Jacques also shared his observations on the role that China's reform and opening-up plays in global development, saying China's rapid growth since 1978 has not only created an economic miracle for China but also provided a new development model for other emerging economies to look to.
"China is going to be a very different kind of great power," he said. "The Belt and Road Initiative is a powerful example of China trying to find a new development model. This notion is very different from Western colonial thinking."
He said China's rise has given the developing world an alternative place to look, for development and for inspiration.
"The rise of China has opened up entirely new possibilities for the 85 percent of the world's population that lives in the developing world," Jacques said.
Rupert Li, global chief operating officer and senior partner of the King & Wood Mallesons law firm, said: "China has come a long way. While our achievements are commendable, many attributed our success to a host of reasons. China's nascent rule of law has been a principal factor in ensuring the success" of its opening-up policy.
King & Wood Mallesons was China Daily's partner for the London event.
Li said China commands the best record in investment protection of foreign investors compared to other developing countries in general and BRICS countries in particular.
"Without the respect for the spirit of contracting, China couldn't have been a major trading partner to a host of countries," Li said.
China Daily, a media organization that has effectively entered the international mainstream market, officially unveiled Vision China early this year, seeking to make full use of its international, all-media, multilingual and multiplatform advantages, to allow China's voice to be better heard by an international audience through innovative narrative speeches.
By selecting Chinese topics of global significance and inviting world-class opinion leaders to debate the issues face-to-face, each event responds to global concerns about China's major talking points and significant propositions from global perspectives.
Vision China has successfully held sessions in Beijing (twice), Hangzhou and Johannesburg using themes that focus on Chinese topics with global value.
Contact the writers at fujing@chinadaily.com.cn