Gretzky has high hopes for China growth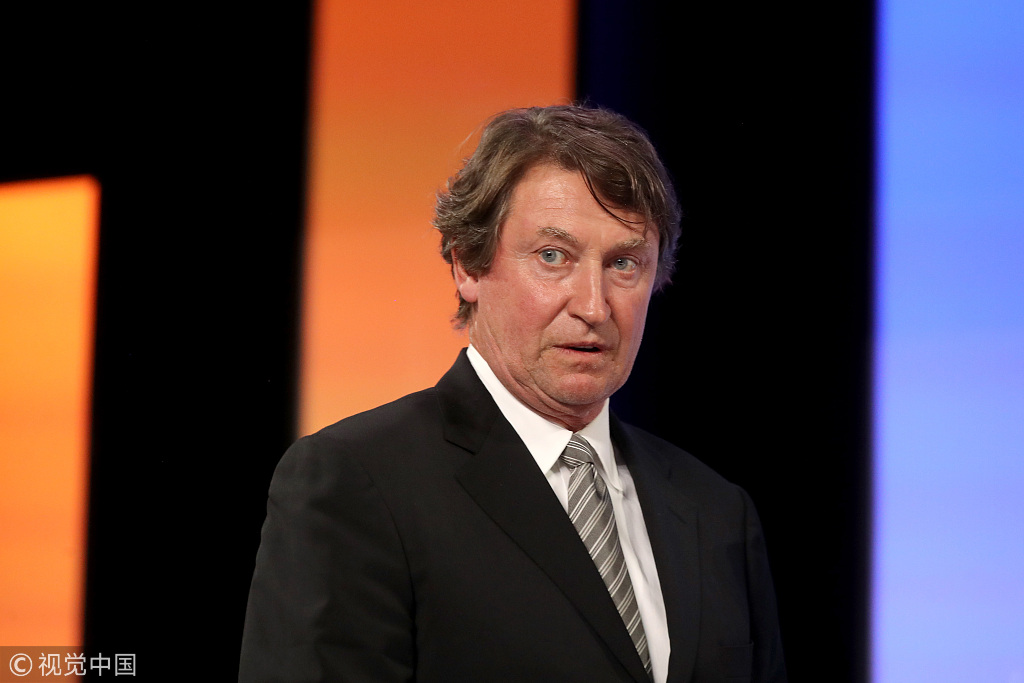 NHL legend opening training schools in Beijing, Shenzhen
When Wayne Gretzky was four years old, his father gave him an invaluable piece of advice while practicing hockey on their backyard rink in Brantford, Canada: "Skate to where the puck is going, not to where it has been."
Now the most decorated player in National Hockey League history is bringing that wisdom to China.
The 57-year-old Gretzky, dubbed "The Great One" for his transformational impact on and off the ice, made his debut appearance in Beijing on Thursday to launch his partnership with Chinese club Kunlun Red Star in expanding his signature youth training program and raise hockey's profile ahead of the 2022 Beijing Winter Olympics.
"I'm so excited to be associated with Red Star and Chinese hockey for so many reasons," said Gretzky, who retired in 1999 with 63 NHL records and an unrivaled legacy as the most dominant offensive force in the history of major professional team sports.
"The 2022 Olympics will be held here, so it's an exciting time for winter sports in China. To be an ambassador for Red Star with many other partners, the sky's the limit for growing our sport in this country."
Red Star will open the first KRS-Gretzky Hockey School at its Little Wolf Ice Center in northeastern Beijing, which Gretzky visited, providing players aged 8-17 with advanced training.
The first two schools will be in Beijing and Shenzhen, growing to 30 locations across the country over the next five years.
Gretzky's China trip includes visits to Shenzhen and Shanghai to interact with hockey fans and promote the sport in conjunction with a pair of NHL preseason games between the Boston Bruins and Calgary Flames at Shenzhen's Universiade Sports Center on Saturday and Beijing's Cadillac Arena on Sept 19.
This isn't the first time Gretzky has been cast as a sports messiah.
This week marks the 40th anniversary of his first professional goal for the Indianapolis Racers of the World Hockey Association, a rebel league formed to challenge the NHL's monopoly in North America.
After being sold to the Edmonton Oilers two weeks into the 1978-79 season, Gretzky was instrumental in cementing the historic NHLWHA merger and establishing the dynasty that brought Edmonton four Stanley Cup championships in five years. In August 1988, just weeks after leading the Oilers to their fourth title, Gretzky was dealt to the Los Angeles Kings for two players, three first-round draft picks and $15 million-an unprece dented sum at the time.
The trade sparked national outrage in Canada, including a petition in parliament to have him declared a "national treasure" in order to void the deal-but it was too late.
Red Star also announced on Thursday that it has reached an agreement with ECAC Hockey, one of the six collegiate conferences that compete in the NCAA Division 1.
ECAC Hockey will send its men's and women's teams to play five exhibition games in China in December, said commissioner Steve Hagwell.
"It's not limited to brand exposure; it will provide opportunities for young men and women in China to experience the game," he said.
"By joining hands with Red Star, our commitment to grow hockey from the grassroots is obvious."
According to the Beijing Hockey Association, more than 4,000 junior players have registered to compete in its annual club league and inter-school championships, which total about 1,000 games annually at dozens of rinks.
"Our biggest challenge is that we lack training expertise and a competition system where young kids can continue to improve," said He Yi, executive vice-president of BHA.
As host of the 2022 Olympics, China's national men's and women's hockey teams directly qualify for the tournament, but to make it count the nation's sports governing body is attempting to recruit overseas players with Chinese ancestry and to transition field hockey players to the frozen version.
While endorsing those efforts, Gretzky added a word of caution: "For such a young country in the game to say it is going to win a medal is unrealistic and probably not feasible," he said.
"But a good showing that energizes the country and excites the fans will serve as a positive jump start for hockey in China.
"Even if they can't play it, people will say that the game looks fun and they might want to try it. Maybe 20 years from now, hockey will on a different level here."