African runners in it for the long run
Athletes from continent making their mark in country as part of increasing marathons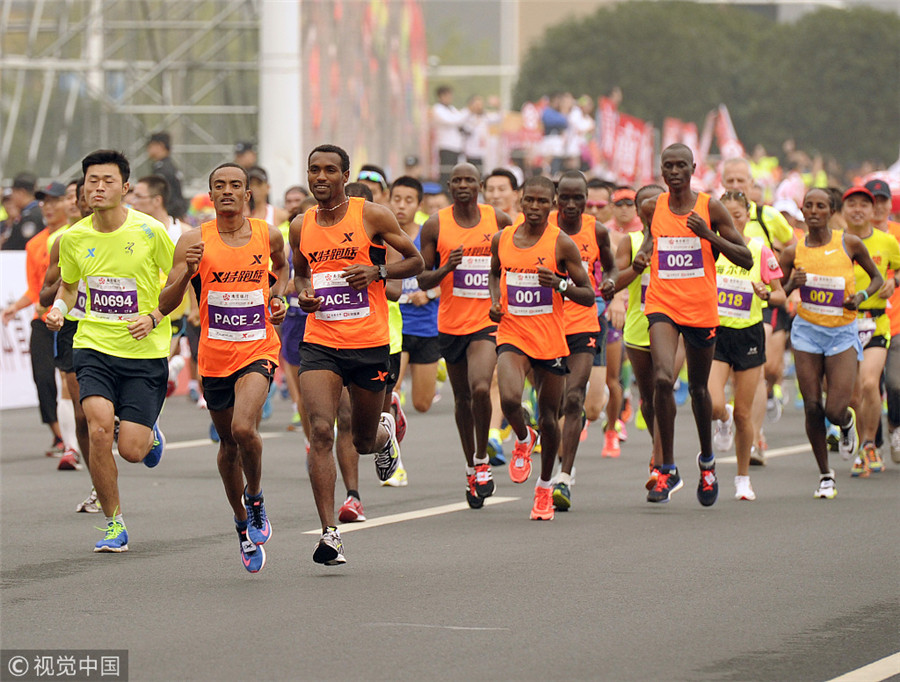 Some 30,000 athletes took part in the Beijing Marathon on Sunday, with the starter's pistol reverberating against blue skies in Tian'anmen Square at 7:30 am.
Once again, African runners outperformed the pack during the 42-kilometer course, and the growing number of distance events in China is increasingly becoming a launchpad for the careers of thousands of runners from the continent.
Marathons offer opportunities for up-and-coming athletes to build their profiles and transform their lives back home.
Distance events in China have become more competitive globally, and as a result, races in China have become game-changers.
Elias Makori, a sports journalist in Kenya with a quarter century of experience, said quality races, big prize money and blossoming Sino-African relations have made China a great destination for African athletes.
"In particular, the Xiamen (Fujian province), Beijing and Shanghai marathons, and the Yangzhou Jianzhen Half Marathon (Jiangsu province), have seen Kenyans and Ethiopians flocking to these places. These races offer great quality, generous prize money and also pay winners promptly," he said.
China's marathon industry grew by 20 percent last year, reaching a value of about $20 billion, according to the China Athletics Association. More than 1,100 distance events were held in the country in 2017, of which 256 were hosted or co-hosted by the sport's governing body, the International Association of Athletics Federations.
The total number of participants in these events reached 4.98 million.
There are eight IAAF Gold Label races on the Chinese mainland, as well as three Silver Label and four Bronze Label races.
Over the past 18 years, there has been a rise in the number of African runners taking part in events in China.
Last year saw a Moroccan, Salah Eddine Bounasr, 26, clinch victory in the Beijing Marathon-which has been staged for 37 years-followed by an Ethiopian and a Kenyan. Bounasr won the Guangzhou Marathon in Guangdong province the previous year. The Beijing event, an IAAF Gold Label Road Race, saw an Ethiopian, Melesech Tsegaye Beyene, extend the nation's winning streak in the women's race to four years.