Shanghai hospital inks agreement with US-based medical institution
By Zhou Wenting in Shanghai | chinadaily.com.cn | Updated: 2018-09-17 12:11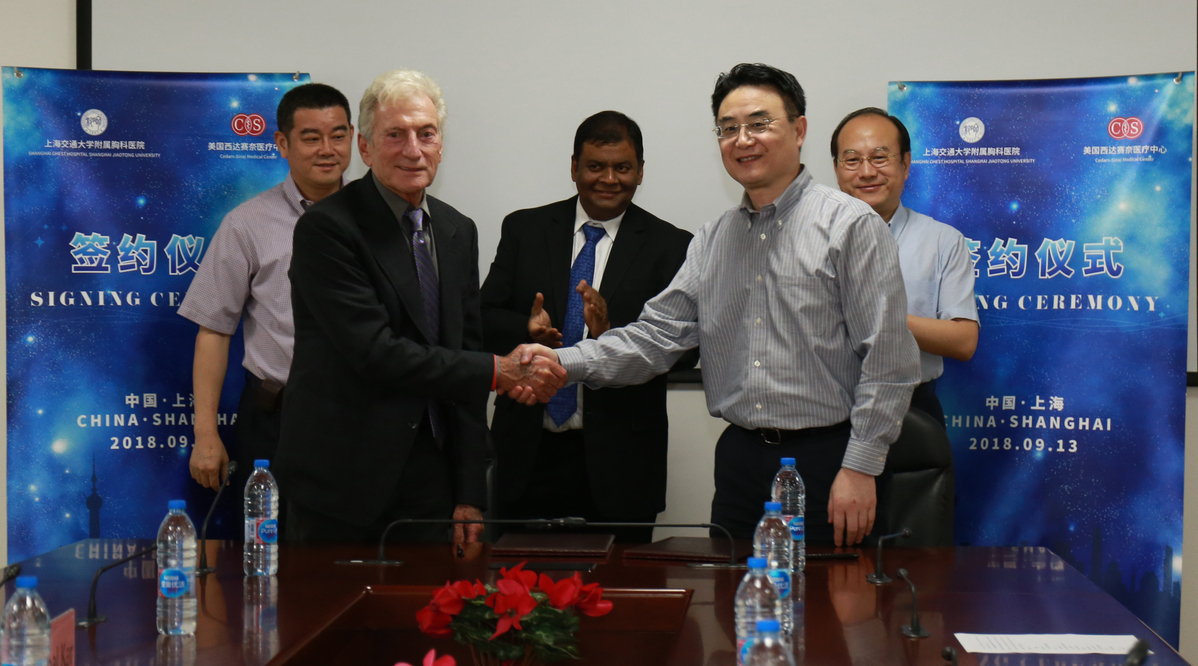 Shanghai Chest Hospital initiated a collaboration with Los Angeles-based Cedars-Sinai Medical Center on Sept 13 to send eligible cardiac disease patients to the US center for advanced interventional treatments that are not yet available in China.
The treatments included minimally invasive surgeries that involve inserting special medical devices into the patient's heart via the blood vessels. This particular treatment is meant for patients suffering a common heart valve disorder known as mitral regurgitation diseases, said He Ben, director of the Heart Center and the cardiovascular medicine at the Shanghai hospital.
He said that while the hospital is experienced in performing surgical operations for such patients, many have expressed hope for a more minimally invasive approach.
"The medical devices used in such minimally invasive surgeries have been available in some foreign countries since 2005. However, they have yet to be approved for use in our country, and therefore such surgeries are unavailable in the country," He said.
He added that Shanghai Chest Hospital has been discussing about a potential collaboration with Cedars-Sinai Medical Center for several years as the latter, which is ranked third in heart disease treatment among hospitals in the US, has been looking for a partner in China with strong performance in cardiac disease treatment and a large patient population.
"Meanwhile, an increasing number of Chinese have been going to the US to seek advanced medical treatment. It's better that reliable hospitals like us can help them find the suitable patients," he said. Saibal Kar, director of interventional cardiac research at the Smidt Heart Institute of Cedars-Sinai Medical Center, said that the primary goal of the collaboration is to help Chinese patients access advanced treatment methods.
"Diagnosis will be done in the Shanghai hospital and we will later treat these patients in US. Afterward they return to the Shanghai hospital to be taken care of," said Kar.
Spencer Koerner, vice-president and medical director of the Center for International Health and Telemedicine at Cedars-Sinai, said that each patient's medical record will be thoroughly reviewed and if necessary, a video consultation with the patient and doctors from both hospitals will be carried to assess the situation.
"If the patient is adequately treated in China and we don't have anything else to offer, we won't suggest him or her to travel the long distance to our center," he said.
Kar believes the collaboration will also benefit the Shanghai doctors as the latter will get the chance to view the actual procedures.
"Moreover, the patients will be taken care of in Shanghai so that will also help the doctors become more familiar with post-operation symptoms and the solutions accordingly," he added.
Koerner said the medical center has also collaborated with hospitals in India and Mexico, and plans to cooperate with more Chinese hospitals in the future.