'Deep bidding' from China at Asian art sales
By ZHANG RUINAN in New York | China Daily USA | Updated: 2018-09-18 22:19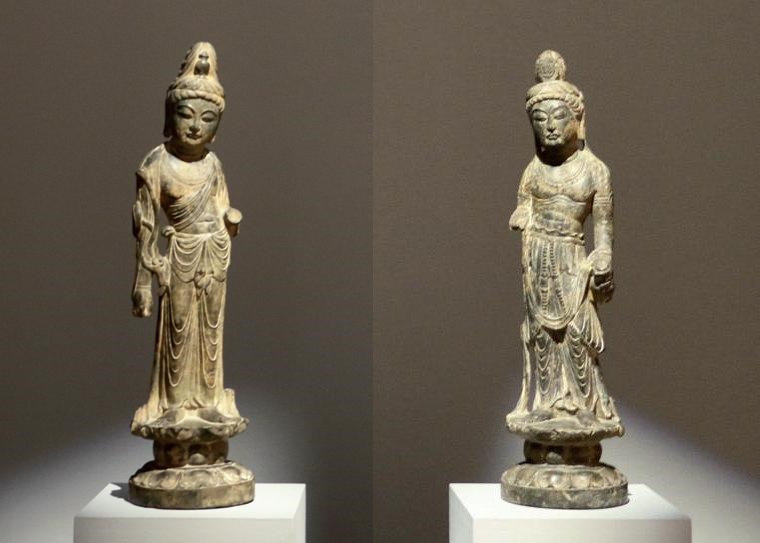 China has emerged as a leading market for art over a week of high-end auctions in New York, said US auction house Christie's, whose sales totaled more than $34 million.
"Throughout the week of sales, there was robust participation across all buying channels with deep bidding witnessed from Greater China," Tina Zonars, chairman of Asian art at Christie's, told China Daily on Saturday.
Christie's Asian Art Week auctions featured more than 900 objects spanning ancient Chinese bronzes through contemporary Indian paintings.
A gray limestone statue of Mahasthamaprapta from the early Tang Dynasty (AD 618-907) fetched the highest price at $3.2 million, more than doubling its low estimate.
"The strong sell-through rates and prices-realized this week reinforce the stability of the market and the global demand across all collecting categories of Chinese works of art and Chinese painting," said Zonars.
"We were pleased to see the top prices realized for masterpieces, led by the two Tang Dynasty limestone figures," she added. "We also witnessed extremely active bidding across the thematic sales of jades and Cizhou ware from private collections, reinforcing the importance of provenance," or establishing the string of ownership of a work back to its origin.
According to Art Market 2018, an annual report produced by UBS and Art Basel, the US was still the largest market worldwide, accounting for 42 percent of sales by value. China has overtaken the UK to come second with a 21 percent market share.
Asia accounted for 23 percent of global sales in 2017, while Asian buyers made 15 percent of global transactions through intermediaries.
Chinese buyers alone have taken the lion's share with 10 percent, a significant increase compared to the much thinner 4 percent in 2016, which again shows the continued growth of purchasing power in Asia, said the report.
At Sotheby's Asia Week sales series in New York, which also concluded last week, Chinese paintings and calligraphy together raised $10.5 million, with a collection of Tang Hung and Fung Bi-Che, two students of the modern Chinese ink master Zhang Daqian, earning $4.8 million, well in excess of its high estimate of $3.1 million, and a strong 84.4 percent of works going on the block sold.
"The very successful sale of the Tang Hung and Fung Bi-Che Collection proved once again that North America is still an important source for collectors to find pieces that are fresh-to-the-market," said Xian Fang, head of Sotheby's classical Chinese paintings and calligraphy sales in New York.
Contact the writer at ruinanzhang@chinadailyusa.com