New US 'musical diplomat' wows crowds in China
Xinhua | Updated: 2018-09-19 07:51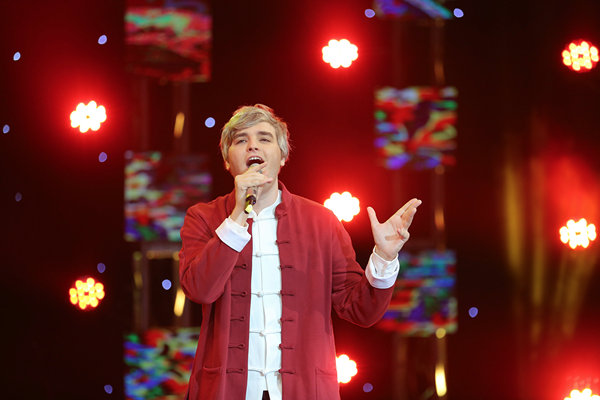 BEIJING-Slater Rhea has become a musical phenomenon in China with his fluent command of Mandarin and Chinese folk and pop songs.
"I sang solos in my children's choir way back when I was 6. But it wasn't until I started learning Chinese in college and searched for Chinese music online that I found Chinese songs and had the idea that I could really do this," Rhea says in a recent email interview after a whirlwind summer performing on Chinese TV.
Back then, he was attracted to various facets of Chinese culture and recognized the importance of learning Chinese since the country was fast becoming a key global player.
Rhea, who hails from Louisiana, attended the University of Oklahoma, where he studied Chinese language and literature and Asian studies. He started out by performing at Chinese-related events on campus, and then at events held by the Chinese consulate in Houston.
Once he started singing and received lots of encouragement from his audiences, he began to tell himself that he could really make a career out of this.
Rather creatively, he used music as a method to study the Chinese language.
"It was my love of music in general that led me to seek out Chinese music as a study tool in learning the language. So I went online to find Chinese songs, and I was just blown away by what I found. The tunes were enchanting and the vocalizations were like I'd never heard before," he says.
When he couldn't make the sounds he heard being sung, it prompted him to try to sing the songs over and over again, "in the shower sometimes, until I found that I could do it".
Today, Rhea, a young American with silver hair and hazel eyes, makes time for his music career while working as an assistant professor of International Studies and English at Beijing Foreign Studies University.
Known as Shuaide in China, he is recording an album of songs he has written.
"I think the Chinese are extremely welcoming and accommodating to foreigners, and that has definitely been the case when it comes to those I interact with," he says.
Rhea is a regular on TV host Negmat Rahman's CCTV 3 show, Super Star Ding Dong, and on another host Ren Luyu's show, Global Chinese Music, on CCTV 15.
Referring to Ren, Rhea says: "He's the one who first called me a 'musical diplomat', and that has become my calling card. Those guys are just like big brothers to me."
Rhea says the greatest influences on his music are American singer Paul Simon, with whom he shares the same vocal range, and Chinese pop artists Han Hong, Li Jian, Yang Zongwei, Liu Huan and Wang Hongwei.
"Of course I can't talk about my music background without mentioning jazz," Rhea says. "I'm from Louisiana, the birthplace of jazz, and I love everything from Johnny Hartman and John Coltrane to Tony Bennett, so I do try to infuse my music with a jazz sensibility."
He says that while young Chinese artists are interested in Western music and bringing elements of them into their acts, he is interested in the opposite. In other words, sharing Chinese music and culture with the world is the singer's "Chinese dream". During past performances in the United States, Americans have responded positively to his rendition of Chinese songs.
"I want to share Chinese music and culture with the world. To me, Chinese genres and musical elements are really special and deserve to be celebrated, and I think that has been one of the reasons for my success. I did several concerts in the States where I sang traditional Chinese songs and the audiences were ... touched," he says.
Chinese audiences, too, go wild for his music.
"The most rewarding thing for me is when I'm out and about, particularly when I travel outside of Beijing and I get recognized. People come up to me and tell me how impressed ... they are by my singing. That's when I know I've made a difference and a connection," he says.
Related Stories