Manhattan Chinatown residents express concern about proposed jail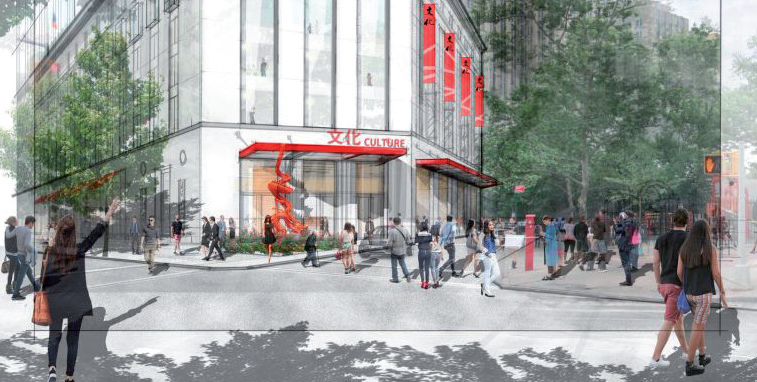 In 10 years, New York City expects to close its Rikers Island jail, a facility that has seen its share of violence, tragedy and overcrowding.
To accomplish that, the inmate population of Rikers will be relocated to facilities in Manhattan, Brooklyn, the Bronx and Queens.
The city's objective also is to reduce the total inmate population across all city jails to 5,000. It was around 8,200 in August, when the city announced the plan.
"We're taking a big step forward in the process of closing Rikers Island and creating a modern community-based jail system that is smaller, safer and fairer," Mayor Bill de Blasio said in August. "Now we can move full steam ahead on the engagement and planning for our new facilities so we can close Rikers as fast as possible."
One location being considered in Manhattan is 80 Centre Street — in the heart of Chinatown.
At a boisterous meeting on Sept 13, more than 100 neighborhood residents turned out to oppose the 40-story jail, according to ny.curbed.com.
"Save Foley Square" and "Mayor gives Rikers to realtors," were among the signs displayed at the meeting, the website reported. Residents said they weren't against prison reform but expected more public debate before the plans were rolled out.
"The community's concerns must be heard, and that's exactly what happened at the town hall. This is the beginning of a long process — the result of which is far from certain," said City Council Member Margaret Chin, who attended the meeting. "This is not a done deal."
In August, when the city announced proposed locations for four boroughs, Chin said that "by leading the movement to close Rikers Island for good, our city is setting a roadmap for comprehensive criminal justice reform through the creation of a borough-based system that will be more safe, humane and integrated with the surrounding community."
The city would replace the nine-story government building at 80 Centre, currently occupied by district attorney's offices and the marriage bureau, with a new building that would have retail and public spaces on its ground floor.
The city has been pushed to eventually close the jail, which sits on a 400-acre island in the East River, by determined groups such as CloseRikers.org.
High-profile assaults on both inmates and corrections officers along with official corruption have raised public awareness about the jail's problems, as have stories of suspects being held there indefinitely because they can't make bail for minor crimes.
A natural political debate has ensued about where the inmates would be housed once the 86-year-old Rikers facility is closed.
"The city has been clear they want shovels in the ground before Mayor de Blasio is out," Nancy Kong, president of a 240-unit residential complex near the site, told ny.curbed.com. "De Blasio forever wants to be known as the 'mayor who closed Rikers,' and he's willing to trample over members of this community."
A response for comment was sent to the mayor's office.
The next public hearing on the plan will take place at 6 pm on Sept 27 at the Manhattan Municipal Building, 1 Centre Street.
On Wednesday, in a public safety matter, Chin called for the installation of an NYPD security camera at the intersection of the Bowery and Canal Street the day after a "smash and grab" robbery at a jewelry exchange building.
"For years, the Chinatown community sounded the alarm with NYPD regarding our concerns about security at this intersection," Chin said. "In 2013, I allocated $100,000 for an NYPD Security Camera … to deter criminals and protect our small businesses. Five years later, the camera has still not been installed. Our community deserves to know why.
"In this area, we have seen numerous robberies and other crimes that threaten our small businesses and our community's sense of security. I am asking NYPD to install this camera before someone is seriously injured or killed in another incident. We cannot afford to wait any longer."
The NYPD was sent a request for comment.
Contact the writer at williamhennelly@chinadailyusa.com