Beckham backs healthier choices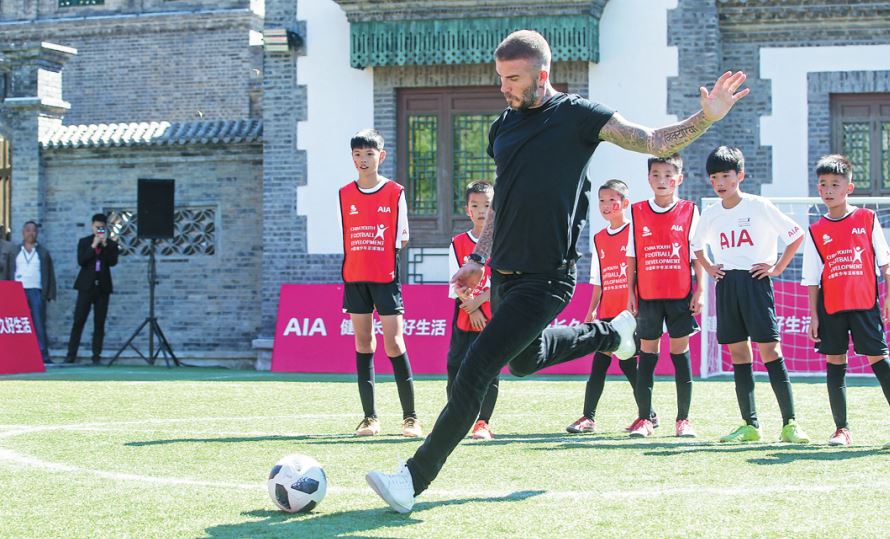 If you can't bend it like David Beckham, you can at least follow his health tips.
In his capacity as insurance giant AIA's global ambassador, the soccer icon was in Beijing last week to promote healthy living among children and parents - as well as treating kids to a display of his trademark freekick skills.
The former Manchester United, Real Madrid and England midfielder, who retired in 2013 following a 20-year trophy-laden career, first stopped off for an early climb at the Great Wall with some local children, who explained some of the site's history.
Later, he attended a special "kid's press conference", where young "reporters" quizzed the 43-year-old on health and wellness in daily life, with topics such as nutrition and how to find a balance between study and play discussed.
There was also time for a kickaround with aspiring young players participating in AIA's China Youth Football Development Program, with the Great Wall providing a stunning backdrop.
One of the kids, Li Kaifeng, had previously enjoyed top-class soccer tutelage thanks to AIA by visiting Tottenham Hotspur's training center in London earlier this year.
"I really enjoyed spending time with the children today - we had a great time kicking a ball around and listening to their questions about healthy living," said Beckham.
"It is a topic that's important to me, and as a parent I try my best to encourage my children to care about their health."
Beckham has been doing charity work since his playing days, including serving as a goodwill ambassador for UNICEF in 2005 when he was at Manchester United.