Mourinho, Pogba steering feud into head-on collision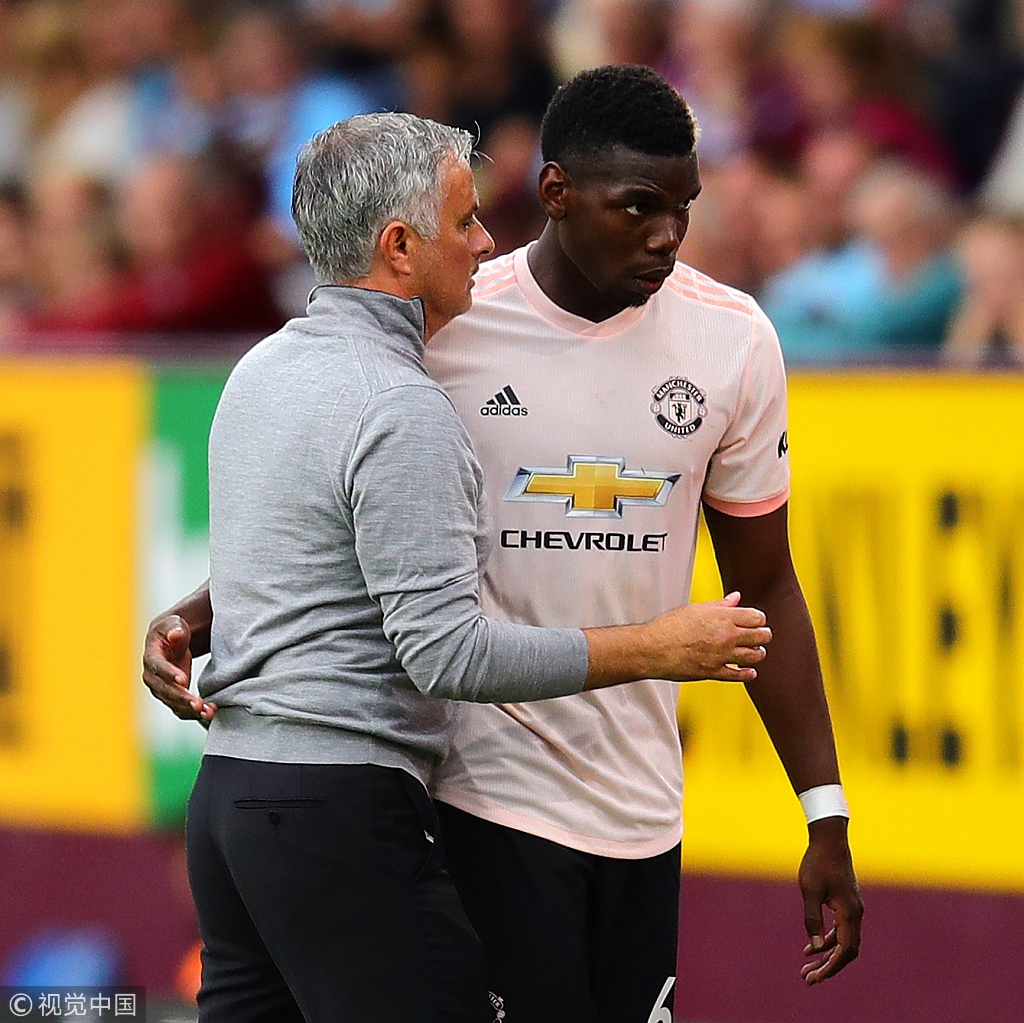 United boss says 'no fallout' after admonishing star
LONDON - Paul Pogba's relationship with Jose Mourinho appears to be fractured beyond repair after the Manchester United boss said the French World Cup star would never captain the side again.
Pogba, who returned to Manchester in 2016 for a then world-record fee of $117 million, struggled towards the end of last season, left out of the starting lineup or substituted on several occasions.
Fresh from playing a pivotal role in France's World Cup success, the midfielder has started to deliver on his price tag this season - scoring four times so far and serving as deputy captain in the absence of Antonio Valencia.
But Mourinho appears to have lost his patience with his high-profile star after Pogba urged United to attack more following last weekend's 1-1 draw with Wolverhampton Wanderers, implicitly criticizing the cautious approach of his boss at a club famed for gung-ho soccer.
According to The Times, on Tuesday Mourinho informed Pogba of his decision on the captaincy in front of his teammates, claiming the 25-year-old "doesn't represent what a captain is".
"The only truth is I made the decision of Paul not to be the second captain anymore," Mourinho said after Tuesday's League Cup loss to Derby County on penalties, which Pogba sat out.
The Portuguese said there would be "no fallout at all, no problem at all".
But it doesn't look that way to United fans, as their side falls further behind great rivals Liverpool and Manchester City in the Premier League.
The often-abrasive Mourinho has a history of falling out with high-profile players.
While at Real Madrid he demoted goalkeeper Iker Casillas to the anger of the club's fans and at Chelsea he did not see eye to eye with Juan Mata, whom he now manages at Old Trafford.
Barcelona move?
It looks increasingly likely that Mourinho will be unable to repair his relationship with Pogba, and it seems to be more a question of who will be first to leave the club.
The former United youth player might eventually get the move to Barcelona that was rumored in August, with the Daily Mail on Wednesday reporting he has already told Mourinho he wants to leave for Spain.
That may seem a relatively simple solution, but executive vice-chairman Ed Woodward is reportedly desperate not to lose the club's biggest global star.
Despite Pogba's griping and noise from his super agent, Mino Raiola, Mourinho will not necessarily be seen by United fans as the bad guy in the ongoing saga.
Mourinho, who is again a favorite to be the first Premier League manager fired this season, said in his program notes for Tuesday's League Cup clash against second-tier Derby that "95 percent isn't enough when others give 101 percent".
Whether or not that was a barb aimed at Pogba, sections of United's fans have been intensely frustrated with the midfielder's inconsistent performances for the club.
Ironically, Pogba's provocative remarks about United's style came after Mourinho held out an olive branch.
The United boss said Pogba's success with France has given the midfielder an extra surge of energy.
"I think good results, and good performances, they make miracles," Mourinho said at his media conference before the Premier League match against Wolves.
"And bad results and bad performances, they make you look more tired, more upset, more ugly, more everything."
Mourinho reportedly angered Pogba last month when he implied the World Cup star played much better in Russia than he did for United last season as he was not surrounded by his entourage.
The Manchester United manager cited the German philosopher Georg Hegel earlier this month and he might be mindful of one of his quotes when it comes to his relationship with Pogba: "We learn from history that we do not learn from history."
Agence France - presse