Prizewinning brothers find vocational college pays off
By Li Wenfang in Guangzhou | China Daily | Updated: 2018-10-12 09:50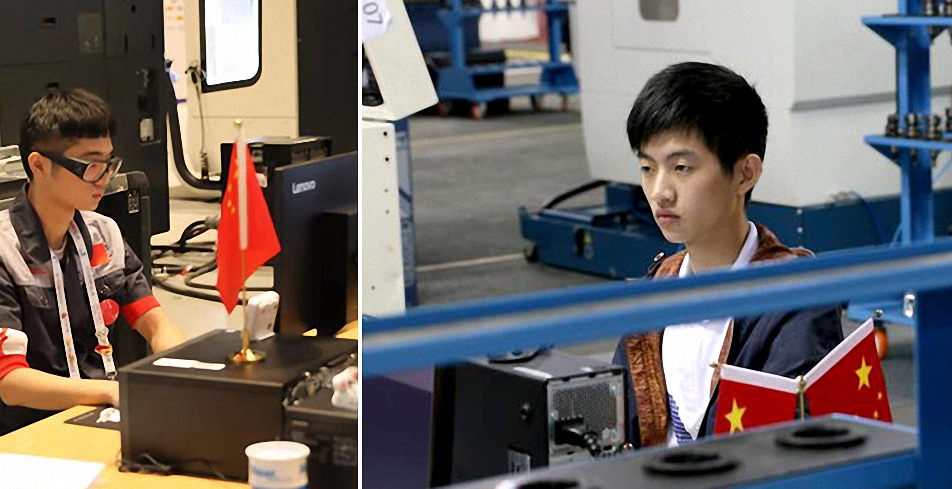 Editor's Note: China has achieved remarkable progress in recent decades, thanks to the efforts of its people working in all sectors. Starting today, China Daily will publish a series of reports on how the people have played a role in striving for a stronger country and better life.
Zhang Zhikun and Zhang Zhibin had little interest in studying at primary and middle school, and did not go to high school after performing poorly in entrance exams in Puning, Guangdong province.
Their father sent the brothers, born one year apart, to Guangdong Machinery Technician College in Guangzhou, the provincial capital, to study metal milling.
They had no idea what they would learn, but their father's choice has proved wise, with Zhikun winning a championship at the WorldSkills Competition in Sao Paulo, Brazil, in 2015 and Zhibin following suit at the WorldSkills Competition in Abu Dhabi in 2017.
They both became teachers at the college after graduation, receiving a wage that usually takes many years to attain. Zhikun, the elder brother, also became the youngest person to receive a subsidy for experts from the State Council.
The brothers received a combined 2 million yuan ($292,000) in various awards for their championship wins, a handsome sum for a low-income family.
"We really couldn't find an interest in study," 22-year-old Zhikun said, recalling his days before college, when their parents spent most of the time working in a factory in Dongguan, Guangdong.
Zhikun said he realized he would not do well if he entered high school, while Zhibin said he felt "a bit down" when he missed out.
The vocational college, however, stirred their interest. "At the very beginning, it seemed not as dull. There was some stuff that could be operated, and study there felt novel," Zhikun said, adding that the new and somewhat secluded environment of the college prevented him from being distracted by leisure activities.
Zhibin was shown the training workshop, where students operated equipment, on his first day at the college.
"I'd never seen such equipment. It was big, and I was curious," he said. "It was more interesting than theories. I liked doing experiments."
In Zhikun's second semester, the college was recruiting trainees for skills competitions in China. He was rejected at first because he performed poorly in a written test, but he knocked on the door of a teacher to express his desire to join the training.
He was accepted and trained hard, working until 10 pm in the early stage and later focusing on intensive problem solving by himself.
Zhibin competed in plastic molding over four days in Abu Dhabi. It involved computer programming based on measurements provided in a drawing, making a steel device on computer-controlled equipment, polishing the device, and injecting plastic into it to make the plastic mold.
The steel device needed to be as shiny as a mirror and its measurements within 0.01 of a millimeter of those in the drawing, Zhibin said.
The brothers' success has helped change deep-rooted perceptions in their hometown. As in other parts of the country, people there previously believed the only path to success led through senior high school and university.
"Some relatives come and consult us now on the selection of departments in a technical school," Zhibin said.
Feng Weiyuan, president of Guangdong Machinery Technician College, said the Zhangs' success had played a significant role in overturning an outdated mentality that valued academic backgrounds and certificates over capabilities and skills.
The country is now stressing the importance of craftsmanship and vocational education amid an industrial upgrade, and the brothers are training their students at the college for skills competitions.
Zhikun said the overall elevation of skills relies on schools, and better educated students will have more room to develop in enterprises in the vanguard of China's technical upgrade.
He hopes to deepen his research and sum up the results in his work at the college, while Zhibin hopes to advance his theoretical knowledge through continued learning.
Xu Jiayi contributed to this story.