Police investigate online posts by Nanjing Massacre denier
By Cao Chen in Shanghai | chinadaily.com.cn | Updated: 2018-10-14 16:29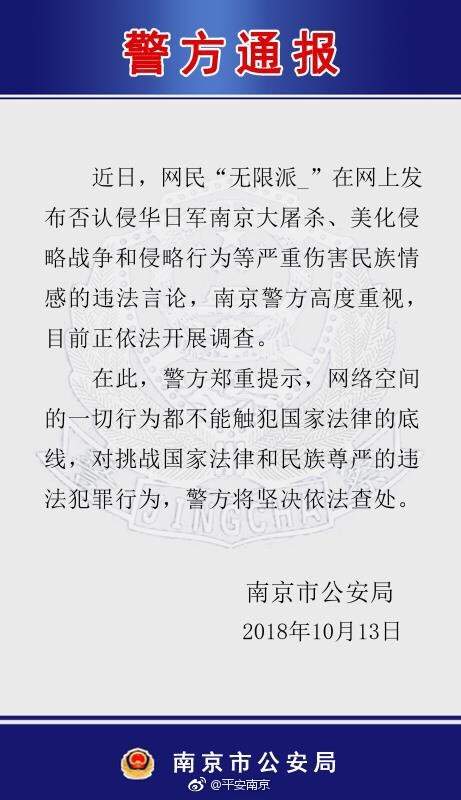 The police are investigating a report of a netizen's denial of the Nanjing Massacre and online comments glorifying acts stemming from the Japanese invasion during the War of Resistance Against Japanese Aggression (1931-45).
On Oct 11 the Memorial Hall of the Nanjing Massacre published an obituary on its official Sina Weibo microblog to mourn Shen Shujing, a Nanjing Massacre survivor who died at the age of 94.
A netizen nicknamed Wuxianpai commented on the obituary, saying, "Nanjing Massacre never happened".
The netizen's Weibo account shows Wuxianpai is a 30-year-old man from Nanjing, East China's Jiangsu province. In his previous microblog posts, the man claimed several times that the "imperial Japanese military's invasion of Wuxi, a city in southern Jiangsu province, and Nanjing, are rumors". He also stated "the Memorial Hall of the Nanjing Massacre should shut down immediately".
His behavior spurred outrage among Chinese, with people advising him to turn himself in to the police.
Local police announced on Saturday that all criminal acts online that violate laws and challenge national dignity shall be referred to judicial authorities for investigation.
On the Memorial Hall's official microblog, a statement was issued pointing out the man's action will be punished in accordance with the law, which went into effect in May.
The law stipulates that those who profane or deny the deeds and spirit of heroes and martyrs, and those who glorify wars or acts of invasion and disturb social order, can face criminal punishment.